This Week in Football History: Super Caley go ballistic, Celtic are atrocious.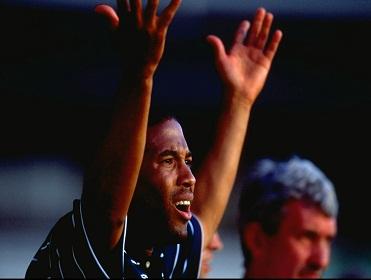 A standard pose for Barnes at Celtic
In today's look at the history books, Adrian North recalls a bad night for Celtic and John Barnes and a good one for The Sun newspaper...
February 8, 2000 - Celtic 1-3 Inverness Caledonian Thistle, Celtic Park  
Throughout the history of Scottish football challengers to Celtic have Rangers have occasionally come and gone, swatted away without a second thought by the two kings of Glasgow football. Fergie's Aberdeen once threatened this seemingly infinite era of dominance but for the most part the Scottish first division and Scottish Cup have belonged to either Celtic or Rangers.  
Sharing 69 Scottish Cups and 99 league championships between them it's always nice to see them upset every once in a blue moon. And after Rangers' recent downfall the Catholic side of Glasgow has been left unopposed to sweep up the rest of the competition. So when a team of a bunch of part-timers from a small northern town of just 60,000 people come to Celtic's own backyard and play them off the park for 90 minutes it makes for quite a uniquely wonderful story.  
On February 8, 2000, Inverness Caledonian Thistle went to Celtic Park and sent them packing with a brilliant 3-1 victory to claim one of Scottish football's biggest upsets.   
Celtic, managed by John Barnes at the time, had fallen well behind Dick Advocat's Rangers in the league and with only the League Cup and Scottish Cup left to realistically play for Barnes and his players were expected to steam roll past the part-timers from the First Division. 
After just 15 minutes Celtic had fallen behind to a goal from one of Scottish football's journeymen Barry Wilson, and despite equalising soon after through Mark Burchill by half-time Celtic had conceded another and after an hour were 3-1 down thanks to a Paul Sheerin penalty.   
Not only had David beaten Goliath, he had humiliated him. This was no smash-and-grab counter attacking 1-0. Caley had not come to Celtic Park and parked a bus. They had driven a flaming tank through Celtic's defence time and again and thoroughly deserved such an achievement.   
Those in charge of Celtic were needless to say not exactly chuffed with what had just happened. Before Valentine's day Celtic only had the League Cup left to play for, and the sword fell on Barnes who was sacked on February 10. Kenny Dalglish took over but for Celtic and Caley fans, this was the only game they would remember for the rest of the season.  
The Sun had its moment in the spotlight in the aftermath of this game for running one of football's best ever headlines - Super Caley Go Ballistic, Celtic are Atrocious - which, while brilliant, is in fact a homage to a Liverpool Echo headline from 1970 after an Ian Callaghan masterclass against QPR.
It is the opening lines of the article however that best sum up the situation: "John Barnes moves closer to the sack as Celtic suffered their biggest humiliation in 112 years of their history."