La Liga: Ronaldo and Fabregas play the pouting game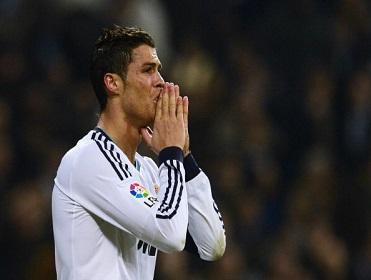 Cristiano Ronaldo is clearly not a happy camper right now
Cristiano Ronaldo and Cesc Fabregas have aroused speculation after public displays of ill feeling towards their clubs this week...
"Ronaldo has started every game this season, so it would seem anger at the manager cannot be what is upsetting him."
As if playing for one of the biggest clubs in the world isn't enough, it appears there is no pleasing some people.
Judging by Cristiano Ronaldo's actions this week - refusing to celebrate goals number 149 and 150 for Real Madrid in their 3-0 win over Granada on Sunday - the Portuguese superstar is less than enamoured with life at the Bernabeu.
What could possibly be at the heart of this scornful display though? Ronaldo has started every game this season, so it would seem anger at the manager cannot be what is upsetting him.
After all, the number seven has already notched four times in just five starts - including playing a pivotal role in Real's Spanish Supercup success over bitter rivals Barcelona - suggesting the football part is very much going according to plan.
Despite that victory over Barca, Los Blancos are still second favourites to retain their La Liga crown at 3.211/5.
Earlier rumours had suggested that Ronaldo was angry after being beaten to the UEFA's Best Player in Europe award by Barcelona ace Andres Iniesta, but he has since denied there is any truth in that notion.
The only thing left therefore, despite claims to the contrary, is some sort of disagreement over his contract with the Spanish champions, as is usually the case in these situations.
No doubt it will involve money and more than likely Ronaldo's own evaluations of his worth to the club.
If this saga does prove to cause lasting and irreparable damage the question is, where would Ronaldo go?
Paris St Germain's sporting director Leonardo has already rubbished reports of a link and with few others likely to be able to support his wage bill, eyes would inevitably turn to the riches of Manchester City and Chelsea.
Meanwhile, Cesc Fabregas' gripe with his boyhood club Barcelona very much appears to be on a footballing level.
Despite starting all three of the Catalan's La Liga assignments so far this season Fabregas has been taken off around the hour mark on each occasion, prompting him to come out in the Spanish press.
The ex-Arsenal star said: "I've always said that I play for the best team in the world, but I came here to compete, to learn and enjoy, not to sit wracking my brains."
Admittedly though, the midfielder does go on to say he is willing to fight for his place and implied that he still sees his career ending at the club.
After making a perfect start to their league season, Barcelona have been backed in to 1.4840/85 to reclaim the Spanish title from Real.
Read past articles