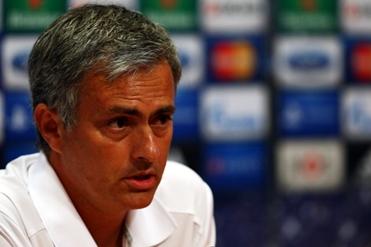 Back-to-back wins over Barcelona has put Mourinho in good spirits
Back-to-back wins over Barcelona has been the perfect preparation for Real Madrid ahead of their Champions League clash against Manchester United, writes Ben Lyttleton...
"When you gte to the stage where Pepe is lecturing his opponents on how to behave during games, you know that something strange has happened." 
If Jose Mourinho wanted to foster a feel-good factor going into this week's Champions League Round of 16 second leg tie aganst Manchetser United at Old Trafford, beating Barcelona for the second time in five days was a good way to start. Not only that, but Real Madrid's 2-1 win over the Spanish leaders was achieved with a B side, as he rested many of his players before tomorrow's huge encounter.
So not only did Madrid well and truly end's Barcelona hex over them - beating them in two successive games for the first time since 2007-08, before the Pep Guardiola era began - but it did so with Michael Essien at right-back, Pepe and Luka Modric in midfield and, perhaps more significantly, Jose Maria Callejon and Alvaro Morata, 19, on the wings.
Morata was outstanding, curtailing the forward runs of Dani Alves while holding the ball up when goalkeeper Diego Lopez played it long and he also set up Karim Benzema for Madrid's first goal, after just five minutes.
By the time Cristiano Ronaldo came on with half an hour to play, after Lionel Messi had leveled the scores, there was only going to be one winner: Ronaldo rattled the woodwork before Sergio Ramos headed home a winner.
The fall-out, for once, focused on Barcelona and their failings: goalkeeper Victor Valdes was sent off for harassing the referee after the final whistle while Jordi Alba was accused of abusing home fans by raising a finger in their direction: he was, he says, merely telling them that he thought Messi was the 'number one' player in the world. When you get to the stage where Pepe is lecturing his opponents on how to behave during games, you know that something strange has happened.
As Santiago Segurola, wrting in Marca, put it: "In the space of three weeks, it (Barcelona) has been reduced to nothing: something previously inconceivable for the most fascinating team of the past four years. A victim of its own overwhelming paralysis, it was beaten by a conservative Real Madrid, rife with reserves and with its head in the clouds, thinking of its European adventure. Real won, and barely had to break a sweat."
How Mourinho must wish Madrid had not dropped silly points earlier in the season, when it lost 1-0 to Betis in November (Round 13), 3-2 to Malaga in December (Round 17) and 1-0 at Granada last month (Round 22).
As it is, Barcelona are still 13 points clear of Madrid, who themselves are just two points back of Atletico in second place. Barcelona are just [1.04] to win La Liga.
One of the stars of the recent clasico trilogy has been Raphael Varane, who scored in both legs of the Copa del Rey victory and was a solid presence again at centre-back in the weekend win. Given that the young Frenchman turned down a move to Manchester United to join Madrid from Lens, it could be an interesting few days ahead for him.
With Varane and Morata still in their teens, Mourinho, if he leaves Madrid as expected this summer, will be leaving his successor with a decent crop of young talents - which would be a first for him.
Mourinho and Sir Alex Ferguson both claimed to be happy with the first leg 1-1 draw: United are [2.38] to get past Madrid and reach the Champions League quarter-finals, while Madrid are [1.71].
With back-to-back clasico wins behind them, the wind is firmly in Madrid's sails. Such are the delicate foundations of the Mourinho reign howver, that elimination could see it all crumbling down very quickly.