Ronaldo v Messi: Who will prevail in the rivalry's latest two chapters?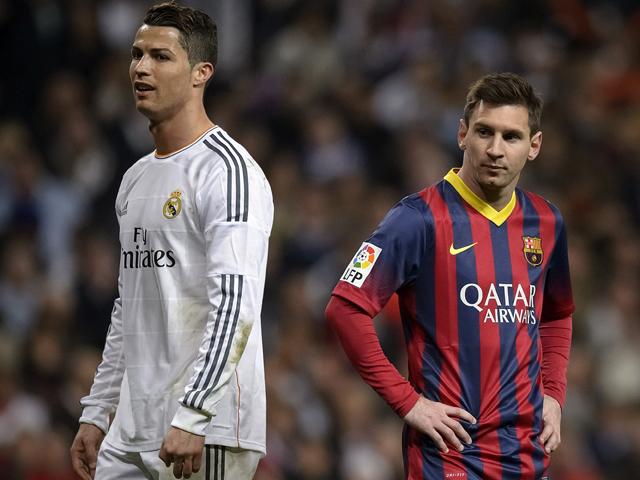 Cristiano Ronaldo did the Champions League and La Liga top goalscorer double in 2013/14
As Cristiano Ronaldo and Lionel Messi scrap to be La Liga and Champions League top goalscorer, Michael Lintorn assesses both contests...
"Messi has already fought back from a massive 12 goals behind once this term in La Liga, actually taking over at the top before Ronaldo fired five past Granada last weekend."
In a development that will surprise nobody, the battle to be crowned top goalscorer in both La Liga and the Champions League appears destined to come down to Cristiano Ronaldo and Lionel Messi.
However, rarely have they been so close in both charts this late in a season. So with exciting conclusions promised in both of these shootouts, let's study the current odds and standings...

La Liga
Both scored once on Wednesday, meaning that Ronaldo maintains a four-goal advantage: 37-33.
This isn't as commanding a lead as it would be between any other two players though, especially as there are still eight games to play and the Ballon d'Or holder will miss the next one against Eibar if Real Madrid's appeal against his booking for simulation against Rayo Vallecano is unsuccessful.
Messi has already fought back from a massive 12 goals behind once this term, actually taking over at the top before Ronaldo reasserted authority by firing five past Granada last weekend.
That will cause many to conclude that 3.55 is a glorious price for the Argentine to recover a comparatively miniscule deficit, but the fact that Ronaldo rallied back to reclaim first place after letting it slip puts this writer in the favourite's camp, a popular destination judging by odds of 1.152/13.
The superstar duo have finished in positions one and two in each of the previous four campaigns, with Ronaldo playing the part of "one" last time out.

Champions League
It might not come accompanied by a trophy with as cool a name as Pichichi, but this is the one that matters most, particularly because the winner went on to receive the Ballon d'Or in each of the past eight years (Messi four times, Ronaldo three times and Kaka once).
At the moment, neither are ahead. Instead, they are tied on eight, one behind the already eliminated leader Luiz Adriano.
Messi is the 2.1211/10 frontrunner, reflecting the perception that Barcelona's quarter-final draw with Paris St-Germain is a shade simpler. Laurent Blanc's side haven't reached the semi-finals in 20 years, exiting at this stage in the last two years.
The Catalan club saw them out in 2012/13 and finished above the Ligue 1 champions in their group this season, with Messi netting in his three starts against them.
Ronaldo - who is 2.427/5 - must tackle Atletico Madrid, the team that almost beat his in the 2013/14 final and, more significantly, have faced Real Madrid six times since without losing, keeping clean sheets in all three matches at the Calderon and conceded just four goals in total.
The former Man United forward only fired twice in those fixtures, and one of those was a penalty.
Discover the latest articles
Read past articles