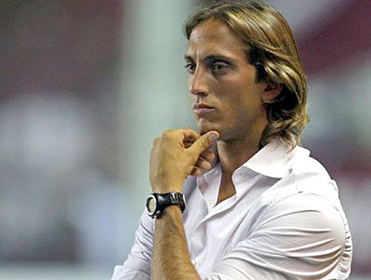 Racing Club manager Luis Zubeldía
While the superclasico between Boca and River often steals the headlines, many believe that the clásico de Avellaneda is a fiercer and more hotly-contested derby, and having experienced both, Ed Malyon is in a pretty good position to guide us through this weekend's clasico...
"Eleven of the last 13 clásicos de Avellaneda have gone under 2.5 goals, so the historic trend is pretty clear."

Just south of Capital Federal - that's the city of Buenos Aires to you and me - lies another industrial metropolis, and it goes by the name of Avellaneda. 
Such is the conurbation that when driving through this area it is hard to know where one city stops and the other one begins, and it is in this area that the British first laid a railroad on arriving in the La Plata basin, and where there were working Brits, football inevitably followed.
Avellaneda, or Barracas Sur as it was known, had the bonus of already being a massive port and with all of this commerce and industry came a heaving population that were looking for work, and inevitably when work ended they needed something else to occupy them, so just as the workers had done a few miles north in founding River Plate and Boca Juniors, Racing Club de Avellaneda and then Club Atletico Independiente came into being. 
Over 100 years of fierce rivalry has followed, with the respective stadia separated by just a couple of hundred yards and the city split between the clubs in a way that is most comparable to the rivalry between Liverpool and Everton. 
Historically, Independiente have been the more successful side, although Racing were the first Argentine club to win the Intercontinental cup in 1967 and their fans are renown for being less bitter than their red-coloured neighbours. 
Recent times have been fairly barren for both, with Racing not up to much until some flirtations with a title challenge over the past season or two, while Independiente have slipped into a relegation battle that it's currently looking increasing like they'll lose. 
With every point absolutely massive for Independiente, their players have to be at their absolute best in front of a packed house that will be baying for blood if they turn in another abject clásico performance. 
A deserved win at Vélez last week has boosted confidence within Americo Gallego's squad, needing just 10 men to outplay one of the country's leading clubs and secure a first three points of the season. After enjoying just three victories in the whole of last season, this bodes well for an improved campaign this time round. 
Daniel 'Rolfi' Montenegro will be key to their fortunes, and his signing at least gives them hope of hauling their awful points average out of the relegation zone - even if he's yet to score for the club.
While Independiente seem to be improving from their lowest ebb, Racing look significantly weakened from the side that floundered out of the title race late on last season. A key part of their wonderful campaign was the unforeseen emergence of youngsters Ricardo Centurión, Luciano Vietto and Martín Perez Güedes, as well as the long-awaited prospering of Luis Fariña. 
Now Racing have alienated Fariña by denying him a move to CSKA Moscow, they've lost Centurión to a long-term injury when he looked set to bring them in a treasure chest of cash by moving to Anzhi, and poor Vietto got left out of the opening game this season because he was too tired.
That game ended up in an embarrassing defeat for Luis Zubeldía, although he deserves credit for turning things round to beat Argentinos with conviction last weekend. 
With no Centurión or Fariña providing directness or the urgency to turn midfield play into attack, Racing run the risk of looking pretty ponderous this season, with the aging trio of Mario Bolatti, Mauro Camoranesi and Agustín Pelletieri set to occupy three of the four midfield berths.
Racing no longer look capable of winning the league, but do they still have enough to pick off relegation candidates Independiente?
Independiente are the marginal favourites in this one at [2.7], but there's not a huge amount in it, pricewise.
Racing still appear to be the stronger outfit, but the dynamism and verve that made them so special last season is largely gone, with only Luciano Vietto truly providing spark in this team. In truth, the experienced heads around him haven't contributed enough, and lumbering striker José Sand desperately needs to start helping out Vietto and scoring goals. 
Having said that, it is that little squirt of excitement that Racing have which looks most likely to make the difference to this clash, the Rojo don't have any equivalent of their own and while Vietto may not win this game, he can stop them losing it and we're laying Independiente - who, let's not forget, got their first win for 15 games last time out.
Eleven of the last 13 clásicos de Avellaneda have gone Under 2.5 Goals, so the historic trend is pretty clear. More recently, four of Racing's last six have gone over that mark, while the stats are the same for Independiente.
Seeing the Unders at [1.56] is no surprise given the data on past meetings between these two, and the psychological effect of playing in a derby, but neither defence is particularly up to much, and that is borne out in the more recent goal statistics from both sides. 
The [2.62] for the Overs has to be the way to go on the goals market, purely on a value basis.

Other Bets
With such an open clásico it is hard to know where to start, and analysing the Half Time/Full Time trends gives us little to go on.
It comes down to how much you buy in to the traditionally low-scoring game repeating history, because the 0-0 HT Correct Score at [2.5] is tempting if you believe nerves and the fear of making a high-profile mistake will make it a dull encounter.

Recommended Bets
Lay Independiente @ [2.8]
Back Over 2.5 Goals @ [2.62]