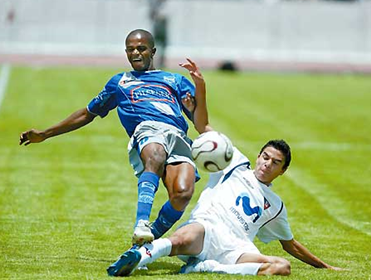 Emelec captain Carlos Andres Quinonez
Jonathan Wilson brings us up to date with some of the latest results in the Copa Libertadores, and tells us why Ecuadorian football, and especially Emelec, is on the up...
"Emelec finished second behind Barcelona in the Ecuadorian league last seasons but achieved a major coup in the Libertadores by eliminating Flamengo."
These are early days, of course, but Emelec's 2-0 defeat away to Deportes Iquique ([36.0] to win the tournament) last night feels decisive.
Iquique, having lost their first two games desperately needed the win. Emelec ([36.0]), having beaten Velez Sarsfield ([5.8]) at home and lost away to Penarol ([22.0]), must beat the Chileans next Tuesday if they are to have any realistic hope of progressing.
Iquique may have qualified as the non-champion with the best combined record over apertura and clausura last season but they have had a miserable start to the new season (the so-called transicion - as the Chilean league changes its format) and were well-beaten 3-0 by Velez in Argentina last week.
Emelec, meanwhile, sit top of the Ecuadorian league, having won five from five and are part of what is arguably the strongest Ecuadorian challenge there has ever been. It's habitual to mock football administrators but the decision taken by Conmebol almost two decades ago to arrange South American World Cup qualifying as a home and away round-robin featuring all its members was a stroke of genius. The likes of Venezuela and Ecuador, granted regular fixtures against the continent's giants, have improved immeasurably.
Ecuador sit second in World Cup qualifying (they're [160.0] to win), behind only Argentina, although they have played a game more than Colombia. They beat Portugal 3-2 in a friendly in Guimaraes earlier this month, a game notable less for its result - it was only a friendly after all, than for the fact that 11 of Ecuador's matchday squad play in the Ecuadorian league.
The country's economic health, clearly is a major factor. GDP doubled between 1999 and 2007 and although the dip in oil process has effected growth, it's expected that 2012 will show growth of around 4%. The CIA fact book, meanwhile, shows unemployment is under 6%. Notably the Ecuadorian league is now able to attract players from Argentina, something unthinkable even a decade ago.
Emelec finished second behind Barcelona in the Ecuadorian league last seasons but achieved a major coup in the Libertadores by eliminating Flamengo. They drew at home with the eventual champions Coirinthians before losing 3-0 in Sao Paulo. Their comparative wealth, though, has allowed steady growth - and they have maintained the fine tradition of the Quinonezes.
Remarkably there are three of them in the squad, none related, all born in different towns: Carlos Andres, the captain and attacking full-back who had a brief spell at Ajax in his teens. There's the midfielder Pedro, who won two league titles with El Nacional and joined Emelec from the Mexican side Santos Laguna. And there's Jose Antonio, born in Guayaquil and nicknamed 'El Pulpo' (the Octopus) for his leggy control of midfield.
Quinonez is a relatively common surname in Ecuador, but by no means the most common, yet it resonates through Guayaquil football. The forward Lupo Quinonez remains the highest scorer in Barcelona-Emelec clasicos (10 goals for Barcelona, three for Emelec), while the centre-back Holger Quinonez won four Ecuadorean titles with Barcelona and one with Emelec between 1981 and 1991. There was Carlos and Cristhian, Marco and Rafael.
Jose Antonio is a cousin of Marco, a defender who played 63 league games for Emelec between 2005 and 2007 and is now at Deportivo Cuenca. "Our breed is courageous and tough," he said. "That's why we endure." Perhaps doubly so for him because his full name, using both mother's and father's surname as is the Hispanic convention, is Jose Antonio Quinonez Quinonez.
LDU Quito, the only Ecuadorian side ever to win the Libertadores, lost on penalties to Gremio in the play-off round this season, while the hopes of the league champions Barcelona ([36.0]) of progression suffered a major blow when they were beaten 2-1 at home by Boca Juniors ([6.2]).
The question is whether Iquique's win is a sign of them returning to form or whether it's simply another case of Emelec failing to travel well. The bad news for them is that Penarol have already won in Chile, so they will probably need to win both home matches and get a point in Buenos Aires if they are to go through.
Ecuadorian football is on the up, but the surge has probably been stalled another year.

Recommneded Bet
Back Emelec to beat Municipal Iquique - KO 02:45 March 6