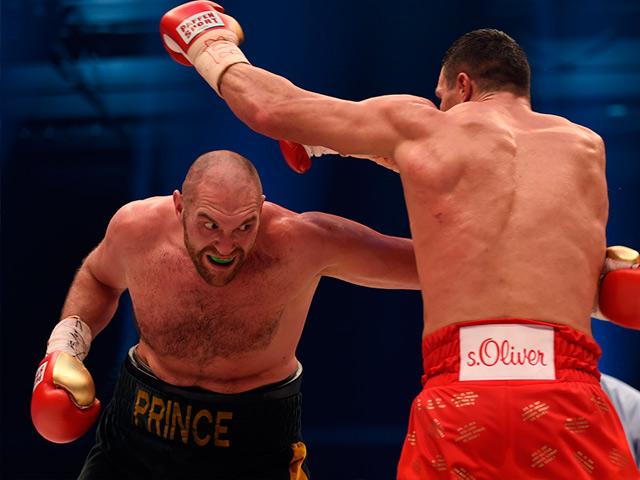 Fury unleashed on Wlad to land world titles and 9/2 shot on Saturday night
Tyson Fury's demolition of Klitschko delights 52% of our #PuntOfTheWeek voters landing a knockout at 9/2...
Results (12,106 votes)
- Tyson Fury to beat Wladimir Klitschko @ 9/2 (52%)
- Ozil to score First Goal v Norwich @ 8/1 (27%)
- No More Heroes to win Drinmore @ 13/8 (12%)
- Smad Place to win Hennessy Gold Cup @ 7/1 (9%)
Tyson Fury to beat Wladimir Klitschko @ 9/2
It was the night in Dusseldorf that woke the British Heavyweight Boxing scene from its slumber as the giant frame of Tyson Fury ended Wladimir Klitschko's 28-fight reign as a Heavyweight Champion of the World (WBO, WBA, IBF & IBO titles all at different stages).
Not short of accolades after his dominant performance, you've unanimously voted to give him one more as Fury's win claims #PuntOfTheWeek with 52% of your vote. Despite Klitschko not suffering a defeat since 2004, 80% of bets placed on the Betfair Sportsbook for the fight were placed on Tyson Fury and it showed in the voting!
Many thought Klitschko's unusual position of being the smaller man in the ring would be a telling facet of the fight and were more than happy to back Fury at 9/2. They were to be proven emphatically right as Fury's far superior work rate (202 punches thrown v just 69) paid dividends, securing a unanimous win on points. The feat was made particularly impressive as the fight took place in Germany, Wladimir's adopted home.
This afternoon, Klitschko announced that he was taking up the contractual option of a rematch so we could see Part II at Old Trafford, Wembley or even Croke Park next summer and our traders cannot split them in the betting, both available at 10/11 with the draw 25/1.

Mesut Ozil to score First Goal v Norwich @ 8/1
Out of the misery of Arsenal being voted as this week's #LegThatLetYouDown there came a chink of light for Betfair customers with 27% of you profiting from Mesut Ozil's sparking form to land an 8/1 First Goalscorer punt.
Having broken the record for assists in consecutive games the week previously, the shrewd amongst you felt it should be the German's time to fire the gun rather than load the chamber.
The 8/1 reward for backers would have been that bit sweeter given that Ozil had already spurned a great chance earlier in the first half when dragging a shot wide after great work from Nacho Monreal.
Arsenal's subsequent injury problems and conceding an equaliser via Lewis Grabban would prove largely irrelevant for more than 3,000 voters as the money was already in the bank thanks to the crafty German's opening strike.

No More Heroes to win the Drinmore @ 13/8
Gordon Elliot's six-year old showed some real class at Fairyhouse on Sunday, rewarding 12% of our voters with victory over Monksland and Free Expression in a performance that would solidify the novice chaser's position as a 4/1 favourite for the RSA Chase at Cheltenham.
Despite a flood of late money in for Free Expression, Bryan Cooper had little trouble with No More Heroes looking imperious over the fences leaving an indent in the minds of Betfair customers on a weekend jam packed with action.
In the aftermath of the race Elliot feels that 'the longer he goes the better he'll be', and with those levels of confidence don't be surprised to see much more support in the career of this gelding.

Smad Place to win the Henessy Gold Cup @ 7/1
The highlight of the weekend's racing action was at Newbury on Saturday where Saphir Du Rheu headed a top-class field for the Hennessy Gold Cup including Fingal Bay and 2012 winner Bob's Worth.
However, 12 months on from Alan King's failed attempt to train his first Hennessy Gold Cup winner, Smad Place delivered perhaps the most impressive performance in the race for years as he roared to a 12-length victory under the guidance of Wayne Hutchinson.
For 9% of voters, it was a satisfying win and will have many asking the question whether Smad Place can be a feature in the Cheltenham Gold Cup (now available at 16/1).

***

Did we miss any? Each week we celebrate your #PuntOfTheWeek and commiserate the #LegThatLetYouDown on our Facebook page. If you've something to share, come and join the conversation.