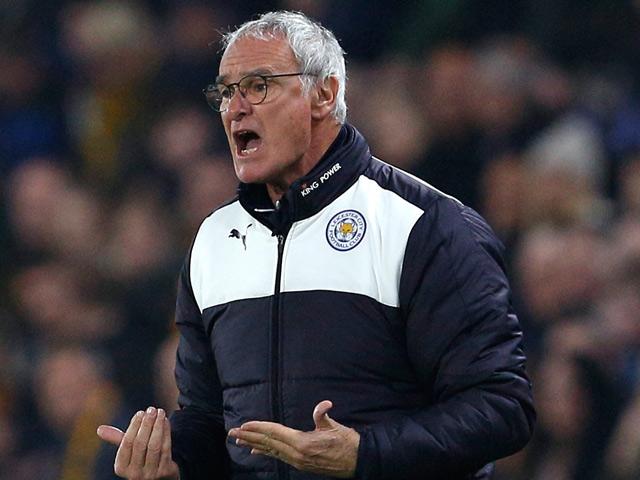 Claudio Ranieri's men remain at the top of the table
With 31% of your votes, Leicester City just edge out Bournemouth and Scott Dann's goal with 31% in the latest #PuntOfTheWeek. More details to follow...
Results (15,180 votes)

- Leicester to beat Swansea @ 7/4 (31%)
- Bournemouth to beat Chelsea @ 8/1 (29%)
- Scott Dann to score vs Everton @ 8/1 (25%)
- Leeds United to beat Hull @ 3/1 (15%)
Leicester to beat Swansea @ 7/4

Judging by your Facebook comments, it would seem we were far too generous when pricing Leicester's visit to Swansea last Saturday. The league leaders, unbeaten in their seven previous league games went off at 7/4 against a Swansea side that had only secured one point in their last four games.
As is the norm with Leicester, all eyes were on the league's current top goalscorer Jamie Vardy to see if he could extend his recently acquired record of consecutive goal-scoring games. This must have been true too for the Swansea defence as Vardy's goal streak finally came to an end. Unfortunately for Swansea, Leicester City's second talisman Riyad Mahrez was in terrifying form. The Algerian bagged his first hat-trick for the Foxes who ultimately ran out 3-0 winners.
Not the biggest price on our list this week, but it just about steals the #PuntOfTheWeek crown.

Bournemouth to beat Chelsea @ 8/1
Frequent visitors to our #LegThatLetYouDown column, Chelsea make a rare appearance in #PuntOfTheWeek this week. Unfortunately, it's for the wrong reasons with 29% of our voters thrilled to see 8/1 outsiders Bournemouth topple the reigning Premier League champions.
Bournemouth, without a win since September pressured Chelsea throughout the evening, and realistically looked good value for the win. Those that backed the newly promoted side were made to wait for that goal though.
Eddie Howe, sensing blood, sent on Glenn Murray in the 80th minute. Within 99 seconds, the striker had headed Bournemouth in front to secure one of the biggest upsets of the season so far.

Scott Dann to score anytime vs Everton @ 8/1
Monday Night Football may not be the same without Gary Neville, but so long as punters are able to find 8/1 winners, we're sure it will be OK.
According to 25% of our voters, that was just the case on Monday.
Just over a week before their meeting, both Everton and Crysal Palace were involved in two very different six goal thrillers, and punters were expecting goals. But where would they come from? Lukaku? Bolaise? Or Cabaye? All decent guesses given their records this season.
Some of our more ambitious punters opted for someone else though. Scott Dann got his third league goal of the season on the 76th minute, at the appealing price of 8/1.
A good goal, a good price, and worthy of 25% of your votes this week.

Leeds United to beat Hull @ 3/1
Another case of punters not believing the price. Leeds were deserved outsiders when they hosted promotion chasing Hull at the weekend, but 3/1 seemed far too appealing for 15% of our voters.
Leeds had just suffered two consecutive 1-0 defeats, so it was expected they would kick-off the game as underdogs. By half-time there was a big difference of opinion. Leeds bossed the first half, and went into the break 2-0 up. Hull fired back int early in the second half through Ahmed Elmohamady but it proved to be just a consolation goal as the game finished 2-1.
***

Did we miss any? Each week we celebrate your #PuntOfTheWeek and commiserate the #LegThatLetYouDown on our Facebook page. If you've something to share, come and join the conversation.
Fed up with one leg letting you down? Get Acca Edge!
Acca Edge gives you money back as cash if one leg on your accumulator lets you down. In return you take a slight reduction in odds.
- Stake refunded in cash immediately on bet settlement
- Applicable to trebles and above
- Available on all sports & markets inc. In-Play
- No additional stake limits or minimum odds on selections
- Edged accumulators can still be Cashed Out but will not be eligible for refunds