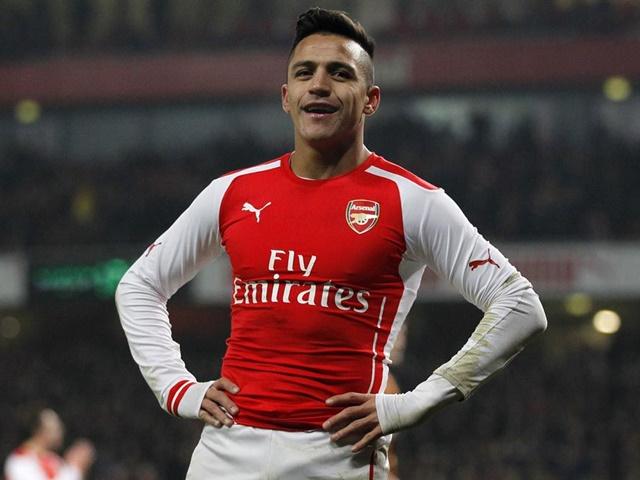 The injury crisis deepens for Arsenal - including for Alexis Sanchez - as they inflict acca pain on 39% of voters
Arsenal suffer yet more injuries but their pain is shared by 39% of voters as this week's #LegThatLetYouDown after their 1-1 draw at Carrow Road...

Results (10,105 votes)

- Arsenal to beat Norwich @ 4/7 (39%)
- Coventry to beat Doncaster @ 4/5 (20%)
- Everton to beat Bournemouth @ 13/8 (17%)
- Roma to beat Atalanta @ 1/2 (15%)

Arsenal to beat Norwich @ 4/7 (39%)
It'd be pretty hard to find a situation more suited to the old adage of 'adding insult to injury' than Arsenal's dismal weekend at Carrow Road. Social Media has been having itself a field day in poking fun at the fact that the only Arsenal outfield player to avoid a lay-off in 2015 is Joel Campbell (who until recently pretty much only trained!) but it wasn't all laughs at Arsenal's expense.
39% of you fell foul of their 1-1 draw to Norwich with the 4/7 shot being named and shamed as this week's #LegThatLetYouDown. On the face of it this seemed a straightforward assignment for Arsenal with Norwich winning just one of their last eight in the BPL and after the sparkling form of Mesut Ozil rewarded them with a 30th minute lead, this one looked a formality.
Losing Alexis Sanchez and Laurent Koscielny to injury was bad enough but shortly before half time, Lewis Grabban popped up with an equaliser. In fact, things could have got worse for Arsene Wenger had Petr Cech not brilliantly turned away Gabriel's inadvertent back header in the second half.
Ultimately, there was to be no reprieve as we place Arsenal into the Let Down list for the first time this season.

Coventry to beat Doncaster Rovers @ 4/5
It's absolutely no surprise that this one was going to sting, eventually claiming the acca's of 20% of you. Top of the table, Joe Cole in your side, an ex-PL manager at the helm and unbeaten in 11 games in League One - all listed in the pros column when looking for some lower league joy.
For the 20% who included Coventry things started brightly, an Adam Armstrong effort put them ahead and despite Nathan Tyson's speed bump to equalise on 52 minutes there was seemingly only seven minutes of worry as John Fleck put the Sky Blues back ahead.
While plenty of you would have been looking further a field to check on other selections, the danger of presumption struck when Tyson grabbed his second for Doncaster and much to the grief of backers, this 4/5 would be marked down as loser.

Everton to beat Bournemouth @ 13/8
'What a breathtaking game of football', is what you would have been saying had you not been part of the 17% who backed Everton!
2-0 up and cruising at Dean Court with 10 minutes to go, things were about to get a little bit mental over the next 18 minutes (eight minutes of injury time?! Come on ref!). Firstly Adam Smith's buzzsaw of a strike gave the Cherries hope and then Junior Stanislas popped up with three minutes of normal time left to snatch an equaliser.
With 95 minutes on the clock and Bournemouth fans screaming for full time, Ross Barkely had backers jumping on couches with what was surely a winner. But wait, this wouldn't be #LegThatLetYouDown material if there wasn't more. Sure enough with essentially the last action of a frantic game, Stanislas grabbed his second equaliser except this time it was for keeps.
The game ended 3-3 leaving disgusted Everton backers unsure whether to blame the Toffees defence or whisper the name of the Swiss international with particular venom by Saturday evening. Dumbstruck..>

Roma to beat Atalanta @ 1/2
How to boost your Saturday ACCA with a couple of short prices bankers? It usually involves heading to Serie A, La Liga or the Bundesliga and this week was no exception as 15% of you picked out Roma to bounce back from their annihilation at the Nou Camp to sweep aside an Atalanta side consisting of mere mortals.
Practically speaking this was also a chance for Roma to reclaim some momentum in Serie A as the winter break approaches. The script for a backlash wasn't forthcoming, much to the dismay of those of you including Roma in betslips as they tamely fell to a 2-0 home defeat despite the visitors ending the game with just nine men (Roma themselves finished without Maicon).
The defeat leaves Roma fourth in Serie A and with big questions over the future of coach, Rudi Garcia. A bigger question to be answered by Betfair customers however is when to trust them again...

***

Did we miss any? Each week we celebrate your #PuntOfTheWeek and commiserate the #LegThatLetYouDown on our Facebook page. If you've something to share, come and join the conversation.