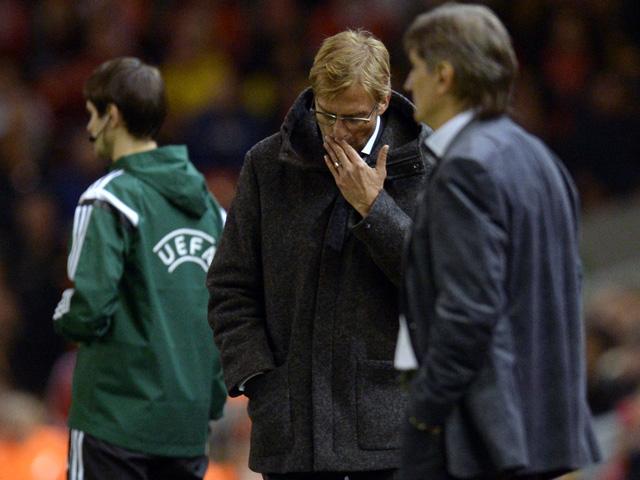 What just happened? Liverpool voted the biggest letdown on a weekend of acca busters
Liverpool are back in punters' bad books after the recent Klopptimism came crashing to Earth at the hands of a fired up Newcastle. The Reds edge the vote on a bad weekend for accas...
Results (11,139 votes)

- Liverpool to beat Newcastle Utd @ 8/13 (34%)
- Bayern to beat Monchengladbach @ 1/3 (30%)
- Barcelona to beat Valencia @ 3/10 (18%)
- Man City to beat Stoke @ 4/6 (18%)
Liverpool to beat Newcastle Utd @ 8/13
It was arguably the worst #LegThatLetYouDown weekend of the season so far for Betfair punters with the likes of Spurs, Napoli and Southampton not even making the shortlist! They can consider themselves lucky to escape the shame, unlike Jurgen Klopp's Liverpool who gained 34% of your vote after being humbled by Newcastle on Super Sunday.
Liverpool went into the game on the back of four wins in 11 days and after inflicting head turning victories at Chelsea and Man City, punters piled into them to win at Newcastle and win well. Whispers of a repeat of the 6-0 battering of two seasons ago or something similar weren't all that quiet (Liverpool fans getting carried away with themselves? Never!). But Klopp's charges delivered their worst performance of his reign.
Georginio Wijnaldum was judged to have outshone teammate Memphis Depay at PSV last year and this performance, on top of his four-goal salvo against Norwich continues that symmetry since their respective Premier League moves.
The opener may have been awarded as a Martin Skrtel own goal but (Fantasy football managers aside) may as well have been Wijnaldum's and when Liverpool pressed hard for a second his sublime chip over Simon Mignolet confirmed a miserable Super Sunday for the majority of our 11,000+ voters.
Bayern Munich to beat B. Monchengladbach @ 3/10

It just goes to show the dominance of this Bayern side that they've failed to win in the Bundesliga twice this season and both times they've been landed in the #LegThatLetYouDown column, this time running Liverpool close with 30% of the vote.
Even though Monchengladbach have had a remarkable turnaround in form, winning eight of their last ten league games after losing the first five, it wasn't a stat that would put off punters from giving Bayern what is essentially a weekly nod for inclusion in their betslip.
As half time came and went Bayern were struggling to break down a stubborn defence and not fully firing without the pace of Douglas Costa and Arjen Robben, both of whom were missing through injury. Finally the deadlock was broken on 54 minutes when, to the dismay of 30% of acca hunters it was Monchengladbach who took the lead through Oscar Wendt. The next 13 minutes would kill a lot of bets as the home side scored twice more and despite a goal for Franck Ribery after eight months out it wasn't nearly enough to save Bayern.
A first league defeat of the season but we'll guess that the next time they drop points in the Bundesliga this season, you'll be reading about it here.
Barcelona to beat Valencia @ 1/3

The last time Barcelona and Bayern both lost on the same league weekend anybody? The 12th of April 2014 to Granada and Dortmund respectively. And before then? Who knows? What we're getting at here is this does not happen often so remember the date, harrowing as it may be for backers.
Gary Neville had taken the 'professional' (read: bullet dodging) decision to leave his brother look after setting up his new Valencia side against Barca on Saturday before arriving to pick apart the likely rumble on the Sunday. For Phil, Saturday evening could scarcely have gone better given the Catalans' form.
All this sounds great for the newly British connected Valencia but a 1-1 draw at the Mestalla was not fun for 18% of #LegThatLetYouDown voters who'd taken Barca (in many cases on the -1 handicap) to be victorious.
Valencia gave up 71% of possession to their visitors, which would be a worrying stat for Gary Neville had it not been for the down right ridiculousness of Barca's ability to retain the ball. In truth nobody would have been disappointed when after an hour, only a Luis Suarez goal separated the sides.
Barcelona failed to kick on however thanks to some real steel shown by the Valencia rearguard and they were rewarded with an unlikely draw four minutes from time when Santi Mina snatched an equaliser.
Something tells us the added interest in Valencia will have them back in the #LegThatLetYouDown or #PuntOfTheWeek in the weeks to come but despite the negative outcome this week, credit was no doubt given.
Man City to beat Stoke @ 4/6
The curse of the early game, whether in the Premier League, Championship or even Champions League is now a well established and legitimate fear for Betfair acca hunters everywhere and it struck again this weekend. Following in the footsteps of Burnley and Ateltico Madrid in recent weeks, this time Man City were the ones who blew 18% of accas before the real fun had even started.
There wasn't even time for backers to ease themselves into the action this weekend as Stoke, inspired by the undeniable quality of Xheridan Shaqiri carved open the City defence twice in the first 15 minutes, Marko Arnautovic twice benefiting to net a brace.
It's becoming more and more evident that City, without Vincent Kompany and Sergio Aguero are, well, not very good. Even though David Silva returned from injury it wasn't nearly enough to compensate the loss of their captain in particular and now City host Monchengladbach tonight with a 9/2 price on the Germans looking all kinds of tasty.
***

Did we miss any? Each week we celebrate your #PuntOfTheWeek and commiserate the #LegThatLetYouDown on our Facebook page. If you've something to share, come and join the conversation.
Fed up with one leg letting you down? Get Acca Edge!
Acca Edge gives you money back as cash if one leg on your accumulator lets you down. In return you take a slight reduction in odds.
- Stake refunded in cash immediately on bet settlement
- Applicable to trebles and above
- Available on all sports & markets inc. In-Play
- No additional stake limits or minimum odds on selections
- Edged accumulators can still be Cashed Out but will not be eligible for refunds
Terms and conditions apply. Click here for more details.