Rivaldo Exclusive: Potential Rakitic transfer could hurt Barca midfield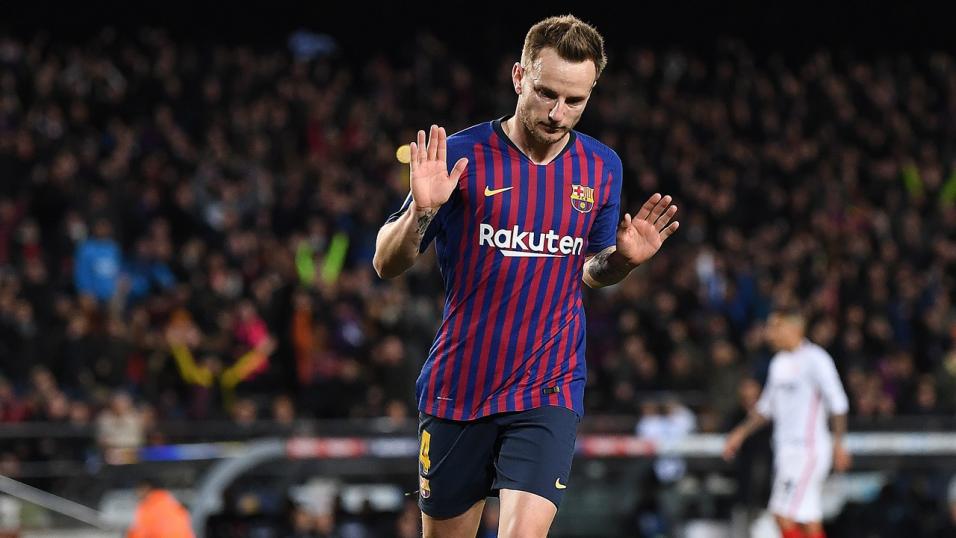 Will Ivan Rakitic leave Barcelona on Deadline Day? Rivaldo doesn't think so
In this week's exclusive, Rivaldo talks about some big names at Barcelona who could leave on Transfer Deadline Day, Chicharito's potential loan move to Valencia, and Alvaro Morata's done deal with Atletico Madrid...
"So, Coutinho only needs to complete his adaption to the team and their ideas, start scoring goals and keep acquiring importance on the team, especially making the difference when there is no Messi..."
Potential move for Ivan Rakitic to England
It's always tough to comment on some potential transfers before they happen, but when you are playing at a club like Barcelona you should know that a move could be risky, especially if you decide to go to a club that is not competing for titles as it will be a step back in your career.
So, I think Ivan Rakitic should think over a potential move to the Premier League because in Barcelona he is constantly fighting for titles and winning La Liga and Copa del Rey very often and battling for the Champions League.
Of course, it all depends on the player's will - if he wants a new challenge or not - even if usually a potential move could be more for financial reasons than any other reason.
Every player wants to see his contract improved. Yes, Barcelona pay good money, but sometimes you receive offers from elsewhere that are difficult to refuse and if that's the case we must understand, but I'm convinced that he won't leave the club.
Anyway, this could create a slight hole in Barca's midfield at an important time of the season. Ernesto Valverde would probably find a way to fill that gap with players inside the squad, but of course he would prefer to avoid that situation, especially with Frenkie De Jong - Rakitic's potential successor - not arriving until the summer.
Coutinho will earn his place and doesn't need to leave the club
Rumours are saying that Philippe Coutinho isn't happy at Barcelona. Yes, I know he is a closed and quiet character who doesn't express his emotions very often - Ronaldinho and Neymar were totally different - but I don't think that might be harming his performances in Barcelona. Lionel Messi and even myself were just like him and we managed to have success at the club.
So, Coutinho only needs to complete his adaption to the team and their ideas, start scoring goals and keep acquiring importance on the team, especially making the difference when there is no Messi to bring his happiness back, but I insist that his personality has nothing to do with that.
Everyone knows that he is a great player and it's normal that some English clubs might be interested in his services in this kind of moment where he is not happy, and the rumours are a natural consequence of that, but I believe he should continue at Barcelona and things would end up changing for the better for him.
It's never easy when you play worse than you were expecting or when you are not playing enough times, especially after all the talking and the amount spent by the club on your transfer, so the player is eager to show his value and when he is not succeeding it's normal that he feels a little unsatisfied with himself.
On the other side, this press rumours about English clubs looking for him should be a boost to him, as it only shows that he still has appreciated qualities and many clubs wish to have such a good player like him.
Chicharito to arrive in time to help Valencia
Javier Hernández is coming back from injury and could leave West Ham to sign for Valencia until the end of season in order to give them some extra fire power.
The 30-year-old has the qualities to help Los Che try to get into the European places this season, and he has some experience at Spanish football.
If they get to an agreement, I think Valencia won't regret the moves as the Mexican has been a productive attacker throughout his career, but he is not going to solve all their problems so all the team must keep improving.
*Chicharito is 4/11 on the Betfair Sportsbook to join Valencia before 1 February
Morata could restore his happiness at Atleti
It's difficult to explain how a talented player could fail to make an impact at a club, which ended up being the case with Álvaro Morata at Chelsea. The Spanish striker arrived as a sure presence on the starting 11, and even without strong competition he had difficulties to show his value, which ended up dictating his move to Atletico Madrid.
But this is part of a football player's life, and sometimes no matter how hard you try things simply don't go according to your best wishes and you must get on with your career in other places.
Now, at Atleti - he played there as a youngster - he could recover his joy in playing football with a good manager and a team always fighting to win titles.
He is a good player who could help the team very much on their attempt to chase down Barcelona, even if I think it would be tough to catch them. Anyway, nothing is lost yet in La Liga, and even with Barcelona playing good football, they must keep fighting and keep on waiting for some slips by the leaders.
Jesus is proving his value day after day
After a disappointing World Cup campaign last summer that led to some disbelief from Brazilian fans on him, Gabriel Jesus is reacting very well with a productive season at Man City so far.
He is still a young player with time to develop his skills, so he must keep doing his job at the club in order to be ready for the next Copa America or World Cup so he can finally show his talent in the national team as well.
Anyway, it's tough to compare club and national team performances. In the club you train every day and get to know your colleagues better on and off the pitch, so it gets easier to adapt and find some momentum, especially when you are playing at a big club and under Pep Guardiola's management.
We should not forget that it was the Catalan manager who asked for his transfer when he was at Palmeiras, so he appreciates Jesus' qualities and will certainly continue to help him in his evolution through the years.
Jesus is sharing his playing time with the Argentinian Sergio Aguero who is considered City's main offensive preference, and Jesus must be patient about that as he is younger, as it is the manager who decides who plays and how he rotates the squad.
After all, manager and board want the club to win, so Guardiola will use the player who is playing better at moments and it won't be the age deciding it. Of course, if both players are corresponding on and off the pitch, experience could be a strong argument, but I advise Jesus to don't think about it too much and focus on his job.