Rivaldo Exclusive: Valverde contract gives Barca the base to kick on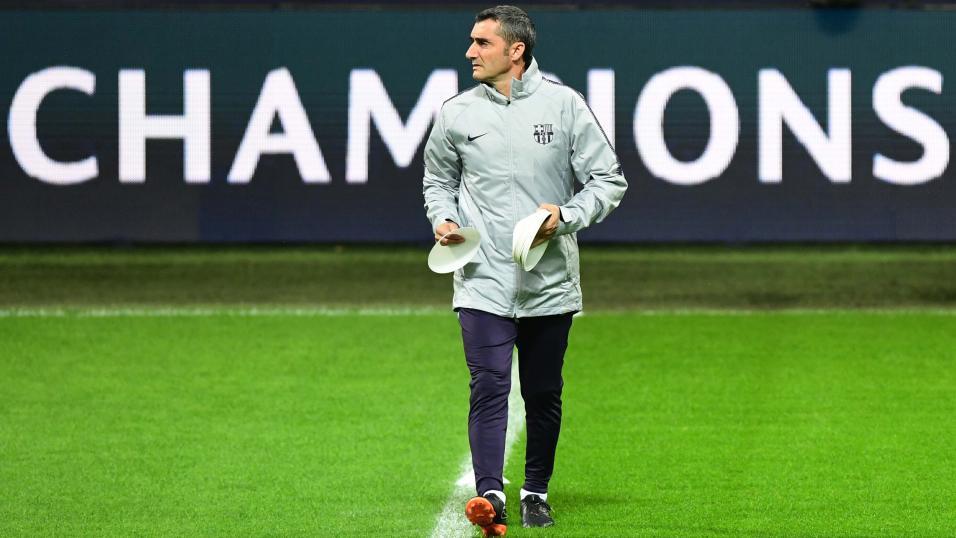 Ernesto Valverde has earned his contract extension
A big week is coming up for Barcelona and they did the right thing by signing manager Ernesto Valverde up to a new contract, says Rivaldo
"The Ajax-Madrid match should have been a warning for Los Blaugrana to not lose focus in France. It's too early to think of who they could face in the next round before playing Lyon, and it could easily go wrong for them."
Manager extension is good news for everyone
For everything Ernesto Valverde has been doing at Barcelona I think he deserved this contract renewal for another year (or two) and this is also going to benefit club stability.
No matter what happens next - he can extend his contract a little bit more if he wins the Champions League - it is something he has earned for his commitment and work at Los Blaugrana in these two seasons as their coach.
Of course, this contract extension could have come earlier, but now it's a good moment to gather the troops and try to reinforce their team spirit even more to attack all competitions this season.
From the manager's perspective, just having a contract extension for one more year is a sign that the club believes in his qualities and would certainly give him an extra boost before entering the decisive moments of the season.
The players are also going to be a little more relaxed knowing that their manager is here to stay, so they focus solely on working hard under his management to try and win the most titles possible this season.
Keeping the manager is also a sign for the players that they are doing a good job, so everyone should be satisfied and hoping to claim glory this season with a strong team spirit.
Back on track
Real Madrid are still recovering from their tough season start, however the players and manager Santi Solari have done well to move past this and should be credited. Carrying such a big reputation means that they're always the favourites for trophies and it's easy to be criticised by the public when you're not doing as well as they expect, especially after Cristiano Ronaldo's departure and with ex-boss Julen Lopetegui being replaced. The team have battled on and as a result, they're still in all the competitions.
They may start to think that it may be possible to win Champions League again, but it's not going to be easy. They are everyone's biggest rival after winning it four times in the last five seasons and it was possible to see that on Wednesday against Ajax. Madrid really had to hold on to win, with the Dutch team's young talents really testing their defence. Ultimately the defending champions came through with a vital 2-1 away win.
It's too early to compare Vinicius with the best young players in Europe
Vinicius Jr continues to shine in Madrid's starting XI - as I always thought from the beginning, even when he was dropped - but it's still to early to compare him to the likes of Kylian Mbappe or Ousmane Dembele; they've both had time to settle in their respective teams.
I prefer to make comparisons towards the end of the season, then I can see which players won silverware (if any) and if either player had more impact within their own team. Then maybe I can say then if he's on the same level as the best, young talents. He definitely does show the a high level of maturity; he wasn't being played in the first team but kept playing, training and keeping professional and was rewarded with the opportunities he's getting currently but it's still unfair to liken the end product with other players at the moment.
VAR will always be controversial
VAR is in the news once again after the last two Real Madrid matches, against both Ajax and Atletico Madrid. Even with VAR, there will still be mistakes in dubious situations and it's only normal that a team can feel wronged or relieved by certain refeering decisions. It won't solve all officiating problems by itself and referees will still make the wrong call in difficult decisions. You can't be perfect.
Frenkie De Jong will be a great addition to Barcelona
You could see why Barcelona went for Frenkie De Jong after he showed his potential with Ajax on the Champions League clash with Madrid. They could have won the match but just lacked the experience. That's what made the difference.
Barca have made a good decision on his transfer and will be an exciting prospect once he joins in the summer. He should adapt easily to their style of play, as he's a prolific passer and strong going forward. He should have a solid 2019/2020 campaign with them.
March's El Clasico could decide La Liga
Barcelona have suffered two unexpected, consecutive draws which has allowed Real Madrid to re-enter the title race. They're under pressure as they could lose their place at the top and cannot afford to keep dropping points because of the form their rivals have; Madrid have won their last five La Liga matches on the bounce.
In my opinion, El Clasico at the beginning of March will be decisive. If Barcelona lose, then advantage Madrid. Should they win at the Bernabeu, then La Liga will be theirs, again.
No easy games in Europe
It's never easy in the Champions League knockout stages and Barcelona should be aware of the danger that they will face against Lyon next week, especially after losing some momentum and confidence after dropping points in the league.
Lyon will be playing in front of their fans and these kind of teams tend to rise for the occasion against the big clubs. They will know getting a result at home is crucial, so Barca need to make sure they don't get complacent, otherwise it could turn into a bad day at the office. The Ajax-Madrid match should have been a warning for Los Blaugrana to not lose focus in France. It's too early to think of who they could face in the next round before playing Lyon, and it could easily go wrong for them.
If Lionel Messi plays like he usually does then I think that could be the decisive factor in the match. It would then set up a nice second leg at Camp Nou. Sometimes when Messi is not on his game, it affects the rest of the team, so let's hope that he's at his 100% best next Tuesday.
I believe Barcelona has enough strength in depth to win the Champions League but it's too soon to start thinking about that if they want to avoid any upsets.