Rivaldo Exclusive: With Messi and Dembélé firing, Barca can win Champions League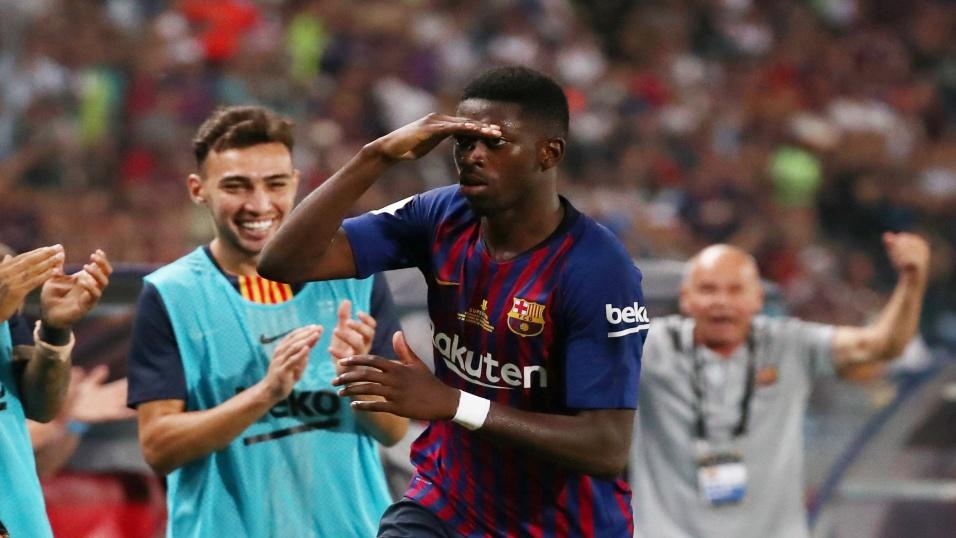 Rivaldo is impressed by Ousmane Dembélé's form
Betfair Ambassador and Barcelona legend Rivaldo discusses Madrid ahead of their match against Valencia and explains why he believes his old club could win the Champions League this season...
"If Messi keeps playing like he did against PSV in midweek, Barcelona are a decent bet to win the Champions League at [6.2]."

Real Madrid's domestic struggles are down to improving opponents
There's a lot of talk about Real Madrid playing better in the Champions League than in La Liga, but I don't agree with that. Instead, I think Madrid's domestic struggles are down to the way the so-called smaller teams in La Liga are earning good results against the bigger clubs.
The Spanish top flight is becoming extremely competitive, which mean it's exciting to watch and to bet on, and it's not just Madrid who are dropping points regularly. Barcelona and Atletico Madrid are also suffering and struggling for consistency.
Madrid lost to Eibar last weekend in the La Liga but responded well in midweek in the Champions League, beating Roma away from home, imposing themselves and earning an important result. Now Madrid go into Sunday's match against Valencia more confident after their victory in Italy. But Valencia, who are not where they wish in La Liga, need to get results and won't make things easy for Madrid, even though the hosts are [1.49] favourites at the Bernabeu.
I don't believe there are issues between Isco and Solari
Despite not been playing lately, and even missing the team's trip to Rome, I believe there's no problem between Isco and the manager Santiago Solari. Solari took the reins so recently and it would be odd to see him encoutering problems with important members of the team right away.
The curious case of Ousmane Dembélé
Ousmane Dembélé's performances in the last two matches - where he ended up being very important - only highlighted what everyone already knows - he is a very good player and that's why Barça signed him.
He just needs to set his mind and focus on the game because he is proving all value and how important he can be for the club. Even if he is still wishing to leave the club, it would be better to be professional in training and games, producing solid performances to leave the club on a good note, instead of creating a bad reputation of himself as a player.
With Messi playing like this, Barca are one of Champions League favourites>
Lionel Messi is one of those players who no one dislikes, such is his ability and playing style. He has just surpassed Ronaldo as the player with more goals in the Champions League for one club, and if he keeps playing like he did against PSV in midweek, Barcelona are a decent bet to win the Champions League at [6.2].
I expect Barcelona to beat Villarreal on Sunday and overtake Sevilla at the top of the table. Villarreal come to this match after a midweek match away to Rangers in the Europa League, and could feel it a little bit tired this Sunday.
Tottenham can win at any venue
Tottenham probably need to win at Camp Nou on December 11, if they want to stay in the Champions League. They must attack against Barcelona next month and I think they have reasons to believe in themselves, especially with Barcelona already qualified and potentially rotating their squad.
Despite Barcelona being unbeaten at home in the Champions League since 2013, it's worth remembering they have lost to Real Betis at home in La Liga this season, so Spurs, who are [3.05] to win at Camp Nou, have something to look at to inspire themselves.
Neymar is playing well and must solely focus on that
More important than the boos he received from PSG fans, was Neymar's fine performance against Liverpool. He just needs to focus on his work and ignore fans' reactions.
This kind of pressure from the fans is part of football and he must deal with it, maintaining his high level of work and proving his value in Paris.
The rumours about his return to Barcelona, or signing for Real Madrid, annoy the PSG crowd, but he is a star player and it's normal that many top clubs could be interested in his services.
Sad situation with Copa Libertadores
It was sad what happened at the postponed Copa Libertadores Final last weekend. In a match that could be beamed across the planet for the best reasons, it turned out getting attention for the wrong reasons.
Now, it's a tough situation and even playing outside Argentina or disqualifying River and giving Boca Juniors the title would be a mess for the competition. But CONMEBOL cannot let this pass without sanctions because what happened was bad and serious, with players hurt and running for their lives. It cannot happen in football.
Let's wait for the verdict, but it really was a sad episode on a day that was expected to be a brilliant advert for Argentinian football.