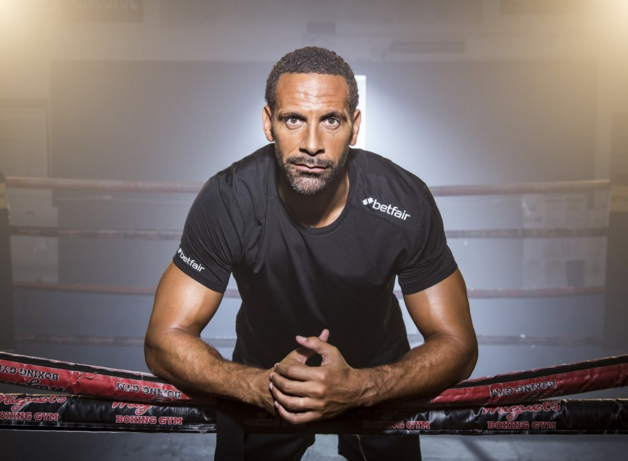 Get the full SP on Rio Ferdinand's Defender To Contender challenge
Betfair is backing former Manchester United and England star, Rio Ferdinand, in his quest to compete for a boxing title in the 'Defender To Contender' campaign. But why is he doing it and how will it work? Here is the lowdown...
"In all honesty I think he could definitely box as a professional given time. He has natural power in his right hand and is very enthusiastic to learn which is encouraging."

Richie Woodhall

Why Rio?
Rio is a world-class sportsman and is driven by success. Post retirement, health and fitness has been a big focus for him, including boxing. He stood out as one of very few people who could undertake such a challenge. He embodies the Betfair brand with his restless and pioneering desire to succeed.

Why is Rio doing this?
Rio is a fitness fanatic, who is always looking to challenge himself and Defender To Contender offers him the opportunity to take on a new challenge in his life. Rio is still at the top of his game physically and after finding boxing through his love of fitness, he was excited by the challenge put to him by Betfair.

What's in it for Betfair?
Betfair want to give fans of boxing, and sport as a whole, a credible and exciting sporting narrative to get behind. We want to show what champions are made of and that there is life after football.

Does Betfair understand what it is asking Rio to do?
Betfair and Rio fully understand the size of the challenge ahead and as with Victoria Pendleton's Switching Saddles campaign everyone involved is aware of the potential risks. With that in mind all decisions surrounding the challenge will be made as a team with Rio and the team of experts having the final say on all decisions.

Is Rio just in this for the money? / How committed is Rio to doing this?

Rio is fully committed to the challenge, physically and mentally and is excited about the prospect of learning a new sport and the challenges that come with it. Boxing is a sport that needs to be respected and Rio and Betfair's team of experts are not taking this lightly.

Why do this now?
We knew Rio was looking for a new challenge and after finding out about his passion for health, fitness and boxing, we felt this was the perfect time to approach Rio to take on an experience like this.

Is the goal you have set realistic?
The target of competing for a Regional or English belt has been set after consulting with a number of well respected former boxers and experts in the field. Much like Switching Saddles - where Olympic cyclist Victoria Pendleton trained to become a jockey with Betfair's backing and competed at Cheltenham - we will be taking it step by step to ensure that the decisions made are as a team and all parties are fully brought into each decision.

Has Rio boxed before?
Rio has always had an interest in boxing and has incorporated boxing and sparring into his fitness regime however he has never professionally boxed.

Does Rio have the skill set to be able to do this?

Sky Sports pundit and trainer, Richie Woodhall, who will be part of the support team for Rio, says: "In all honesty I think he could definitely box as a professional given time. He has natural power in his right hand and is very enthusiastic to learn which is encouraging.
"Style wise he is very raw and I will have to develop this which will take time but he has all the natural ingredients, height and reach advantages over boxers in his weight division and definitely has potential to win a title of some sort in the future."

What does the timeline for Rio look like?
The primary target is competing for a title belt. With so many moving parts to the challenge, Rio and the Betfair team of experts will take each milestone as it comes depending on his capability and performance at that time.
Rio will be training three days a week with Richie Woodhall, and will also be dedicating his own time with his fitness trainer Mel Deane throughout the rest of the week. Richie will be providing a strict training schedule involving both fitness and technical boxing training
The first step will be to train and be assessed in order and gain his British Boxing Board of Control (BBBOC) licence.

Why has Richie Woodhall got involved?
Richie is passionate about boxing and is excited by the challenge to see if a champion in one sport can transform themselves into a champion in another sport. Richie wants to see the sport grow and reach new audiences, he believes that Rio's involvement in the sport will help shine a light on just how tough it is to become a professional boxer.

Check out our launch video
***
For more details, background and videos/images on the campaign, head to our dedicated Defender To Contender microsite