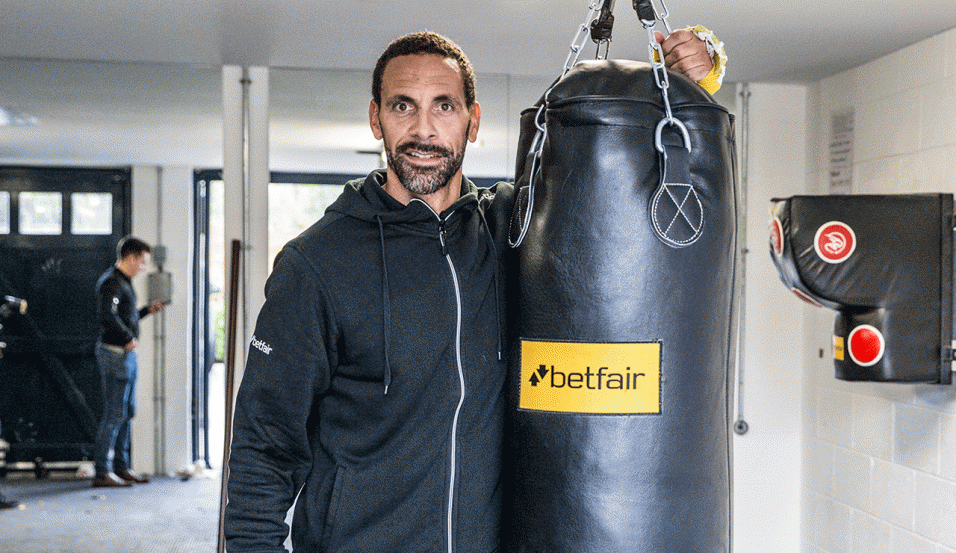 Defender to Contender - Rio Ferdinand in his gym
A little over three months ago Rio Ferdinand and Betfair announced the Defender to Contender challenge, so what has Rio learned from more than 90 days of training and prep? Read on to find out...
"...you can't box and do it half-heartedly..."
The challenge excites me every day, but it's not easy...
I have not had a session where I have walked in going 'I can't be bothered to do this today'. I come in looking forward to each session, so that's a good sign. I think it's because it's hard - mentally and physically hard -which I knew, and I know every day coming in is going to be difficult. But I always know I am going to learn something when I come in so that keeps me motivated.
My confidence is growing as I learn more...
We have been training for about three months now so I know a lot more now than I did then. I am much more aware of what is needed to get through this but still there are so many other hurdles on the way in terms of sparring and being fully hit.
But I just can't wait to spar!
I just want to get in there to be honest with you. That's what I have said to him from the first time I met him 'I just want to spar'. I didn't realise I have a long way to go before I could start sparring. And sparring is about learning. It's not about going in there and just throwing punches and just trying to have a tear-up, it's about going in there and learning what you are capable of doing, what to expect, what's needed. So I am looking forward to it and then I will get a much better understanding of whether this is right for me or not. If I really am crazy for doing this.
In Richie I trust...
Richie is the professional, he is the experienced person in this game so I am guided by whatever he says really, I put all my trust in him.
And he's a mate, too.
I am sure when we finish this we will remain in contact. I don't think you work this close with someone and don't become either good buddies or hate each other.
My footballing past is shaping my boxing future...
I always had to be disciplined when I played in terms of my work and preparing for seasons and games. I think that's a huge part of it, and I knew it would come in handy when doing this challenge. Discipline, remaining focused on the job in hand and being able to have a work ethic. I think you need to have that if you are going to try to become a boxer because you can't box and do it half-heartedly.
Christmas is coming but I won't be cutting loose...
I eat pretty well anyway so I am not changing it a crazy amount at the moment. I am still going by my relatively good diet, the odd biscuit here and there. Still nice for me. I think after Christmas when we start properly sparring and going for the boxing licence that's when I will really rein it in and going for a strict diet. I will enjoy a nice bit of food on Christmas day, but good food. We are training over Christmas.
Subscribe and watch all our Rio videos here