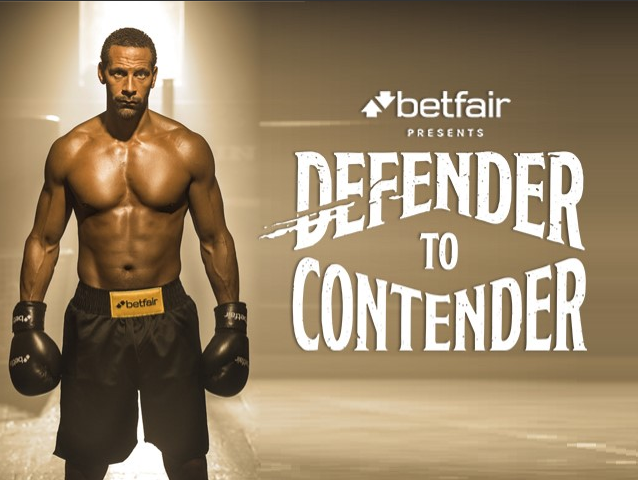 Rio Ferdinand is Defender to Contender in new Betfair campaign
After a hugely successful career in English football, spanning 15 years, 81 England caps, six Premier League titles and a Champions League for Manchester United, Rio Ferdinand today announced he has partnered with Betfair to take on a new professional sport...
- Former Manchester United and England star sets his sights on boxing licence

- Rio will fight in a succession of bouts in 2017/18 with ultimate aim to compete for a title belt

- Betfair to provide team of experts including Team GB coach Richie Woodhall
As part of the 'Defender to Contender' project, Ferdinand will be transforming himself into a boxer, with Betfair helping him qualify for his British Boxing Board of Control (BBBOC) licence before he then begins training and competing for a title belt.

Explaining his reasons for taking on the challenge, Rio said: "When Betfair approached me about the Defender to Contender challenge, the chance to prove myself in a new sport was a real draw.

"Boxing is an amazing sport for the mind and the body. I have always had a passion for it and this challenge is the perfect opportunity to show people what's possible. It's a challenge I'm not taking lightly - clearly not everyone can become a professional boxer - but with the team of experts Betfair are putting together and the drive I have to succeed, anything is possible."

Betfair is preparing Ferdinand by assembling a team of world-class boxing and conditioning experts to support him throughout the journey. Rio will be training with former WBC super-middleweight Champion turned Team GB trainer, Richie Woodhall.

Richie has devised a training schedule involving fitness and technical boxing preparation, and he will work closely with Rio's personal trainer, Mel Deane, to condition Rio over the coming months.

Betfair will also introduce a number of former and current boxers to Rio at key points in the campaign to help him prepare for specific fights and hone specific skills.

Betfair, which successfully helped Victoria Pendleton transition from Olympic cyclist to Cheltenham jockey in the ground-breaking 'Switching Saddles' challenge in 2016, will once again help provide an unexpected perspective on a great British sport. Through Rio's challenge, it intends to profile the skills, athleticism and courage faced by boxers around the world.

Woodhall said: "In all honesty, I think Rio can definitely box as a professional given time. He has natural power in his right hand, is extremely fit and is very enthusiastic to learn which is encouraging.

"Style wise, he's very raw and I'll have to develop this which will take time but he has all the natural ingredients, height and reach advantages over boxers in his weight division and definitely has potential to win a title in the future."

***

For more details on Defender To Contender, check out our Inside The Ropes Q&A, and our dedicated Defender To Contender microsite.

And take a look at our launch video