Rachel Yankey: No problem with Neville appointment but coaching team will be key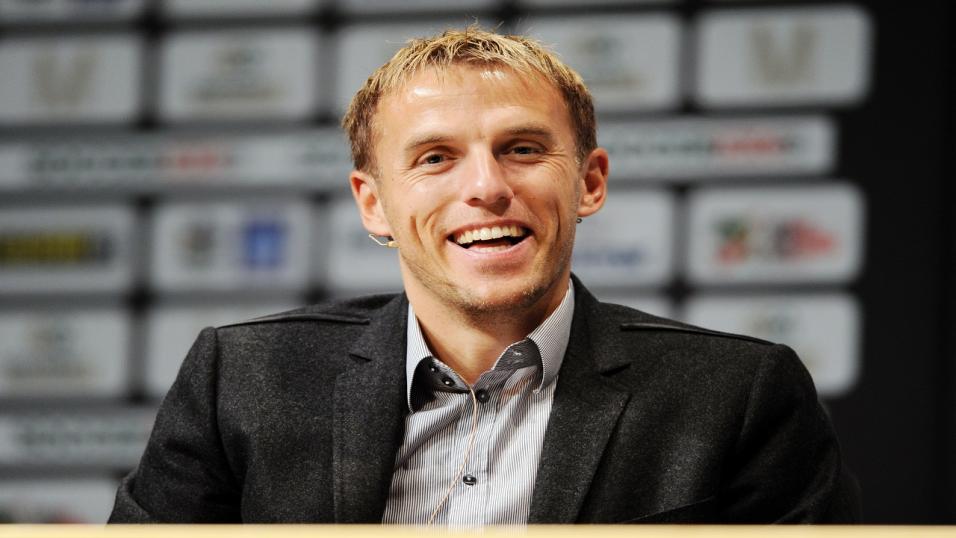 Phil Neville could help raise the profile of the women's game, according to Rachel Yankey
There has been a mixed reaction to Phil Neville's appointment as Lionesses head coach, but England legend Rachel Yankey tells us the former Manchester United man can be a success - if he gets the right team around him...
"Is he looking to get into the men's game and manage there? Yeah, I'm sure he is. For him it probably will be used for progression, but what I'd love to see is for him help female coaches."
Is Neville the right man for the job?
I know he hasn't managed before - he's obviously coached at Valencia, coached at Manchester United, his playing CV is fantastic - but whether he is the right person for the job, that remains to be seen.
I don't see anything wrong with the appointment. I think the FA have their criteria to pick a manager by and he must fit the bill, so we will just have to wait and see just how well he does with the team.
Are you disappointed that the job didn't go to a female coach?
Not at all, I've always maintained that the best people for the job should be given the job. You shouldn't just be given the job because you're a female. I don't believe that you should have all female refs just because it's a female tournament. I think it should go to the best person, and the FA have obviously deemed that to be Phil Neville. Now we've got an ex-pro male footballer working in the women's game, so perhaps we will see an ex-pro female footballer working in the men's game.
Are you concerned Neville will just use the job as a stepping stone?
Is he looking to get into the men's game and manage there? Yeah, I'm sure he is. For him it probably will be used for progression, but what I'd love to see is for him help female coaches. I've just seen him talk on Sky Sports News about Mo Marley and Casey Stoney, so I imagine his backroom staff are going to include those two. Yes he is the manager now but it looks like the FA is trying to build more of a team ethic and perhaps bring in another female coach in the future.
We don't know whether he is going to be the best manager or coach, but just to be able to sit in a room with him and talk to him about what he has done will surely be invaluable to the players.
What do you think this appointment will do for female coaches in the UK? Why didn't it go to Emma Hayes or Mo Marley for example?
It depends on how you look at it. I don't think Emma ever wanted the job, I'm not totally sure on Mo either. I think how you have to look at it is that we've got to increase the number of female coaches out there, so that when opportunities like this come knocking there are twice as many females going for the job as there are male. It's why I am such a keen supporter of Betfair's #FairerGame campaign to help get 50 female coaches their UEFA B licences.
I think this appointment will boost the profile of the game and we will see more role models and former male footballers going into the women's game. You could look at that as 'a bad thing for female coaching and the women's game', but really I would look at it from the perspective of the profile of the game and boosting spectatorship.
What are the biggest challenges Neville will face?
There's obviously a lot of pressure, and the biggest pressure is that the England side in previous European Championships and World Cups have done well. They got to the latter stages and that's the benchmark now.
I think the biggest thing for him now is bringing in the right people around him and for him to make sure he is leading a good team of coaches that have different backgrounds and also a good knowledge of the women's game. Also, coaches that have worked with female players because working with female players and working with male players is different, so you have to be ready for that.
Saying that, he has coached at Valencia, he's coached at Man Utd, he's played for managers like Sir Alex Ferguson and David Moyes, so he's worked with big names and he's undoubtedly going to have learned from that. He's also got a bank of people he can go back to and ask questions, so yes, he might be inexperienced at managing but he can fall back on a lot of good people.
Do you think Neville has ever had an interest in the women's game? Those old tweets that emerged this week didn't look great
As a competitor and as a footballer he's played for one of the best teams in Manchester United, so surely he's not going to want to lose this challenge. He won't want to be seen as a failure, so I believe he will give everything to this job to make it work and the women's game is in a good place with him in charge. Also, his twin sister Tracey was the England Netball manager so I'm sure she would have had stern words about (the tweets)!
Read past articles