Rachel Yankey: England has a 'great chance' of winning Euro 2021 bid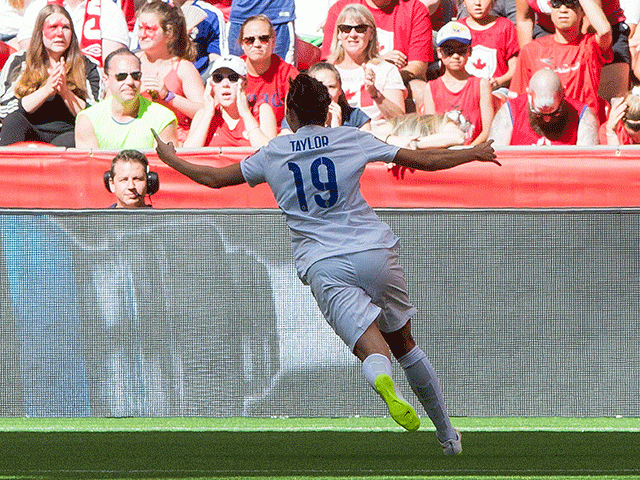 Players like Jodie Taylor are becoming household names
Winning the bid to host Euro 2021 will be tough but England will have a great chance as long as the FA continues to invest in the infrastructure of women's football, according to Rachel Yankey, who also reflects on the legacy of this summer's Euros and England's disappointing semi-final defeat...
"It's really key when going for the bid to put forward a stable structure. It's great that the players are now full-time and get paid, but it needs evolve to include the back room staff and coaching teams."
Euro 2012: The hard work starts now

The decision to bid for the 2021 Euros shows that the FA are committed to investing in women's football, and we certainly stand a great chance of winning.
The bidding process is a long one and the hard work starts now. It's really key when going for the bid to put forward a stable structure. It's great that the players are now full-time and get paid, but it needs evolve to include the back room staff and coaching teams.
It will be interesting to see which stadiums the FA will propose using for the tournament. In 2005, we played at the City of Manchester Stadium and Blackburn which were big stadiums, so there's no reason why we can't look at the likes of the Emirates, or the most iconic Championship stadiums.
It would be huge for England to win the privilege to host the tournament - it will only help to grow the sport and inspire the next generation. It's going to be tough but we have a great chance, and this decision is really positive for women's sport as a whole.

England didn't get tactics right against the Dutch

The big win against the Scots definitely kicked England's campaign off with a bang, it got everyone's attention. The Lionesses then went on to achieve a record win over the French in the quarters. They hadn't beaten France since 1974 and to do so in a major tournament was a massive achievement.
The team obviously wanted to go on and win the competition but unfortunately that wasn't meant to be. It didn't seem as though England had their tactics quite right in the semi-final game against Holland. From the first half you could tell the system wasn't working, changes could have perhaps been made earlier.
Possession on the ball was the key, the tactic needed to based on attacking the Dutch with players who could get the ball down and go at the back four. It seemed as though England were banking on being the fitter team, but they looked tired late on and perhaps some fresh legs sooner may have boosted the team's confidence to keep the ball and attack with purpose.
The Dutch most definitely did their homework, they were very clever in their play. They nullified England's attacking threats yet still pushed forward themselves, quickly realising the importance of going at the Lionesses' defence. It is very easy to focus on another team and forget how you play, but the Dutch team maintained their strategy throughout and that reflects well on their brilliant coach, Sarina Wiegman.
Sarina has coached both men's and women's football which is really intriguing and fairly rare. It does however prove that a manager or an assistant can certainly work and grow their experience in both men's and women's football - gender needn't be a challenge to young coaches out there.
Personal recognition for stars will be next step in game's evolution

The most positive thing to be taken from this summer's tournament has to be that it has brought a lot of fans together and immersed them in the sport. The viewing figures for Channel 4 prove that people are certainly interested in the women's game and the tournament has also proven that it's important for the media. Fans want to be able to follow the games and get under the skin of the teams they follow, whether that be through social media or newspapers.
The women's game is also benefiting from increasing sponsorship interest. As opportunities for sponsors to get involved with the female side of the sport grow, it would still be fantastic to see brands beginning to invest more in player-specific sponsorship.
A lot of people watched the England games and female footballers are now being recognised - when I was younger, you wouldn't get that at all. Female footballers will need to become household names in order for big sponsors to see the sponsorship value, but things shift in that direction it would make a big difference.
To make female players 'the norm' to football fans, supporters need to be paying their money to fill out stadiums. It was great to see the Dutch selling out the final so quickly and that mentality and outcome needs to be more apparent at WSL fixtures.
This summer has been hugely successful for women's sport in general, with rugby, cricket and football all gaining headlines. The performances of sportswomen from all walks of life will have encouraged young women to get involved in sport, and that's immensely important.
There is no doubt that the level of play in all women's sport, and football in particular, is higher than ever. Training and overall structure is a lot better and if we can stop the little mistakes that make it look unprofessional at times, then football in this country will be a genuine career platform for young women to excel.
Read past articles