Rachel Yankey: Houghton led by example against Bosnia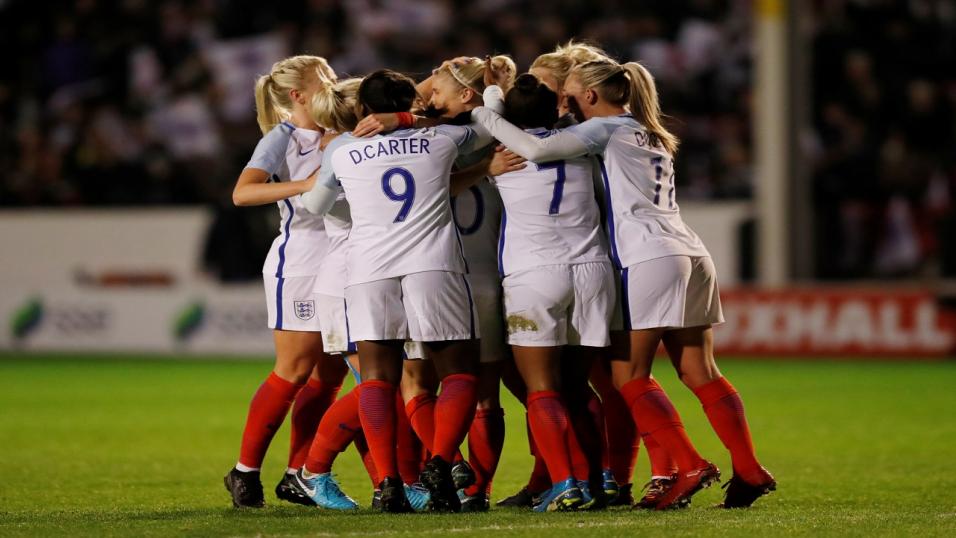 England celebrate one of their goals against Bosnia
Betfair Ambassador Rachel Yankey reflects on England's performance over Bosnia on Friday, Mo Marley's chances of getting the head coach job full time and the appointment of Danielle Carter to the FA Council...
"Someone asked me if I would ever consider a similar position within the FA and all I can say is I'm always willing to help my country. Football is something I am passionate about and I'm proud to have represented my country so I'd always be open to conversations."
Job done v Bosnia but improvements to be made
It's always tough to play against a team that is ranked and perhaps considered on paper a lesser team than you. You have to be disciplined to go out there and play to the final whistle. The main aim is to get the three points, be patient and the team did that. Even at the end you saw them wanting to continue pushing for a fifth goal which shows the competitive spirit within the team.

It wasn't perfect though and there are certainly areas for improvement. I looked at the game again over the weekend and felt they could have played with more tempo and controlled the ball better.
It felt as if they occasionally came down to Bosnia's level rather than setting the pace asking for their opponents to keep up. As we move up the rankings we need to be pushing the tempo more, making the smaller teams chase the game. So that when we come up against the bigger teams we have the confidence to go out and play our own game.

A special mention has to go to captain Steph Houghton, who was fantastic. She led by example and produced two moments of quality to drive the team forward whilst also setting a really solid base at the back too.
The pressure of the shirt
England at times last night looked a little cautious. Which some have said is down to pressure.

Times have changed since I was playing. For the majority of my England career the team were still battling to qualify for major tournaments and do that consistently.
We had a good side that teams did start to notice and fear but at major competitions we didn't perhaps get as far as our talent should have allowed us to. That was not necessarily because of the pressure of playing for our country but more because we weren't all professional and didn't have the education that came with playing experience in different situations.

The difference for players now, is that they have come through the age groups, play within good club structures and are producing results. With that comes expectation and pressure.
These players will start to learn by being in these situations more that it is just part and parcel of the game and being successful. You're playing for a nation that people are ranking as one of the best in the world, so they have to go out and perform. So there will be pressure and it can change your mentality, but the right coach, whomever comes in, will help them overcome that.


Sell-out crowds a great sign
The Lionesses have been on an upward curve since before the World Cup and produced more high-quality performances at the Euros so they're beginning to generate some real excitement in women's football supported by a healthy club game.

What stands out for me however and is one of the main reasons they keep selling-out is the fact that they go and play in all parts of the country. People are taking the chance to see them when they can because it's accessible and it's regional. The women's game needs to do things its own way and this is a clear sign that a different approach can work.


Keep Mo Marley involved even if she doesn't want coach job
There has been a lot of talk about Mo Marley and how she wants the team to play, but also whether the FA see this as an audition for the full-time role.

Personally, I don't see these games as an audition. Mo Marley has been involved with the England set-up for a number of years and I'm sure the FA know exactly what she will bring.
What it will come down to is what direction they want to take. Is the next person who comes in just going to take them to the World Cup or do they want someone more long term? It will be interesting to see which way they go.
If you look at the men's team, the FA had their hand forced a little but Gareth Southgate was brought through the system and is showing how effective that can be, so it might be a formula they follow in the women's game too.

I've heard that Mo Marley might also not want the job because of the scrutiny that comes with it. I can certainly understand that, she's come in, got points and done what needs to be done, so if she decides that she doesn't want to deal with the pressure from the media then that's her decision but I hope her experience is still utilised within the game.


Carter appointment a positive move
Danielle Carter has recently been appointed to the FA council, which is a big step in the right direction. She can have a really positive impact in the boardroom by bringing her experience as a current player, where she can talk about what it is really like, not what it was like.
I hope she feels empowered to express herself, bringing a fresh female perspective and more youth to the council.

It's clear football has some work to do to continue to change and develop but steps like this are a positive sign. What we are trying to achieve with Fairer Game and bringing more female coaches up the coaching ladder is showing that whether women or BAME coaches we need to see diversity at all levels of the game.
It has got to be fair, we all want good people to be given the chance, but they need to be given the confidence to succeed or fail. We can't have them judged by different standards.

Someone asked me if I would ever consider a similar position within the FA and all I can say is I'm always willing to help my country. Football is something I am passionate about and I'm proud to have represented my country so I'd always be open to conversations.
Read past articles