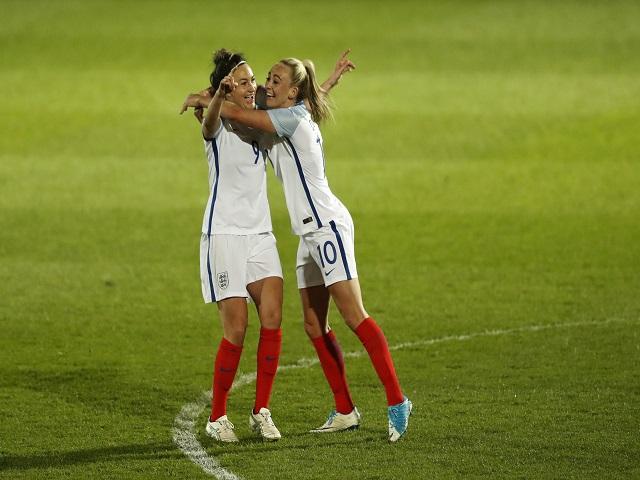 Jodie Taylor counts the Netherlands keeper as a teammate but no favours will be given
England face a tough challenge against a Netherlands side who have been the surprise package of the tournament, but Rachel Yankey expects Mark Sampson's team to make it through to the final on a Sunday with a narrow victory...
"England are in a great place to earn those bragging rights, they have achieved a record breaking win over the French, have the tournament's in-form striker and took the win the last time they met the Netherlands back in November."
England v Netherlands
Thursday, 19:45
Live on Channel 4
Replacing Scott will be a challenge

Mark Sampson and the girls have done fantastically well so far out in Holland. Their performances have been amazing and this evening's game marks another significant achievement for this impressive squad.
The players are likely to have known the team yesterday, and this time around selection will have been tricky for Mark because he clearly has a team he trusts and Jill Scott can't play. Jordan Nobbs is likely to come into the centre of midfield, and she plays very differently to Jill.
That may in turn change the way other people play, if Jordan went to the middle who will be the player to take her place on the right a creative player? Or a more defensive player? My guess would be Issy Christiansen as a like-for-like change if Jordan does switch in field.
England face the hosts, the Netherlands, who have been the surprise package in this summer's tournament. They beat Sweden with relative ease in the quarter-finals and topped Group A after beating Denmark, Norway and Belgium.
Dutch will be a handful

Lieke Martens and Sherida Spitse are tied for second most goals scored in the tournament (trailing England's Jodie Taylor by three goals), and Martens has had the most shots on target of anyone out in Holland. Therefore it goes without saying that they will be a handful for England.
It's surprising, given the calibre of teams they have played, but the Netherlands defence certainly hasn't been hugely tested yet. England, and the on fire Jodie Taylor, will certainly provide them with more of a test, and I thought it was nice to hear that Jodie had gone for a coffee with Sari van Veenendaal (the Dutch goalie) yesterday. They're Arsenal team mates but they will put that aside this evening; once you're out on the pitch you're there for win, for the bragging rights.
England are in a great place to earn those bragging rights, they have achieved a record breaking win over the French, have the tournament's in-form striker and took the win the last time they met the Netherlands back in November.
A tight England win is the call

I think history will repeat itself and England will take the win today. I'm going for a 2-1 finish, with England scoring an early goal and then nicking another late on to seal the victory. This is currently [12.5] to back in the Correct Score market.
One thing is for certain, this evening's game will benefit from a sizeable crowd, and the England girls should be spurred on by the massive buzz surrounding match day. It also goes without saying that the very same crowd who are there to support the hosts could turn and put pressure on the Netherlands if things aren't going their way.
England will need to take more control of the game, as they did against Scotland. They will need to be better on the ball as the pacy Dutch wingers can definitely hurt teams if play breaks down high up the pitch. If the Lionesses can keep the ball and get the Dutch working, they can get the better of them.
Fingers crossed for this evening and make sure you tune in to Channel 4 at 19:45 to see what happens.
***
How will England have prepared for the game?
Preparations will have been meticulous in camp. It's a fairly boring process, players will really be trying to stay off their feet as well as trying to refuel.
I would normally drink squash to hydrate simply because water just goes straight through you, whereas you retain more liquid from cordial. Players will be eating fairly plain, normal foods; your carbs, your proteins.
They will have had breakfast, lunch and a pre-match meal today. Whatever is on the menu on match day would likely be the same as it has been for every single game for far.
Players will definitely go out for a walk and a stretch the day of the game other than that they will just be chilling. On match day, players will just be chilling out in their rooms waiting for the team bus, I always found that makes you quite tired. I use to prefer to keep myself active, but it's always been the case that different players focus in different ways.