The Betfair Contrarian: Why Liverpool will finish in the top six
Premier League

/ The Betfair Contrarian / 13 January 2011 /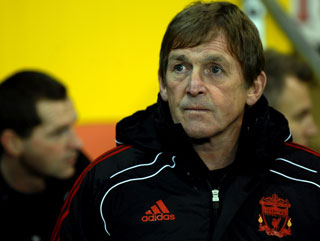 Keep faith in King Kenny, Kopites!
"Luckily for the Reds, their nightmare few months have occurred at a time when Everton and Aston Villa, both predicted rivals for a top-six finish, have proven incapable of taking advantage."
Forget defeat at Old Trafford and Bloomfield Road, Kenny can turn it around! Here are five reasons why, thanks to the Betfair Contrarian
There are plenty of statistics illustrating how far Liverpool have fallen, but the one that wakes the Contrarian at night is that two seasons ago he was arguing that they would win the title, a prophesy that came very close to fulfilment, whereas he is now left to explain why they will finish in the top six at [3.9] and secure a spot in the Europa League for the second successive season, something that would be greeted as a genuine achievement. Here's why he's backing King Kenny to turn things around...

They don't have much ground to make up
The Premier League has been so tight this season that despite Liverpool's disastrous start, they are within eight points of sixth place with a game in hand in which they will be odds-on to collect maximum points - at home in a fortnight to Fulham, who have won only once in 28 matches on their top-flight travels. Another advantage is that most of their toughest away days are already out of the way - they are still to visit just three of the 11 teams above them, whereas they host six of them.
The traditional contenders are also struggling
Over the summer, few would have disputed that the eight strongest sides in the Premier League were the Champions League-qualifying quartet, Manchester City, Aston Villa, Everton and Liverpool. Luckily for the Reds, their nightmare few months have occurred at a time when Everton and Aston Villa, both predicted rivals for a top-six finish, have proven incapable of taking advantage. The Toffees are level with Liverpool despite having played a game more and have a trip to Anfield on the horizon, while Aston Villa are in the bottom three having won only two of their last 15 in the league.

The current occupants can't be relied upon
Instead, the club currently clinging to sixth are Sunderland, who last ended a campaign in such a lofty position back in 1954-55 and still aren't rated too highly at [4.1] to stay there. There are several concerns about their ability to last the course, such as the fact all bar three of their 25 goals have been scored by their strikers or the opposition, suggesting that they are in trouble if those dry up, and their tendency for massive dips in form. At one point last season the Black Cats went 14 matches without a win, while the year before they triumphed in just three of 20 fixtures after Christmas. Bolton, the other surprise package, already appear to be falling away right now. Another encouraging trend for Liverpool is that they've picked up more points in the second half of the last three seasons.
Gerrard and Torres can't underperform for ever
The old argument that Liverpool are a two-man team hasn't been heard as often recently because Steven Gerrard and Fernando Torres rarely impressed for Roy Hodgson. Regardless of whether the reason was that they weren't playing for the former Fulham boss or that they are suffering World Cup hangover, it's implausible that they will go on playing this badly. Torres has never scored fewer than 14 goals in a Premier League campaign, even when only making 20 starts, while he has grabbed at least 13 in each of the last eight years, and Gerrard's influence tends to grow after Christmas.
Dalglish has never missed out on the top six
The debate as to whether Kenny Dalglish can succeed as a manager having been out of the game for over a decade is understandable but his record prior to that lengthy hiatus was pretty spectacular. In 12 of his 13 seasons at Liverpool, Blackburn, Newcastle and Celtic (excluding 1998-99 as Newcastle axed him after two matches), he finished in the top six of whatever division he was in, his sole failure coming in his second year at St James' Park, for which he compensated with an FA Cup Final run.

'.$sign_up['title'].'
'; } } ?>