The 2011/12 Manchester United lookalike XI
Premier League

/ Dan Fitch / 01 September 2011 / 4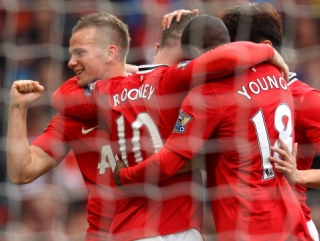 Tom Cleverley celebrates the fact that we can't think of a lookalike for him.
Dan Fitch lifts the lid on the doppelgangers who could pass for Manchester United's stars, if only they could play football.
There are a lot of big questions on the minds of Manchester United supporters at the moment. Will they retain the Premier League? Is this the year that they topple Barcelona in Europe? And perhaps most importantly, who gets a place in the 2011/12 Manchester United lookalike XI?
Luckily, we're on hand to answer one of those questions.
Goalkeeper: Juan Martin del Porto AKA David de Gea
One hits balls over a net, the other keeps them out of one.
Right Back: Micah from Heroes AKA Rafael da Silva
PIcking Fabio would have been far too easy.
Left Back: Robert Ri'Chard AKA Patrice Evra
The star of Brooklyn's Finest is a dead ringer for one of Manchester's finest players.
Centre Back: Joseph Goebbels AKA Rio Ferdinand
You might have expected Goebbels to be playing on the right wing.
Centre Back: James McQuillan from The Apprentice AKA Nemanja Vidic
The one certainty is Nemanja Vidic's life is that one day Sir Alex will tell him, "You're fired."
Central Midfield: Norma from Shameless AKA Anderson
Could Norma drive her truck through United's midfield when Anderson plays?
Central Midfield: Keiron O'Brien AKA Ryan Giggs
The Holby Blue star looks very much like this Red.
Right Midfield: Michael Jackson AKA Nani
Proof that it would be a bad idea for Nani to have plastic surgery and lighten his skin.
Left Midfield: Marlo Stanfield from The Wire AKA Ashley Young
Two men who are responsible for feeding deadly hitmen.
Striker: Seamus Finnigan from Harry Potter AKA Wayne Rooney
Both are capable of a moment of magic.
Striker: Bruno Mars AKA Javier Hernandez
We're not sure that Sir Alex would tolerate Mars' lazy attitude.
Subs
Goalkeeper: Boris Johnson AKA Tomasz Kuszczak
Kuszczak has made the odd embarrassing gaffe, but he can't compete with Boris.
Defender: Marley from Waterloo Road AKA Chris Smalling
Chris Smalling has certainly been schooled in the art of defending at Old Trafford.
Defender: Ian Curtis AKA Jonny Evans
Only love can tear our team apart.
Midfielder: Aaron Carter AKA Darren Fletcher
One of these lookalikes got much better with age. The other didn't.
Winger: Jermaine Jackson AKA Antonio Valencia
Jermaine could be a vital part of a Jackson Five-man midfield.
Striker: Andy Garcia AKA Dimitar Berbatov
We could have picked Mark Strong or The Count from Sesame Street, but we thought Dimi would cry if we didn't opt for his hero Andy Garcia.
Striker: Jason Manford AKA Michael Owen
One scores on Twitter, the other scores from the bench.
Manager: Taggart AKA Sir Alex Ferguson
These gruff, Scottish types all look the same to us.
'.$sign_up['title'].'
'; } } ?>