Premier League's English strikers get going with World Cup in their sights
Premier League

/ Ralph Ellis / 14 September 2009 /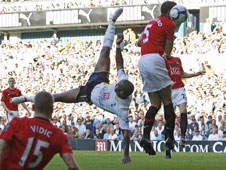 "Wayne Rooney is yet another Englishman who has started the season in a rich vein of form. He's on five now, and is [5.8] to top the charts, and [2.26] favourite to be top English goalscorer."
Defoe, Rooney and Bent will not lack for motivation this season with South Africa on the horizon
Strikers are judged by goals. They judge themselves by the same standard.
You can talk all night about the values of hold up play, about running the channels, on helping out heading balls away when your team defend set pieces. In the end what matters most is how many times they hit the back of the net.
So from the moment that the final whistle blew at Wembley last week, and England's place at the World Cup next summer was booked, a race began for a ticket on the plane to South Africa. And while the people entering the competition all probably have enough hard cash to buy the aeroplane outright, and the fuel to fly it, they all know they need a different currency for this trip - it will be paid for in goals.
Ask Jermain Defoe. The last time England went to football's biggest stage, he got sent home by Sven Goran Eriksson before the tournament began. It's a snub that has burned with him since, and one of the factors that caused such disappointment was unquestionably his goals record. He'd hit nearly one every two games for Tottenham that season. Trouble was he'd been picked to start only 23 times, and so nine as his final Premier League tally wasn't enough to convince Sven he should stay. It's why Sven gambled on taking a teenage Theo Walcott instead.
This time round Defoe is on fire to make sure Fabio Capello has no such excuse. As if five goals in his last three internationals wasn't enough, on Saturday he got his fifth in as many games for Tottenham with a brilliant, acrobatic overhead kick. There will be more, and the [22.0] I recommended taking for him to be top Premier League scorer on the eve of the season is now down to just [8.0].
Of course it wasn't enough for Spurs, whose early season pretence as title contenders was then exposed as Manchester United won 3-1. And guess who was among the goals? Wayne Rooney, yet another Englishman who has started the season in a rich vein of form. He's also on five now, and is [5.8] to top the charts, and [2.26] favourite to be top English goalscorer.
That's one to lay in either market, because there is far too much competition. And when the Champions League games begin Rooney will occasionally be rested from Premier action, while his closest rivals, fighting to book their World Cup ticket, will regularly be playing. And Rooney, incidentally, has never scored more than 16 goals in a League season, and got only 12 in each of the past two years.
In fact three of the current top four Premier League scorers are English, because Darren Bent, [6.2] to be top Englishman, helped himself to two in a 4-1 win over Hull - including a penalty. And keep a watch out for Gabby Agbonlahor of Aston Villa, who has started the season slowly but got his second in two games with the only goal of yesterday's Second City derby win at Birmingham.
The Villa man, taunted by the home fans with an obscene chant about his mother, responded in the perfect way. Maybe that's a lesson for Manchester City's Emmanuel Adebayor who lost it big time as his team thumped Arsenal 4-2. His goal a game has been crucial to the promising early start made by Mark Hughes' expensively assembled team, but they'll have to do without him for a while. The FA are preparing to throw the book at him for his extravagant celebration, running the length of the field to taunt the Gunners fans.
And video evidence shows a stamp on Cesc Fabregas which went undetected by the referee, as well as that nasty little kick at Robin Van Persie. As a result his price to top the scoring charts, which had been matched at [6.8], is now out to [12.0].
If the race to play up front for Capello's World Cup team will be intense, it is just as open in the search for a goalkeeper.
David James is going to suffer from being on the wrong end of a few bad results, as Pompey's hastily assembled side slumped to their fifth defeat of the season, a 3-2 home loss to Bolton. Pompey are now [1.74] to go down.
But then Robert Green, the man in possession of the shirt, will also have a busy season. He made a series of spectacular saves as West Ham lost to the only goal at Wigan. Watch out for Paul Robinson, who is slowly rebuilding his form under Sam Allardyce and performed well in Blackburn's 3-1 win against Wolves.
Curiously the man who two years ago was considered the world's best keeper seems to have lost his way. Petr Cech got himself in no man's land as Abdoulaye Faye headed Stoke into the lead against Chelsea. But a last minute strike by Florent Malouda kept Carlo Ancelotti's team at the top. They are now [2.3] favourites to recapture the title, but it's far too early in the season to be confident of that.
'.$sign_up['title'].'
'; } } ?>