Premier League Betting: The Worst Team Of The Season
Premier League

/ Dan Fitch / 27 April 2010 / 4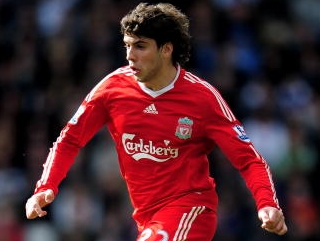 Another great talent unearthed by Rafa Benitez.
Tottenham fans have always been split on Jermaine Jenas. There are those that despise him and those that merely hate him.
The PFA have picked their best team of the season, but only Dan 'The Betting Man' Fitch is prepared to single out the worst performers of the campaign and there's not a Dimitar Berbatov in sight.
Sunday night saw the announcement of the PFA's team of the season. I'm all for celebrating achievement in this column, but I'm far more interested in outright failure. Therefore, I've decided to pick the worst team of the season, in tribute to the players who promised little and delivered even less.
It's not as simple a process as just picking the worst XI players in the Premier League. Instead, extra marks are given for playing a large amount of games, and/or playing for a top club, despite being hampered by uselessness. Let the negativity commence!
Goalkeeper
Manuel Almunia only plays for Arsenal because Arsene Wenger is too stubborn to sign anyone better and has probably been wasting his time looking for a 17-year old shot-stopper in the French second division. With a proper keeper, Arsenal may have won the league.
Defence
West Ham's error-prone Jonathan Spector gets the nod at right back. People will keep signing these Manchester United rejects and expecting them to be good.
At left back, Liverpool's Emiliano Insua has no real pretenders to his throne. He has somehow managed to play 30 useless Premier League games this season and continues Rafa Benitez's proud tradition of terrible signings.
At centre back, Arsenal's Mikael Silvestre has proved to be a worthy successor in the number 18 shirt once worn by Pascal Cygan and is another beneficiary of Wenger's weirdness.
Alongside him is Porstmouth's Ricardo Rocha. I understand that they had no money, but surely they could have done better than someone who was clearly hopeless when Spurs signed him three years ago. Rocha marked his return to the Premier League by getting sent off twice, in his first three games.
Midfield
Tottenham fans have always been split on Jermaine Jenas. There are those who despise him and those who merely hate him. Would this be the season that he finally fulfilled his potential? Nineteen anonymous league games suggests otherwise. Destined to sign for Aston Villa in the summer, to become the new Steve Sidwell.
Which bring us to... Steve Sidwell. Has anyone profited so much from a single, better than average season at a newly promoted club? First he got a move to Chelsea, where he wasn't good enough, and now he's not good enough for Villa. Mid-table teams with a few bob to spend should be wary.
I was sorely tempted to give Theo Walcott the right midfield position, but instead I'm going for Rory Delap. A throw-in does not make a footballer and I sense that Tony Pulis will find it increasingly difficult to justify Delap's place in the Stoke team, despite his freakish talent.
On the left I'm going for Stewart Downing. He cost Villa a small fortune and though he hasn't been absolutely terrible, he's certainly been very bland indeed. What's worse, he's often forced the brilliant Ashley Young out of his best position. Villa are [11.5] to finish in the top four.
Strikers
Is there a less threatening sight than Bolton's Johan Elmander clean through on goal? The Swede possesses silky skills, but sadly the ability to finish isn't in his arsenal. Elmander has scored just three league goals this season.
Still, there are some strikers who can only dream of scoring so many and Wigan's Jason Scotland is such a player. Scotland has scored one league goal in 31 largely barren appearances.
Manager
Every team needs a boss and no one has failed more spectacularly this season than Rafael Benitez. If the Spaniard had any money to spend, he would end up buying the players in this team. Liverpool are the [3.35] favourites to win the Europa League, but probably won't.
'.$sign_up['title'].'
'; } } ?>