Premier League 2016/17: Who will win and can anyone 'do a Leicester'?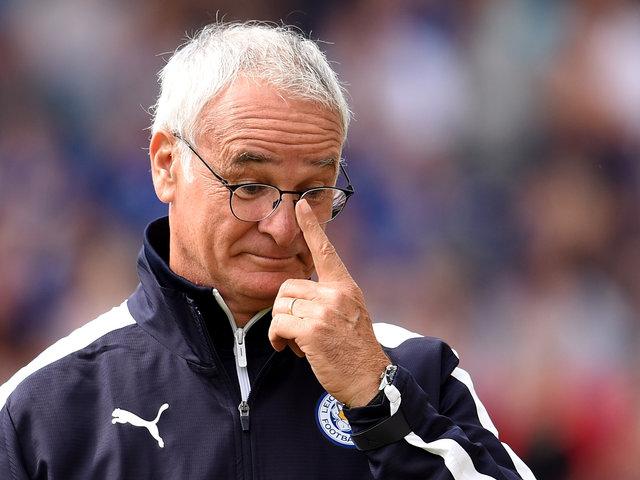 Retaining the title might be even harder than winning it this season for Leicester City
With Conte, Guardiola, and - perhaps - Mourinho joining the Premier League this summer and Ranieri's Leicester defending their title, 2016/17 looks like it will be another fascinating season in the top flight. Alex Keble looks at the early outright market on Betfair, and ponders if another long-odds bet could pay off...
"Gundogan in particular would add much needed energy in the middle, and together with Fabian Delph could create an ultra-fluid 4-3-3 formation in Manchester reminiscent of the models built around Xavi and Thiago at Barcelona and Bayern Munich respectively."
Leicester City have only just been crowned Premier League champions but already the markets are up for 2016/17, and after Claudio Ranieri's side defied their huge odds it is more tempting than ever to speculate wildly over who will top the table in 12 months' time.
The addition of Antonio Conte, Pep Guardiola, and - perhaps - Jose Mourinho should see the favourites restore order at the summit of the Premier League table but, with as many as four of the big five under transitional years in 2016/17, it will be another fascinating and unpredictable year in English football.

From next season the country's most expensively assembled side will be managed by the world's most highly coveted manager; it is no surprise that City are favourites to lift the trophy in Pep's inaugural season in England.
And City are remarkably close to building a perfect, unbeatable first eleven. Their attacking riches are virtually unmatched in world football and thus Guardiola will focus largely on recruiting central midfielders and defenders. Yaya Toure's age has caught up with him and City's defence lacks the pace of youth, which helps to explain why they have conceded so many goals this season from counter-attacks through the centre of the pitch.
Guardiola is hoping to address these issues by signing Aymeric Laporte from Athletic and Ilkay Gundogan from Dortmund. Gundogan in particular would add much needed energy in the middle, and together with Fabian Delph could create an ultra-fluid 4-3-3 formation in Manchester reminiscent of the models built around Xavi and Thiago at Barcelona and Bayern Munich respectively.
However, instigating his preferred brand of possession-centric football will be extremely difficult in such a frantic, high pressing league. Their title prospects rest on his players' willingness to conform to his unusual and highly demanding tactical methods over the summer. The Times has reported that Guardiola wants four new players; if they succeed in the market, the title is theirs to lose.

A passionate, furiously hard-working manager known for creating a war-like atmosphere in the dressing room, Antonio Conte is the perfect appointment for a club sculpted in Jose Mourinho's image. Just a few months ago the chaos at Chelsea looked insurmountable but Guus Hiddink has restored order in West London, providing an excellent platform for Conte to triumph.
Tactically, they will play an aggressive counter-attacking style that exploits pace on the wings and looks to transition into the penalty area with minimalist passing lines. The Chelsea squad is already well suited to playing this style of football, and with one or two new signings - particularly in central midfield, where neither John Obi Mikel nor Cesc Fabregas are good enough at this level - will become a fascinating antithesis to the Pep Man City approach.
Paul Pogba, Arturo Vidal, and Radja Nainggolan have all been sounded out, whilst up front the club are looking at Gonzalo Higuain to replace the outgoing Diego Costa. Chelsea's new manager requires complete dedication to the team coupled with strong and intelligent defending; if he can sign a new right-back and young centre-back he will possess a squad more than capable of lifting the trophy.

The cyclical pattern of Arsenal seasons is becoming unbearably dull. Assuming Arsene Wenger remains as manager (and rumours of a new contract have grown recently) we can already predict exactly what will happen in North London next season.
Arsenal lack a goalscoring striker, a commanding centre-back, and an athletic central midfielder. This statement could have been used in a preview for any of the last four seasons and as such it is difficult to look at Arsenal's summer with much optimism. The injury crisis that engulfs season after season at the Emirates cannot simply be bad luck, and the stubbornness with which Wenger refuses to address glaring flaws in his side will, surely, once again see them make a promising start only to slide down the table come February.
As the only big team left stagnating with an ageing manager, don't back them for the title.

Spurs are a very intriguing prospect and, as the richest teams battle it out at the top next season, they will most likely be the neutrals' favourite; Mauricio Pochettino has already said he will only add a small number of faces to this young and constantly improving side, whilst the club have vowed that not even £100 million would be enough to prise away their star assets.
Tactically, Spurs are currently the most interesting in the Premier League. Their understanding of one another is extremely impressive for such an inexperienced collection of players, but they still lack a certain resolve in attacking midfield. A quick, skilful winger - such as Mohamed Salah - would add the speed and incisiveness needed to turn some of those 13 draws into wins.
Overall, it seems unlikely that Tottenham will make enough signings to dramatically improve on this season's points tally, and thus should be usurped by the likes of Man City, Chelsea, and Man United.

The Mourinho saga has already dragged on for far too long but should be settled before the end of Euro 2016. A split in the United boardroom means Louis van Gaal is still hanging onto his job, and unfortunately it is very difficult to predict their 2016/17 season until the club make a firm decision.
Not that this has stopped them making moves in the transfer market. Renato Sanches, a very talented box-to-box midfielder, would be a superb signing for a team struggling through the campaign with the likes of Michael Carrick and Marouane Fellaini. It will be a huge summer for the club, who may need as many as six signings to make them world-class again - starting with a top quality striker - Antoine Griezmann would be a perfect fit.
Odds of 8/1 are not worth backing until more information surfaces, although if Mourinho is confirmed then it would be unwise to bet against him.

The 4-3 win over Dortmund in the Europa League semi-final was evidence of the progress Liverpool are making under Jurgen Klopp. He has already begun sifting out the less intelligent players and found an exciting core of quick, energetic footballers that can instigate his gegenpressing football; two or three more and Liverpool will be a very interesting team.
Like so many of the country's top teams they remain light in midfield and need a striker, but aside from Mario Gotze Klopp is expected to sign promising young players from around Europe rather than marquee signings. Liverpool will not match Chelsea or Man City in their spending but benefit from being further into a project than their main title rivals; at 8/1, it is worth a small bet on Klopp conjuring the sustained momentum for what would be a magnificent title challenge.

It is difficult to imagine that Leicester City can maintain their incredible run of form and win back-to-back league titles; they only needed 77 points to win the title this year, a tally that will not be good enough in 2016/17.
What's more, Riyad Mahrez and N'golo Kante are likely to be tempted away by the likes of Barcelona and PSG. Sadly, the chances of another Leicester title are extremely low.
The rest - who could do a Leicester?

Leicester's fairytale has left us all dreaming of another implausible story next season. If they stay up, Newcastle's path is not too dissimilar. Rafa Benitez has steadied the ship by instigating a well organised defence reminiscent of Leicester's, while their famous scouting network could (who knows?) unearth another Mahrez or Kante this summer. Why not back them at 750/1?
West Ham at 100/1 is slightly more likely, given Bilic's team are resolute, aggressive, and surprisingly gifted. Everton's trio of Romelu Lukaku, Gerard Deulofeu, and Ross Barkley could produce something similar although only back them at 100/1 if they change their manager this summer.