Weekend Football Review: De Gea and Blind injuries mean more problems at Old Trafford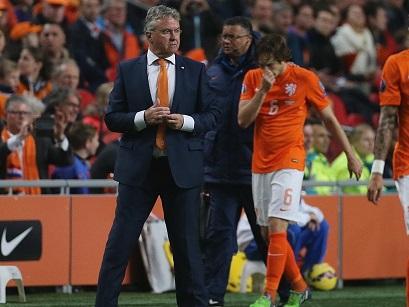 Daley Blind limps out of Holland's game against Latvia to give Manchester United more headaches
Just when a little of the Manchester United gloom seemed to be lifting, the international break has brought more injury problems. Ralph Ellis sees more tough times ahead for Louis van Gaal...
"United have made their worst start at this point since 1989 when they had only 14 points and ultimately finished 13th.  And yet despite being currently seventh in the table they are still odds on to finish in the top four at 1.728/11."

It has not been a good weekend for Manchester United. On Friday night goalkeeper David De Gea dislocated his finger during a training session with Spain - on Sunday it was Daley Blind's turn to collect an injury.
Blind, the £13.8million midfielder who was meant to protect Louis van Gaal's leaky defence, damaged knee ligaments while playing for Holland. Early estimates suggest he might not be fit again until early in the New Year.
Add them to an injury list that already includes defenders Phil Jones, Marcos Rojo, Rafael da Silva and Jonny Evans, plus midfielders Michael Carrick, Ashley Young and Ander Herrera, and van Gaal is beginning to be without a complete potential first team of players. That's before you start thinking that Radamel Falcao is struggling along despite a persistent calf problem.
I bet van Gaal is absolutely delighted that Wayne Rooney will be winning his 101st cap at Celtic Park tomorrow night with lumps getting kicked out of him - and that Scotland captain Darren Fletcher is also involved in the Battle of Britain.
Maybe United's manager could do nothing about the latest couple of injuries being sustained on international duty, but there is an argument about whether he has been unlucky, or whether there is some more sinister explanation for the number of players in the Old Trafford treatment room this season.
The Dutchman is renowned as a forward thinking and innovative coach - but he's also one who loves hard work and double, and sometimes even treble, training sessions. If you follow his fellow countryman and former Wales assistant Raymond Verheijen on Twitter you'll know he believes that's where United's problems have been coming from.
In his view it's not bad luck but bad training schedules that have created so many problems. If he's right then the United injury crisis won't end in a hurry because even when the current crop get fit there will be others falling by the wayside.
Van Gaal is talking about needing three years to restore United to the top. His record so far, despite having only played Manchester City and Chelsea from last year's top four, is just 16 points from 11 games - the worst start at this point since 1989 when they had only 14 points and ultimately finished 13th.  And yet United, currently seventh in the table, are still odds on to finish in the top four at 1.728/11.
When I suggested before the start of the season laying United for a top four finish, because van Gaal's record suggests things always start badly for him at a new club, several United fans said I hadn't looked at the fixture list. There was such an easy start that they would hit the ground running and never look back, I was told.
That hasn't happened, the problems in defence have got worse not better, and it's hard to see why you wouldn't back Arsenal to beat United this Saturday at an odds against price of 2.265/4.  For all their own problems the Gunners are still unbeaten in the Premier League at The Emirates.
Van Gaal seems to be in one of those phases where every day brings more bad news. He says it will take three years and I'm willing to take him at his word - and go on laying the top four finish.
Discover the latest articles
Read past articles