The View From The Emirates: Coquelin key to Gunners' chance of success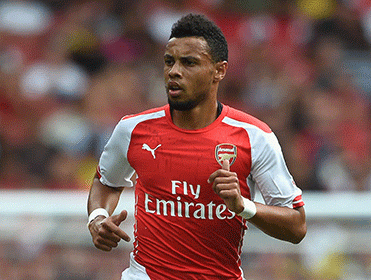 Coquelin's strong defensive work has become vital to Arsenal
The emergence of the previously unheralded Francis Coquelin has given Arsenal much-needed defensive steel and they will need that up against Christian Eriksen and Harry Kane, says Adrian Clarke in his look at the north London Derby... 
Nine weeks ago Francis Coquelin was busy ferreting away in midfield for Charlton Athletic in a 1-1 draw at the City Ground. His Arsenal career was effectively dead in the water. This weekend the Frenchman holds the key to their success in the 180th North London Derby. How quickly the fortunes of a professional footballer can change. 
It's no exaggeration to say the 23-year-old is Arsene Wenger's main man right now; and that's some feat when you consider Santi Cazorla is producing the most exquisite football of his career at present. 
In Coquelin's last six starts he's been absolutely magnificent, and if the Gunners are to triumph at White Hart Lane for a second successive season, they will need him to maintain the high standards he's set at the base of the engine room. 
At the Etihad last month, Coquelin expertly plonked himself between the ball and David Silva throughout - and when that wasn't possible, he dropped off and shielded the space in front of Sergio Aguero in an equally proficient manner. His tackles, blocks and interceptions laid the platform for a famous win. 
In this match he'll attempt the same nullification job on Christian Eriksen and Harry Kane. 
Should he succeed, Arsenal's prospects appear rosy. The in-form pair have scored 15 of the 21 goals Spurs have registered in a terrific run of eight wins and two draws from their last dozen Premier League games. The Danish playmaker has created 54 chances for teammates this season too, so keeping both halves of this duo quiet has to their priority.
While the rejuvenated Gunners haven't conceded since New Year's Day, there are two defensive worries they will have ahead of kick off. Coquelin's progress may have been immense but the midfielder is prone to lunging in for the odd over-exuberant tackle, and should he give too many free kicks away within shooting range, Eriksen is just the kind of talent that will punish him. 
Kane's penchant for drifting left is another mild cause of unease. While adventurous right back Hector Bellerin is in fabulous form he's not yet rock solid defensively, and you can be sure that Tottenham's leading scorer will look to position himself between the Spanish teenager and Per Mertesacker at every opportunity. 
If Kane gets the ball to feet inside the box and isolates Arsenal's big friendly German, most Gunners fans will be watching it anxiously through the slits of their fingers. As an Arsenal follower, Kane v Mertesacker in a one v one frightens me a little. With this in mind, odds of [2.56] on Kane scoring during the 90 minutes do look quite appealing. 
Arsenal will score though, I'm confident of that - even without the injured Alexis Sanchez. 
Only twice this season have they experienced shut-outs (at Chelsea and Southampton) and looking at the relative fragility of Tottenham's back four I fancy them strongly to find the back of the net at least once. While the quartet of Vertonghen, Fazio, Mason and Bentaleb is an upgrade on the unit that began the campaign, Mauricio Pochettino has still relied heavily on the exploits of Hugo Lloris in goal. No keeper in the top seven has been busier. 
Arsenal will miss the pace of Alexis, but I'd fancy Theo Walcott to give Danny Rose a hard time on the counter - just as Alex Oxlade-Chamberlain did earlier in the season. The onus will be on Spurs to press the Gunners and this could leave space to exploit on the break. In Walcott, Ramsey and Ozil they still have strong runners that can hurt them with swift attacks. 
Recent north London derbies have been tight, but given how well Spurs and Arsenal are playing, I sense there might be a little more confidence and positivity on show from both camps. A wager on Both Teams To Score at [1.66] looks likely to come in. 
As a Gooner I'm confident Arsene Wenger's men are in the right shape to produce a big performance at the Lane, but the Eriksen-Kane axis is one that they need to concentrate on shackling for the full 90 minutes. One lapse and they will pounce.  
I'm leaning towards a 1-1 draw (at odds of [8.6]) but I can't pretend I'm not dreaming of another disciplined master class from Coquelin and co. If the Gunners keep a clean sheet, they'll win the game. 

You've read the view from The Emirates - now get the Tottenham take on the NLD!