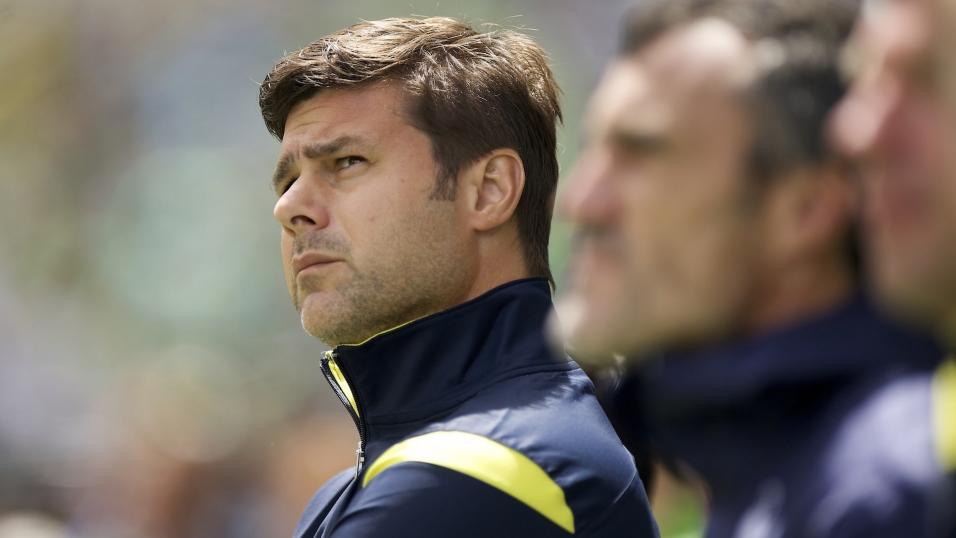 Pochettino will know this match could swing either way.
The new look Arsenal head to Wembley on Saturday to take on a confident Tottenham. Alex Keble picks out five reasons why it could be one of the most entertaining north London derbies in years...
"If that wasn't enough to get you excited, this could be Arsene Wenger's final game against Spurs – and just happens to be taking place at a time when both clubs look strong in attack but vulnerable defensively."
We've had some brilliant north London derbies in recent years but Saturday's match at Wembley could top them all. Just four points separate the two teams and, with Chelsea stuttering, a win for either side would be a huge boost for their top-four chances.
If that wasn't enough to get you excited, this could be Arsene Wenger's final game against Spurs - and just happens to be taking place at a time when both clubs look strong in attack but vulnerable defensively.
Here are five reasons why Spurs v Arsenal could be one of the most exciting north London derbies in years, and why it's worth backing over 3.5 goals at 5/4:


1) Ozil & Mkhitaryan could expose Tottenham's high line
Tottenham's narrow 4-2-3-1 is one of the most tactically consistent systems in the Premier League, and so we can predict with confidence that Mauricio Pochettino will play with the same high defensive line that Liverpool caught on the counter last weekend. Mohamed Salah and Sadio Mane tucked infield and made runs on the shoulder of the last defender as Jurgen Klopp's midfield hoofed long and high balls over the top.
Arsenal won't exactly mimic this tactic (Wenger will be more expansive and patient in his approach) but nevertheless his team have the tools to exploit the space behind Jan Vertonghen and Davinson Sanchez. Mesut Ozil and Henrikh Mkhitaryan are likely to start as Arsenal's two inside forwards on Saturday in a 4-3-3 formation, and both players will look to slip through balls into the path of Pierre-Emerick Aubameyang from a similar position to Salah and Mane at Anfield.
Given that Sanchez looked shaky on Sunday, it is certainly plausible that Arsenal's new-look front three will find success.
2) Attack-heavy Wenger selection should leave Arsenal light at the back
The flip side of fielding Ozil and Mkhitaryan together is that Arsenal probably won't have enough defensive players to prevent Spurs from bombing down the flanks. As Aubameyang's runs force Spurs into retreat the pitch is likely to elongate, allowing the hosts to launch their own counter-attacks.
Pochettino's team tend to swarm the central column of the pitch with bodies to draw opponents inwards before suddenly switching the play to overlapping full-backs. This should work well against the ever-roaming Nacho Monreal and an out-of-form Hector Bellerin. These two won't receive support from Ozil or Mkhitaryan, and consequently Wenger's side will probably leave big open spaces for Ben Davies and Kieran Trippier to cross into the box. Harry Kane, who has scored six goals in six games against Arsenal, should get plenty of chances; back him to score any time at 8/11.
3) Dembele's brilliant form means Spurs should easily cut through Wenger's midfield
Arsenal's midfield remains extremely brittle away from home despite Wenger adding a third body over the last few weeks. This is because Arsenal use an expansive formation in which the central midfield is too far away from the defensive line, meaning there is simply too much ground for Granit Xhaka, Mohamed Elneny, and Aaron Ramsey to cover.
Spurs grew into the game at Anfield on Sunday because Liverpool tired and began leaving the passing lanes to Dele Alli and Christian Eriksen open. Arsenal won't even close them off to begin with, instead struggling - as usual - to compress the space between the defensive and midfield lines. Consequently the two Spurs number tens should dominate, gradually grinding Arsenal down and fashioning chances for the hosts.
Just a few weeks ago Arsenal might have had enough quality to squeeze Eriksen and Alli out of the game, but Mousa Dembele has since got back to his best. The Belgium international was superb against Liverpool, weaving away from the press and controlling the tempo of the match. Unless Ramsey can find a way to sit on top of Dembele, Arsenal will be torn apart through the middle.
4) The super-sub speed of Lucas & Lacazette means it'll be end-to-end right to the death
Lucas Moura is set to undergo various fitness tests this week ahead of the derby, although even from the bench he could have a huge impact on this match. As Spurs control the tempo but leaves themselves open for the counter, this will most likely be a stretched match with chances at both ends. As limbs tire, the subs - Lucas for Spurs, Alexandre Lacazette for Arsenal - could ensure we end with a flourish.
In Arsenal's 2-0 win at the Emirates earlier this season the game's openness throughout caused a flurry of late action as exhausted defenders began to switch off; there were 13 shots on goal in the first 69 minutes and 15 in the final 21. This time, with players like Lucas and Lacazette on the bench, both sides can turn the late drama into goals.
5) Both sides desperately need a win to keep up with the top four
A straightforward weekend for the other top six clubs means Spurs and Arsenal stand to lose ground in the race for Champions League football should they draw. Hopefully this will inspire an attacking formation from Wenger and lead to a very high-tempo contest. Pochettino has a history of getting his players fired up for these games - and recognises the psychological impact a derby win can have on a season - while Wenger might be facing Tottenham for the very last time. He will want to go out with a bang.
There should be plenty of action throughout the match, but in the frantic early battle for territory it wouldn't be a surprise if both sides pushed aggressively for the opening goal. Back both teams to score in the first half at 12/5.