Ryan Giggs: United great still tearing opponents apart after 999 games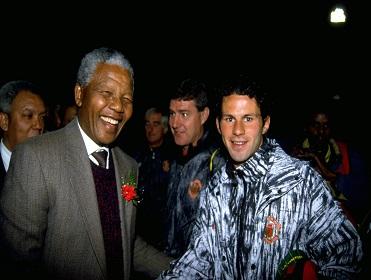 Giggs with Nelson Mandela 1993 - the United legend now has plenty of grey hairs of his own.
Ryan Giggs has been at Manchester United for over 25 years and, in the next week, he looks set to make the 1000th senior appearance of his career. Max Liu salutes a football genius who is still a major part of England's best team. 
Five members of the Manchester United squad that beat QPR last Saturday weren't born when, a quarter-of-a-century ago, Sir Alex Ferguson signed the schoolboy who moved like "a cocker spaniel chasing a piece of silver paper in the wind." Now, Ryan Giggs, who scored United's second goal at Loftus Road, is set to make the 1000th senior appearance of his career. 
Giggs might feature this Saturday against Norwich City but, if he's played his way in to Sir Alex's starting line-up for the Champions League clash against Real Madrid, he'll probably have to wait until next Tuesday. At 3.052/1, United are surely value to win that second leg, but either match would be a fitting occasion for Giggs's landmark because, while he relishes Europe's biggest stage, he's also fond of playing against the Canaries. The stylish goal he scored as a 17-year-old in a 3-0 win over Norwich in 1991 sent gasps around the Stretford End and drew comparisons to another black-haired genius who once graced the Theatre of Dreams.       
Plenty of people at Old Trafford in the early 1990s had first-hand memories of George Best's demise. United were determined that Giggs would realise his promise and, as the team strived to win the 1991-92 league title, Ferguson protected him from the media glare. At the end of that campaign, when United unexpectedly lost 0-1 at Upton Park, it was revealed that Giggs and Lee Sharpe had been living it up in Blackpool the night before. Fergie was furious but Giggs says that what his manager said then made a significant impact. There were thousands of adults, Ferguson explained, who worked long hours so that they could follow United. Young men lucky enough to wear the red, white and black had a duty to give their all for the fans. The player who learned his lesson went on to break Bobby Charlton's record for most United appearances; the one who ignored his manager went on Celebrity Love Island. 
For 20 years, Giggs has given everything for the United cause but he's never been a breast-beating warrior like Roy Keane or Gary Neville. He lacks the rebellious edge that made Eric Cantona compelling, the star quality of David Beckham, and he doesn't grab the thinking-fans' plaudits that Paul Scholes attracts. Ferguson, though, has always appreciated his value; when Europe's biggest clubs inquired about Beckham's availability after the 1999 treble, United hinted that they'd consider selling one day. "What about Ryan Giggs?" the presidents asked, pushing their luck. United suits shook their heads: "He is priceless." 
In the 1990s, Giggs's game was all about pace, wizardry, smashing the ball in to the roof of opponents' nets at the end of 60 yard runs. He used his sublime balance to spin away from full-backs but it's served him well since he slowed down and made his mid-2000s move in to the centre too. Now he's a canny orchestrator, running games, splitting defences with perfectly weighted passes. Not that he can no longer beat a man: Giggs frequently bamboozles opponents 15 years his junior. Ferguson is a large-hearted man but he's no sentimentalist. Regardless of prior glories, he discards players when they're surplus to requirements, so Giggs remains part of the United squad because he's one of their most effective operators. 
I have his autograph on the programme for a reserves tournament from summer 1990. I don't remember meeting him because, at the time, I didn't know who he was, but the name is clearly his because he's practically printed it. Two years ago, I watched him dash off signatures on a pile of shirts at United's training ground. What did it feel like to have been ever-present in Sir Alex's starting 11 for over half his lifetime? "Depressing, when you put it like that," he said. He didn't regret the last 20 years, but my awe made him feel old. Before the interview, a lady with a red clipboard listed topics that were off-bounds. "Next season" was chief among them. It was a bit like being warned not to mention death to a pensioner but "next season" is now last season and I'd be surprised if the number 11 shirt has a new occupant at the start of the next campaign. 
Giggs is likely to be playing when he turns 40 in November. By then, he will probably have won a 13th Premier League title medal, and his staggering achievements inspire comparisons to another "Wizard of the Dribble" whose autograph is also on my shelf: Stanley Matthews, dated January, 1965, the month before he made his final senior appearance at age 50. Matthews had been a spent force for some seasons by then, but Giggs won't make the same mistake. He'll retire when he can no longer play an important role at the highest level. Just don't expect that to be any time soon.   
* * * 
Then... Giggs scores against Norwich in September 1991

Now... Giggs scores against QPR last Saturday