Premier League: Whisper it but Kinnear appointment might work out for Newcastle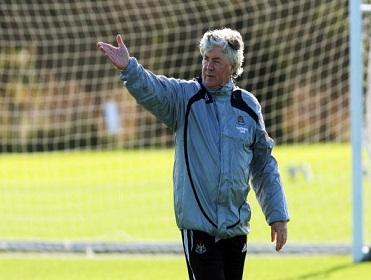 Could Kinnear help point Newcastle towards a top ten finish?
Joe Kinnear's appointment as director of football at Newcastle has been almost universally derided, but Magpies blogger Kevin Doocey is prepared to give the Irishman a chance and suggests there may be value in backing his team for a top 10 finish...
"It was the failure to act sufficiently in the transfer market last summer that helped make the season such a gruelling one for the club. This is where JK comes in."
Just when Newcastle United fans had started to recover from an almost fatal 2012/13 Premier League campaign, Mike Ashley threw another spanner in the works.
Appointing a director of football in itself was something many fans had called for, but the man chosen for the position drove the majority into a state of shock and rage. Why would Ashley want a 66 year-old, health-troubled Irishman that has been jobless for five years?
It is easy to join the 95% of fans that are against Joe Kinnear. His rants and, shall we say, 'creative' storytelling in interviews and constant contradictions make his appointment look odd to say the least.
However - and stay with me here - his new role could actually help the club in the long-term.
Talk
As you might have noticed throughout the last week, Kinnear knows how to talk. Whether what he says is always accurate or not, he can often make a strong case for himself.
During the summer of last year, Newcastle tried to push through a deal for Luuk de Jong. Manager Alan Pardew, chief scout Graham Carr and managing director Derek Llambias all agreed that the Dutchman was the right forward for the club to splash £10m on.
A formal bid was made, the player indicated to his agents and all parties concerned that he would like to move to St. James' Park, but eventually Ashley was not willing to budge on his valuation of the player which stood at £9m.
It was this stubbornness that cost Newcastle their primary target last summer as de Jong signed for Bundesliga outfit Borussia Monchengladbach for €12m (roughly £10m) just two weeks later.
It was the failure to act sufficiently in the transfer market last summer that helped make the season such a gruelling one for the club. This is where JK comes in.
Liaise
Kinnear has been appointed to liaise between Ashley and the playing/team staff. He will sit down with Pardew and Carr to discuss transfer targets before presenting them to the owner alongside the expected cost. It will be Kinnear's job to convince Ashley that a certain player is worth X, and to present reasoning as to why such a striker/midfielder/defender should be signed.
The club relied on Llambias to do this job before, but he had no footballing experience, only a financially orientated mindset, and that can only bring you so far when dealing with transfers at a Premier League club.
It is naive to think Kinnear will control all transfers. Over the coming months, we will likely see a collaboration between the scouts, the director of football and Pardew on the transfer front.
Many will argue that Kinnear is at the club to undermine Pardew's position as manager, but the Irishman could actually prove a big help to the ex-Charlton boss. Pardew has repeated many times over that he wants to sign more home-grown talent, and Kinnear is of the same mindset. It is widely known that Darren Bent is for sale, and both Pardew and Kinnear are fans of the free-scoring forward so do not be surprised if the Villa man is wearing black and white next season.
It can be hard to look past the obvious flaws of Kinnear as director of football at a big club like ours but the man deserves a chance, so fellow Newcastle United fans: give him an opportunity to prove himself in his new role, all of us may be pleasantly surprised.
Recommended Season Bets:
Newcastle are 2.4 to finish in the Top 10/a> next season and, with a couple of additions to the squad, it could prove great value come the end of the season.
Darren Bent is 12.5 to finish in Top 4 goalscorers in the Premier League next season and should he join Newcastle, with service from the likes of Hatem Ben Arfa and Yohan Cabaye (should he stay), there is a very good chance he will reach double figures for the season.
Check out Kevin's blog and follow him on Twitter @KevinDoocey.
***
You've heard from one side of the north-east in the Premier League - now what about the other? Betting.Betfair's resident Sunderland fan, Jonathan Wilson, delivers his verdict on Paolo Di Canio's men
Discover the latest articles
Read past articles