Premier League Betting Tips: Four key tactical battles this weekend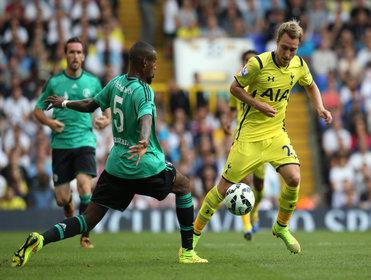 Christian Eriksen's battle with Francis Coquelin will be a fascinating one
Alex Keble tactically analyses the key games from this weekend's Premier League action, telling us why Liverpool should drop Steven Gerrard, and why we should bet on Tottenham to win the North London derby...
"If Arsenal falsely believe they can play with their usual openness they will find, as Chelsea did, that Spurs are far more dangerous than their league record suggests."
Eriksen v Coquelin
Saturday, 12:45
Live on BT Sport 1
Considering Tottenham's relatively modest goalscoring record at White Hart Lane this season (largely as a result of deep opposition defending and Spurs' low tempo build-up play), Arsenal would be wise to adopt a similar defensively disciplined model as utilised superbly against Man City last month. But this being Arsene Wenger, and a derby match, they probably won't.
Spurs' most effective attacking strategy is the role-reversal interplay between Harry Kane and Christian Eriksen; as one player runs into the channels - stretching the opposition back-line and drawing defenders out of the centre - the other drives into newly created space in central areas. 
This system famously dismantled Chelsea (with Eriksen drawing Nemanja Matic away from the middle), while Eriksen's endless stream of last minute winners can invariably be traced back to Kane's movement, as he opens up a hole for Eriksen to glide into. 
Considering Arsenal's persistent displays of chaotic defending and miscommunication in tracking runs, this is a serious area of concern for Wenger. It is vital that Francis Coquelin (2.8 tackles, 2.6 interceptions) is not dragged too far out of position, and that Hector Bellerin can be trusted to track those tricky runs.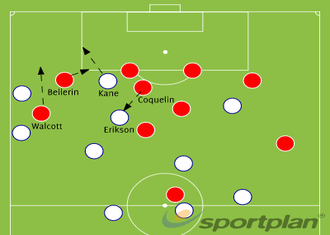 Coquelin must stay tight to Eriksen, and trust that Bellerin - with help from Walcott - will keep an eye on Kane's runs. Equally, when the roles are reversed, Coquelin must let Erikson go.
The movement of Kane and Eriksen will pose the largest threat to Arsenal's goal; they must curb their attacking instincts once again, and remain ruthlessly organised around their own penalty box. If Arsenal falsely believe they can play with their usual openness they will find, as Chelsea did, that Spurs are far more dangerous than their league record suggests.
Recommended Bet:
Back Tottenham to win at 9/4

Kranjcar v Fonte
Saturday, 15:00
Having scored just three times in their last six games, QPR are in desperate need of creative re-orginisation, as opposition teams - recognising the old-fashioned simplicity of Harry Redknapp's long-ball tactics, likely to be continued by caretaker manager Les Ferdinand - have begun to sit deep at Loftus Road, closing the counter-attacking space and nullifying QPR's traditional points of attack.
Their last three opponents at Loftus Road - Crystal Palace, Man Utd, and Swansea - have played in particularly deep defensive formations when out of possession, pressing significantly less than usual; on average, a startling 74% of their tackles and interceptions occurred in QPR's half.
It would appear that Premier League managers have finally worked out how to stop QPR's excellent home form. In a 90s-esque direct attacking approach, they quickly distribute the ball to Charlie Austin and Bobby Zamora (ie, lump it), who look to bring the traditional wingers into play before the opposition has time to re-organise their defensive shape (ie, flick it on for the quick players to run at 'em).
Sitting deep and conceding possession, while carefully maintaining shape by refusing to close the ball down high up the pitch, completely eradicates the success of this system. QPR fans will be alarmed to hear that Southampton, in their last two away matches against Man Utd and Newcastle, held an average of 42% possession; they will most certainly continue the trend that is keeping QPR and Austin quiet.
Ferdinand must adapt their attacking tactics, and his players must learn how to attack with more guile, and craft; Niko Kranjcar, who looked lively against Swansea last weekend, is exactly the sort of intelligent, technically gifted playmaker they need to unlock more tightly congested defences. 
However, given Southampton's defensive record - led by the increasingly magnificent Jose Fonte (average 2.3 tackles, 3 interceptions) - this still might not be enough. Keep an eye on these two; the most impressive player on the day could make the decisive difference.
Recommended Bet:
Bet on Southampton clean sheet at 13/10

Danny Ings v Saido Berahino
Sunday, 12:00
Live on Sky Sports 1
Two team with opposing defensive tactics clash at Turf Moor in arguably the most important Premier League fixture of the weekend. With both (increasingly desperate) sides entering the weekend with one league win in their last seven, the high pressing system of Sean Dyche takes on the deep-lying system of Tony Pulis, in a vitally important relegation six pointer.
The tactical layout of this fixture is relatively predictable; Burnley consistently utilise a high-pressing strategy that relies upon constant harassing of the opposition in all areas of the pitch, while West Brom - in typical Pulis style - sit deep in compact rows and play on the counter (they have averaged 40% possession in the three league games since Pulis's arrival).
Because of this, we can expect this match to be decided by the performances of the two main strikers: Saido Berahino (scorer of 45% of his teams goals), and Danny Ings (35%). Danny Ings can be hopeful that confidence-stricken West Brom (3rd most dispossessed team in the division) will succumb to Burnley's pressure, and make plenty of mistake in their own half. The majority of Ings goals are the result of this tactic, as he pounces on through balls after his team-mates are gifted possession.
However, it could just as easily be Berahino's day. Burnley's high pressing inevitably creates space in behind, and with Pulis instigating a counter-attacking strategy that perfectly compliments Berahino's propensity to play on the shoulder of the last defender, he will almost certainly be able to get in behind.
Sunday's game will be a scrappy and nervy affair. The important question is: which striker - in a match of such high stakes - can show confidence and composure when a goalscoring opportunity inevitably arises?
Recommended Bet:
Back Burnley to win @ 29/20

Muhamed Besic v Raheem Sterling
Saturday, 17:30
Live on Sky Sports 1
After yet another high energy, fluid team performance in his absence, it is becoming increasingly obvious that, without Steven Gerrard, Liverpool are a significantly better team. Jordan Henderson's superior speed and movement conjures a more freely creative Liverpool; if Gerrard remains absent, then Muhamed Besic - on an excellent run of form in defensive midfield - will be worked extremely hard.
Liverpool have won all three league matches in which their captain has not featured, scoring eight times in the process. Throughout the season, Gerrard's immobility and low tempo, sideways passing has significantly slowed the speed of their attacks, allowing the opposition to reform into a defensive shape. The flair and explosive speed of last season has all but vanished.
However, the latest Gerrard-less game - last weekend's 2-0 victory over West Ham - exemplified Henderson's burgeoning talents in the same role, free from the overbearing influence of the legendary figure; Henderson made 83 passes, up from a season average of 58.
With Henderson's forward movement pulling opposition players out of position, and creating more space in the final third for the likes of Philippe Coutinho to exploit, it will be up to Muhamed Besic (4 tackles per game in his last three) to orchestrate Everton's midfield and keep a Daniel Sturridge-infused Liverpool at bay.
Raheem Sterling has been shifted back into the middle in recent weeks, and - with Sturridge peeling out wide and dragging defenders with him - Besic will be battling one-on-one with the England starlet. The match will almost certainly be won or lost in this area.
Recommended Bet:
Back Liverpool to win and over 2.5 goals @ 12/5