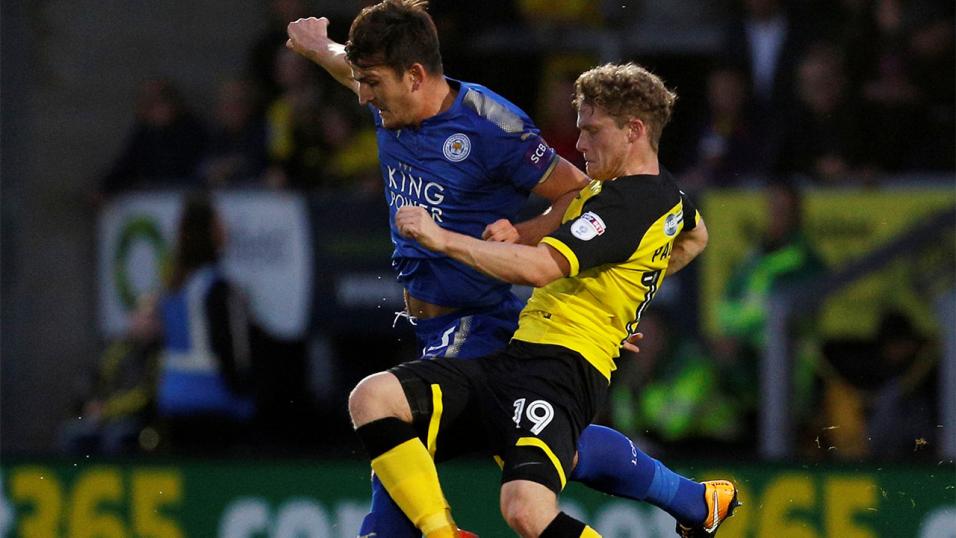 Harry Maguire is looking more likely to move to Manchester United, but who else is involved?
It's been a busy weekend of tour action for Premier League clubs and now teams are starting to pipe up their interest for players they need. Jasmine Baba scours the reports for the transfer action...
"Looming exits for Thibault Courtois, Willian and Eden Hazard seem somewhat imminent and if those three vital players were to leave, Sarri's new club could be behind before they've even started."
With Manchester United drawing against San Jose, Liverpool losing to Borussia Dortmund and Everton in a 1-1 draw against Bury, it's no surprise that teams are now wondering who else they can pick up in the transfer market before the Premier League and EFL window closes on August 9. Odds changes have been seen around all the main transfer targets, and most clubs are going for rival team's players.
Is Harry Maguire United bound?
The main news surrounds Harry Maguire, who greatly impressed at this year's World Cup for England. Jose Mourinho believes that he can now concentrate on bringing in a young but fairly established centre-back, rather than a full-back as their earlier signing of Diogo Dalot covers them in that position, as well as keeping seniorsAntonio Valencia and Ashley Young. Mourinho obviously has not shown that same level of trust in all of his central defenders, and the market is quickly backing Maguire as he has shortened to 11/8 to join United over the weekend.
Harry Maguire emerges as primary target for Manchester United as they prioritise central defensive reinforcement | @LukeEdwardsTelehttps://t.co/WLkofVhl9s

? Telegraph Football (@TeleFootball) July 22, 2018
If he was to come into Old Trafford, it would be worth remembering there's also a host of defenders that the Red Devils' manager would want to get rid of. Marcus Rojo sounding like the leading man to make his exit but let's not forget they also have Phil Jones and Chris Smalling on their books that seem out of the starting XI picking line.
Manchester United are also scouting around Toby Alderweireld as reported late last week which has shortened even further to 4/9 to take off Tottenham's hands.
Anthony Martial Chelsea's main transfer target?
There has been lots of talk at Chelsea. Looming exits for Thibault Courtois, Willian and Eden Hazard seem somewhat imminent and if those three vital players were to leave, Sarri's new club could be behind before they've even started. Their top target seems to be Anthony Martial with him moving away from the Mancunian side to Stamford Bridge now priced at 7/2, after reports from his agent stated he was frustrated at Old Trafford.
At 22-years old, and three seasons in the Premier League already, he would be a great addition to most clubs, especially if The Blues were to lose Hazard and Willian. However, take heed. Romelu Lukaku and Marcus Rashford are still absent from Manchester United due to their World Cup participation, making Martial the only senior striker at the moment. That and Mourinho stubborn to sell to a rival club is why he is 1/4 to stay at his current club.
Richarlison's Everton move edges closer
Everyone has heard the news Everton is going for Watford's Richarlison for an unbelievable £50 million, whether everyone agrees that a 21-year-old, who has had only one season of Premier League action, took part in all 38 games but only scored five goals, is a good fit for the team is a different story. A medical is forthcoming but we won't hear anymore until the Toffee's sign the player, as Marco Silva respects for the moment he is still a Watford man.
No signings of any significance yet at Tottenham
Although the only real Tottenham target with substance behind it is from the EFL, it's still worth bringing up as they've not had anything to report. Jack Grealish is available to back at 1/5 to move to the North London club and being their first signing. Aston Villa are still playing hardball however, as their new owners want a healthy reimbursement for the 22-year-old and one of their top performers.
Another honourable mention is for Spurs' interest in American Christian Pulisic at 11/4. The youngster who has been a driving force at Borussia Dortmund might be in favour for a move to the Premier League, with Pochettino's being the favourite destination, however after he put two goals past Liverpool in their pre-season match, the Reds' are now interested in him with a move further up north at 9/2.