Premier League Golden Boot: Harry Kane can reclaim scoring throne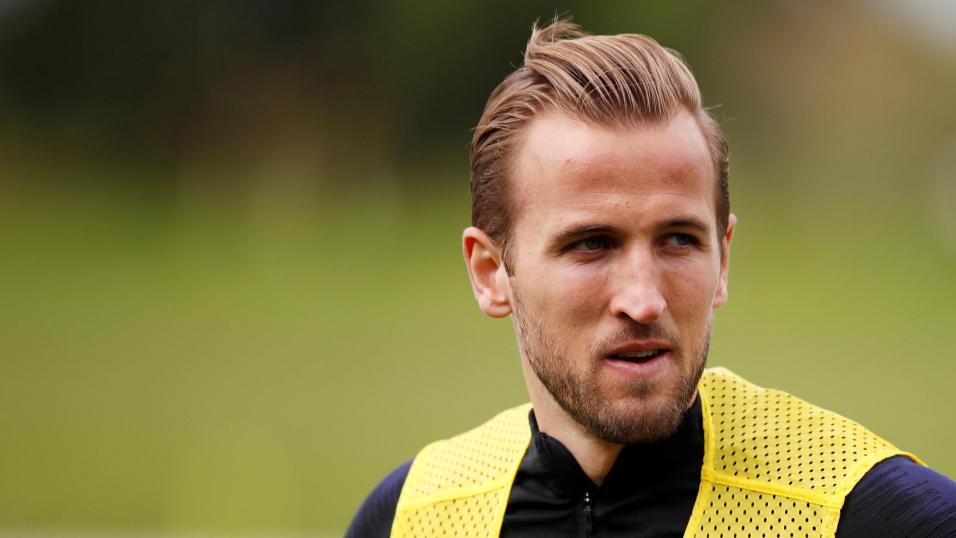 Harry Kane will be aiming to win the Golden Boot award for the third time
Jack Lang looks at the front men aiming to fire their sides to glory - and safety - this season and picks out four to back from the top and bottom of the market...
"It remains to be seen how quickly Tottenham adapt to life at the new White Hart Lane, but Kane is as close as English football gets to a sure thing and will take some beating"
Those with even vaguely functioning memories will recall a time - a decade ago, more or less - when 20 scoring goals gave you a pretty decent shout of winning the Premier League golden ball. Didier Drogba, Carlos Tévez and Dimitar Berbatov all got over the line with that modest tally, while Nicolas Anelka didn't even need that many, claiming prize with just 19 in 2008/09.
Now, though, we live in inflationary times. Since the Tévez/Berbatov season, and perhaps inspired by the antics of You Know Who and Goaltron 5000 in La Liga, the forwards of the Premier League have taken things up a notch or two: the last seven winners of the award have notched 30, 26, 31, 26, 25, 29 and 32 goals sequentially. Mo Salah's total last term was the highest since 1994/95.
The lesson here is that the race for the Golden Ball is increasingly an overdogs' ball. You have to be deadly to score 25 times in a season, but you also need a reliable production line behind you, which is why all of the favourites - the top 11, in fact - play for the big six.
Which isn't to say that there couldn't be a winner from left field, but it would take a remarkable feat for any player further down the division to do a Kevin Phillips and gatecrash the top-scorers list.
The three amigos
Mo Salah spent last season slicing through Premier League defences like a katana through butter, so it is perhaps no surprise that he is rated as short as [7.0] to repeat the trick this time out. Part of a balanced, explosive frontline that is geared to create space for him, the Egyptian will not be short of chances - and with central midfield reinforcements, it's possible that he will be given even greater freedom this campaign.
Yet there is also the possibility that opposing teams will have wised up to the Salah threat. While this may in turn make life easier for Sadio Mané and Roberto Firmino, the 26-year-old might not find things quite so straightforward. Given that his previous best total for a league season was 15 goals (2016/17 with Roma), we may witness Salah's scoring form revert to the mean.
With that in mind, Harry Kane will not be short of backers at [4.2]. The Spurs man may have missed out last season, but he could console himself with the fact that, for the four season on the spin, he improved on his previous best Premier League tally (30, after 29, 25, 21 and 3 in the preceding campaigns). That gradual improvement is an ominous sign for his rivals.
There are reasons for caution: his World Cup exertions could lead to a slow start to the season (something he's prone to anyway) and it remains to be seen how quickly Tottenham adapt to life at the new White Hart Lane. But Kane is as close as English football gets to a sure thing and will take some beating.
Sergio Agüero has been one of Kane's most consistent rivals, scoring 20 times in each of the last four campaigns. Few can match the Argentine for instinctive penalty-box smarts - witness his superb double in the Community Shield - but a price of [9.0] reflects the stiff competition for game time at Manchester City. Agüero played just 1960 minutes last term, compared to Kane's 3,074 and 2,905 for Salah.
Outside the box
After a hugely impressive opening six months at Arsenal, Scrabble favourite Pierre-Emerick Aubameyang will expect to be in the conversation when the end-of-season prizes are handed out. The 29-year-old averaged a strike every 105.6 minutes after arriving from Borussia Dortmund in January and may be even better placed to thrive now, with a full pre-season under his belt.
His pre-season form has been excellent and with no Champions League football, he could make hay if the Gunners improve under Unai Emery. Some will be concerned over the possibility of him operating from the flank, but that needn't hamper a player's scoring potential, as Salah proved last term. Aubameyang is [7.4] to win the Golden Boot.
While we're on Arsenal, it's also worth mentioning Alexandre Lacazette as an intriguing outside shot at [28.0]. The Frenchman had an middling debut season at the Emirates (14 goals), which cost him a place in the France squad, but should be more settled now and has looked sharp in recent friendlies. If he can make the central striking berth his own - Aubameyang will also be keen on that role - he could be a value pick.
The same may be true of Roberto Firmino and Sadio Mané, who are available at [29.0] and [50.0] respectively. Both have been operating in Salah's shadow but are more than capable of filling their boots in front of goal if Liverpool build on last season's efforts.
Big names to swerve
There can be no doubting Romelu Lukaku's ability in front of goal, but his aspirations of winning the Golden Boot again look likely to be hindered by his manager. José Mourinho served up a stodge buffet in 2017/18 and the Belgian striker was one of the key casualties: he plundered 16 league goals but spent much of his time with back to goal, awaiting service.
[11.5] doesn't tempt, especially with a long World Cup campaign in his legs and no obvious sign that Mourinho is going to take the handbreak off. The same applies to Alexis Sánchez - a [44.0] shot - even if he should benefit from having had a rare summer off.
They are not the only big names who will struggle for backers. Gabriel Jesus is available at [22.0] but had a horror World Cup for Brazil and will struggle for starts at the Etihad, while Raheem Sterling needs to prove that last season's tally of 18 wasn't a freak one-off. A price of [70.0] suggests most people think it might have been.
Jamie Vardy might be a slightly more attractive proposition at [55.0] but will miss Riyad Mahrez, while Álvaro Morata's lack of progress at Chelsea is reflected in a price of [40.0]. Olivier Giroud, France's goalless wonder, is even more of an outlier at [120.0].
Long-shot city
Two long-odds punts look vaguely attractive. The first - and please swallow your tea before finishing this sentence - is Christian Benteke, available at 150/1 on the Sportsbook. Yes, he had a horror campaign last time, but you have to be getting in decent positions to miss quite so many sitters and there have been signs in pre-season that he could be getting his groove back. His 19-goal season at Aston Villa proved that he can cut it at this level, when in the right frame of mind.
Our other punt is Everton's Cenk Tosun, currently a [160.0] shot. He scored a modest five goals in 14 appearances (12 starts) under Sam Allardyce, but only had a chance every 52 minutes or so and can expect far better service this time out, with Richarlison, Theo Walcott, Gylfi Sigurdsson and Seamus Coleman all capable of supplying him. The Turkey striker is the archetypal poacher and will be hopeful of recapturing the form that saw him net 20 league goals in his last full season with Beşiktaş.