Premier League: Top four or second season syndrome for Newcastle?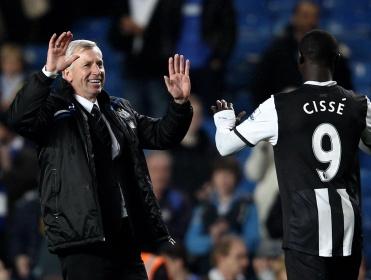 Pardew will be keen to keep Cisse at St James' Park
Ralph Ellis believes that Alan Pardew has a tough job to do this summer and next season if Newcastle are to continue their upward curve...
Second season syndrome is a well documented fact of life in the Barclays Premier League. Steve Coppell's Reading were probably the ultimate example of a side who arrived in the top flight and took to it with ease, only to fall apart a year later.
One summer Coppell was collecting the Manager of the Year award for the way his raw team with no experience in the big league were finishing in the top half. The next everybody at the Madejski Stadium was trying to handle the consequences of relegation.
It's a fact of football life that will worry everybody at both Swansea and Norwich - especially as both clubs will have to handle the new campaign under different management. But it isn't only down among the clubs scrapping for survival that the syndrome occurs.
I suspect that will be a worry for Alan Pardew as he surveys his success at Newcastle and tries to decide the best way he can build on it for another campaign. No doubt he and his owner Mike Ashley will believe it is possible to kick on from their top six finish to pursue the holy grail of regaining the place in the Champions League that the Toon once enjoyed under the late Sir Bobby Robson.
Betfair's market already thinks differently. You can back a top four finish for Newcastle at anything up to 38.037/1. But even for the club to replicate last year's top six finish the odds go anywhere between 4.03/1 and 10.09/1.
Is suspect that both owner and manager, who are said to have formed a friendship when they met at a London casino, would fancy backing themselves at those prices if they were allowed to. And it is interesting that the club have already taken steps this summer to set in stone the transfer policies that will support their attempts to break into the big time.
Chief scout Graham Carr, the man who discovered the likes of Hatem Ben Arfa, Yohan Cabaye and Cheick Tiote, as well as the prolific striker Papiss Cisse, is 68-years-old. Even under the current government's plans to make everybody work until they drop, he should have been negotiating his pension from Ashley this summer.
Instead, he's just signed a new eight year contract that will keep him traveling Europe in search of unpolished diamond footballers until he is 75. Newcastle clearly understand that not everybody can uncover hidden talent and it makes a wonderful change to see a football club board that is willing to recognise that skill rather than take it for granted. Pardew has certainly benefitted from Carr's ability and I suspect there will be a couple more players arriving from nowhere before pre-season begins.
But then the manager himself discovered something of the dangers of second season syndrome while he was in charge of West Ham. His team came up from what is now the Championship full of enthusiasm and running. They earned their place among the elite, re-established Upton Park as a ground that was intimidating for the opposition, and came within a few minutes and a brilliant Steven Gerrard goal of winning the FA Cup.
Then it all fell apart. There were all sorts of rumours about why Pardew lost his dressing room the following season, and accusations that too many of his players developed a "Billy big time" attitude. Whatever the reasons, Hammers were never the same again and Pardew ultimately paid with his job.
He has almost certainly learned from that. He'll understand that he has to keep grounded the likes of Cabaye, Tiote and Cisse. He has to control the egos that will inevitably develop after a successful year, as well as keep away the bigger clubs who are already established in the Champions League and would like to piggy back off Carr's work by signing his best players now they have proved they can perform at this level.
Making it as far as the top four might be too much to ask. But backing Newcastle to retain their top six status, if you can get something matched at around 7.06/1 or 8.07/1, looks if nothing else a bet that will keep you interested all season and at some stage present a chance to turn the market green.