The Editors' Premier League Betting Battle 2017/18: Round 38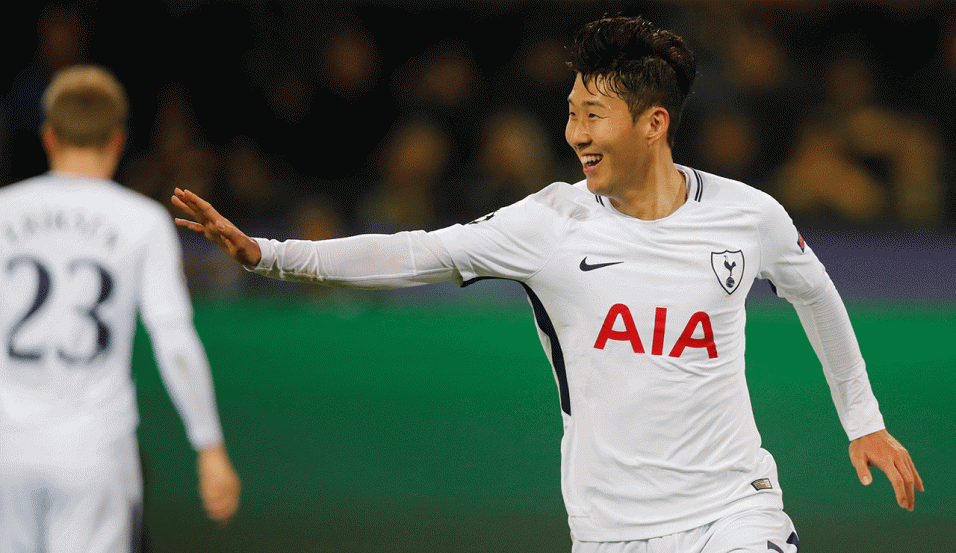 Mike is expecting plenty of goals from Spurs on Sunday
A superb Correct Score winner for Dan in midweek brought him right back into contention for this season's Battle. Can he or the other editors usurp long time leader Adam? Here are their final day selections...
"It was only a few weeks ago that Leicester lost 5-0 in London at Crystal Palace, so we're certainly not going for a complete no-hoper."
Moore's Baggies can secure away point
Adam Baylis
Back a Crystal Palace-West Brom draw at 31/10
Sunday, 15:00
Darren Moore and West Brom have done me several good turns in recent weeks and it would be foolish to desert them on Sunday.
However, Crystal Palace won't roll over easily and they'll have their eyes set on a top ten finish, a quite dramatic turnaround given their position when Roy Hodgson joined.
The Eagles are a really strong side at home, and as with any Hodgson team, will be well organised and hard to break down. But the same can be said of West Brom under Moore's tutelage and I can see this ending as a stalemate.
Adam Baylis 2017-18 P/L: +£172.75
Arsenal away day woes to continue as Terriers celebrate survival
Dan Thomas
Back Huddersfield to beat Arsenal at 5.79/2
Sunday, 15:00
Arsenal fans will be fed up of reading it but it's worth repeating here. The Gunners have not picked up a single point on their travels in the entire calendar year. So a price of 1.664/6 on them to emerge victorious from their trip to Yorkshire simply looks wrong.
After the Terriers secured Premier League survival with a hard fought point at Chelsea in midweek, there will be a celebratory atmosphere at the Kirklees and their aggressive high-press should cause Arsenal plenty of problems.
The Gunners' season was effectively over when they lost to Atletico Madrid in the Europa League semi, and Arsene Wenger's last game at the Emirates looked to have been their final sign-off if the performance at Leicester in midweek was anything to go by.
Of course, there is a danger of 'after the Lord Mayor's show' for Huddersfield, but we're getting a great price on the hosts, and it's where my final tenner of the season is headed.
Dan Thomas 2017-18 P/L: +£150.25
Look to Wales for the lesser spotted Desmond
Joe Dyer
Back 2-2 correct score between Swansea & Stoke @ 17.016/1
Sunday, 15:00
It's come down to a completely outlandish last week punt in an attempt to salvage a Battle win and I promise you I have scoured high and low for a bet at 16/1 or above in an effort to catch Adam at the top of table.
Nacho Monreal to score first? Supremely unlikely. Manchester United v Watford to serve up a scoreless draw? Even more so.
Instead I am crossing the border where I am choosing to wade into correct score waters though with a bet on Swansea and Stoke delivering my fav scoreline of them all - the one and only Desmond Tutu (2-2 geddit?).
Swansea clearly have to go for it in this fixture, and that will give the visitors chances to score. Stoke have given up a joint league-leading 67 goals while Swansea have conceded 54 times so there is the potential to see plenty of net ripplers at either end. Of course I have to overlook the fact that neither is particularly good at scoring!
My hope is that this descends into a devil-may-care, end-to-end fixture. One side is relegated, the other as good as down, so there is a small chance that it will come to pass.
Joe Dyer 2017-18 P/L: +£25.75
Wembley farewell to result in big Spurs win
Mike Norman
Back Tottenham to beat Leicester 5-0 @ 25/1
Sunday, 15:00
I need a big winner to win the Betting Battle this season, and I think Spurs will win handsomely on Sunday to give me a slim chance. The key is nailing down the Correct Score; 3-0 or 4-0 are possibilities, but the price won't work for me, so I have to take a punt on 5-0 at 25/1.
But it was only a few weeks ago that Leicester lost 5-0 in London at Crystal Palace, so we're certainly not going for a complete no-hoper.
After qualifying for the Champions League in midweek the pressure if off Tottenham and I can see them finishing their season, their final home game at Wembley, with a very easy win. Leicester were in dreadful form prior to beating Arsenal in midweek but they were helped by an early sending off in that game and facing a Gunners team losing for the seventh consecutive time on the road.
We obviously need a bit of luck to get the exact scoreline we need, but that's why it's 25/1. Whatever happens congratulations to all the Battlers this season who are all guaranteed to finish in profit and with a very handsome combined P/L.
Mike Norman 2017-18 P/L: +£17.40
Auba to destroy fatigued Huddersfield
Harry Phillips
Back Aubameyang to score a hat-trick vs Huddersfield @ 16/1
Sunday, 15:00
Given the minimum price I need to go for is 16/1 to even have a chance of winning this battle, the options are fairly limited. Regardless, we shall have a go and I'm chucking a dart at the in-form Aubameyang to continue his scoring hot streak at Huddersfield.
Now, for a team with zero away points in 2018 vs a team who are usually solid defensively, this might seem a strange shout but there's a couple of reasons for being positive about Arsenal's chances. The first is that the Terriers secured Premier League safety on Wednesday, and according to their manager switched from flying back to a coach to have "more than one beer" - it's fair to assume that probably materialised into a heavy night out and while the hangovers will no doubt have been shed by Sunday, it's hard to think a 4am session in Huddersfield Vodka Revolution is the ideal preparation!
Arsenal on the other hand will be desperate to give Arsene Wenger the send-off he deserves. Aubameyang has been the one shining light in an otherwise terrible season for the Gooners, having scored eight goals since joining in January. With Huddersfield hopefully not at that races with safety now secured, I'm hoping a free-flowing Arsenal attack can run riot and in the process Aubameyang score a hattrick.
Harry Phillips 2017-18 P/L: +£10.30

***

For individual match previews of every single Premier League game visit our dedicated Premier League section here on Betting.Betfair.
The Editors' 2017/18 Season P/L:
1. Adam Baylis +£172.75
2. Dan Thomas +£150.25
3. Joe Dyer +£25.75
4. Mike Norman +£17.40
5. Harry Phillips +£10.30
Combined P/L: +£376.45
Discover the latest articles
Read past articles