Premier League Team of the Year: Betfair's best XI of 2013/14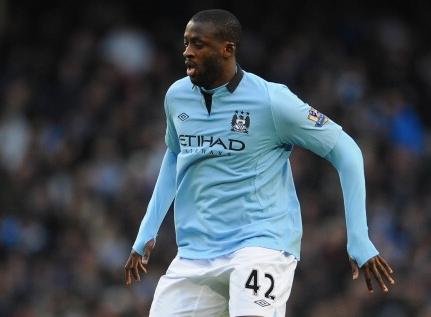 Yaya Toure: A clean sweep of votes from Betfair's Premier League writers
Betting.Betfair's Premier League writers and editors put their heads together to produce their best XI from this year's English top flight...
GK: De Gea

RB: Coleman
CB: Terry
CB: Kompany
LB: Azpilicueta

RM: Lallana
CM: Gerrard
CM: Toure
LM: Hazard

FW: Suarez
FW: Sturridge

Manager: Tony Pulis

Goalkeeper - David De Gea (Manchester United)
How times change. De Gea is the only Manchester United player in this year's team of the year, compared with the four the Red Devils had last year. Interestingly, De Gea was also voted the top flight's best goalkeeper last year and at times he has felt like the only constant amid swirling insecurity and uncertainty in just about every other area of the club. If United are to rebuild anew from this summer onward, then keeping the Spaniard is a must. Put simply, he is the complete goalkeeper. David Marshall received a handful of votes, but De Gea was a comfortable winner.
Manchester United are available at a big 7.26/1 for next season's Premier League title
Right Back - Seamus Coleman (Everton)
Coleman has, like many other Everton players this season, taken to a new manager and system with great vigour and vim, and was the only serious candidate for the right back berth. Of course Pablo Zabaleta has been largely fantastic this year and a worthy title-winner, but Coleman has been utterly superb from start to finish, in both areas of the pitch - a must for the modern full back. Not bad for a player that cost just £60,000 in 2009. If he moved now, he'd surely cost 200 times that.
Everton are currently 4.47/2 to make the Top Four next season
Left Back - Cesar Azpilicueta (Chelsea)
Narrowly edging out Leighton Baines to make it in as our best left back, the man the Chelsea faithful call 'Dave' on account of his difficult-to-pronounce surname has been magnificent all season and it's hard to think of a winger to consistently get the better of him this term. What's more, he's not a bad right-back either. The downside of his quality from an England point of view is that he has signalled the winter of Ashley Cole's career, but hey, no-one's perfect.
Chelsea are 3.3512/5 for next year's Premier League title
Centre Back - John Terry (Chelsea)
He will forever remain a controversial figure, but Terry's quality and skills on the pitch are never in doubt. At 33 he continues to dominate most strikers he comes up against and has been unquestionably the stand-out centre half in the Premier League this season. Despite talk that his contract - which ended this summer - would not be renewed given his age and the emergence of the talented Tomas Kalas, Chelsea confirmed on Tuesday that their skipper has signed a new one-year deal. As dominant, consistent centre halves in the Premier League go, Terry stands alone.
Centre Back - Vincent Kompany (Manchester City)
Facing a high-profile mistake at Anfield costing his beloved Man City a second title in three years, Kompany emerged stronger and more determined and as a result his side grasped glory in solid fashion. It's not been the best season of his career, but such is his leadership, dominance and class that he was still voted into our team of the year pretty comfortably, holding off the challenge from Martin Skrtel, Gary Cahill and Curtis Davies. You'd need to be either brave or stupid to back against him lifting at least another in years to come.
Man City are 2.962/1 to defend their Premier League title
Right Midfield - Adam Lallana (Southampton)
This has been a season to remember for 26-year-old Lallana. Relishing his role as the jewel in the crown of an exciting Southampton side, the midfielder has also cemented his place in Roy Hodgson's England thoughts and has capped off the season with a seat on the plane to Brazil. An intelligent user of the ball with a penchant for the extraordinary, here's hoping he gets a chance to show what he's capable of on the biggest stage there is. He's earned it.
England are 3.02/1 to win their opening game of the World Cup against Italy
Centre Midfield - Yaya Toure (Manchester City)
What more can be said about the Ivorian colossus who has been the engine room at the heart of Manchester City's march to a second Premier League title? Some 20 league goals from midfield, countless lung-busting runs and a huge amount of desire, strength and determination, Toure has put last season's disappointment behind him and re-established himself as one of Europe's leading midfield forces. Of our writers and editors, every single one voted for him, and that's really all that needs to be said.
Ivory Coast are 2.56/4 to be the Top African team at this summer's World Cup
Centre Midfield - Steven Gerrard (Liverpool)
It will possibly go down as the most painful league season of Gerrard's career, but he has nonetheless graced it with great performances, tactical discipline and leadership of a young side that can only be admired. Yes that slip will be talked about for years to come, but what shouldn't be forgotten is his contribution to one of the great Premier League seasons. And future opponents beware - at 33, Gerrard has finally got a taste of the 'title challenge' biscuit and he'll certainly be back for more next year.
Liverpool are 7.87/1 to be 2014-15 Premier League champions
Left Midfield - Eden Hazard (Chelsea)
Chelsea have been pretty boring to watch this season, especially in the majority of the big games, but Hazard has consistently remained a shining beacon of creativity among the functional play of Jose Mourinho's preferred style. The Belgian finished the season as the west Londoners' top scorer with 14 goals and contributed a further seven assists, and whatever the personnel changes Chelsea undergo this summer it seems sensible for Mourinho to build any future team around the 23-year-old. Provided that little disagreement they had can be dealt with in good time...
Forward - Daniel Sturridge (Liverpool)
Part of the new 'SAS' with Luis Suarez, Daniel Sturridge has finally reached the potential that many thought he possessed and is well worthy of his slot up front in our team of the year, despite plenty of support for title winners Sergio Aguero and Edin Dzeko. Playing alongside the unplayable Uruguayan, the young Englishman has thrived with 21 goals in just 29 appearances and heads to Brazil full of confidence. Now he has a full season under his belt in his preferred centre-forward position it's easy to see Sturridge improving next season, and that is a frightening thought for defences everywhere.
Forward - Luis Suarez (Liverpool)
Luis Suarez is probably the best striker in world football, and if he isn't there can't be more than one or two better. He has been by far the best player in England this year and 31 goals in just 33 league games is the best return by a Premier League player in many a year. Not even Lionel Messi or Cristiano Ronaldo have scored more league goals than Suarez at time of writing, and if you combine assists with that goals figure Suarez is head and shoulders above anyone else in Europe. Liverpool will be desperate to keep him this summer as they prepare for their first season back in the Champions League after an absence, and if he stays, anything is possible for the Anfield club.

Manager - Tony Pulis (Crystal Palace)
In November, Crystal Palace were dead and buried. Given absolutely no chance of staying in the top flight after a disastrous start which resulted in Ian Holloway tendering his resignation, the Eagles were trading at 1.081/12 for the drop. Enter Tony Pulis. He instilled a new system, discipline, but most importantly belief, and the south Londoners' season was turned around. They ended up finishing 11th and a mammoth 12 points from the relegation zone. In a season where five or so managers could legitimately have staked a claim for manager of the year, Pulis was a landslide among our writers. His style may not suit all, but he certainly knows how to get the best out of his players. Long may he run.

What do you think? Anyone lucky to make it in to our team or major omissions? Let us know by commenting below
Discover the latest articles
Read past articles