Premier League Tactical Preview: Chelsea to put Man Utd back under pressure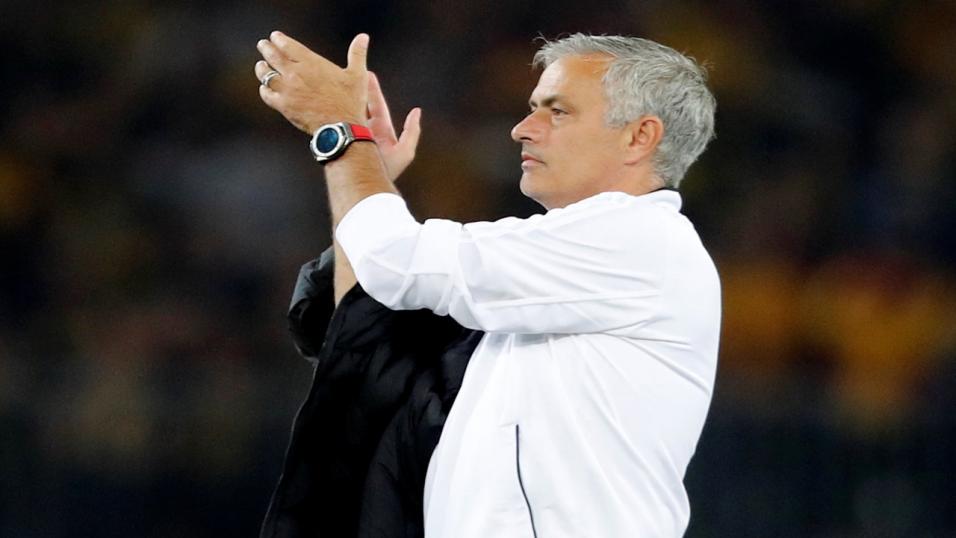 Mourinho's United are likely tosl struggle against Chelsea
Alex Keble looks ahead to the eighth round of Premier League matches, using tactical analysis to predict Chelsea will comfortably dispatch of Man Utd...
"Ross Barkley - who scored one and assisted another in a penetrative, commanding performance at Southampon a fortnight ago – should easily cut passes through Scott McTominay's zone to find Olivier Giroud, who has four assists so far this season."
Chelsea v Manchester United
Saturday, 12:30, Live on Sky Sports Premier League
The desperation in Man Utd's comeback against Newcastle before the international break, coupled with their dreadful defensive performance, suggests Jose Mourinho's side have not turned a corner; this is a serious mismatch at Stamford Bridge that should end in a comfortable win for the hosts. Chelsea's high-tempo possession football could, in theory, be frustrated by the low block Mourinho will inevitably deploy, but Man Utd are just too disorganised to suffocate their hosts.
What was notable against Newcastle was a complete absence of pressure on the ball. Man Utd are increasingly incapable of playing with urgency, instead standing off and waiting to be picked apart. This problem will worsen on Saturday when faced with such energised and tactically coherent opponents. Chelsea's compressed lines, one-touch football, and free movement in the final third will cause the visitors to fearfully retreat. The midfield will backpedal too close the back four (again), leaving Chelsea free to take their time and find a rhythm.
When this happens, the key area of the pitch will be Chelsea's centre left - and not just because Eden Hzard operates here. Ross Barkley - who scored one and assisted another in a penetrative, commanding performance at Southampon a fortnight ago - should easily cut passes through Scott McTominay's zone to find Olivier Giroud, who has four assists so far this season. McTominay is struggling with the pressure of United's situation, making him vulnerable to Chelsea's assertive football.
Manchester City v Burnley
Saturday, 15:00
Burnley are back to their best now following their poor form during Europa League qualification, and after a two week break they will be fit and ready for an aggressive defensive display at the Etihad. This will be a typically organised Burnley performance, defined by minimising space between the lines and forcing opponents to launch crosses into the box.
However, Pep Guardiola has become very adept at dealing with these kinds of scenarios. His City team will be patient on the ball, gradually drawing Burnley out of their shell before quickly switching play to Leroy Sane, who will dart into the channel between right-back and centre-back to attempt a cut-back. This is City's favourite move and it tends to work best against teams expecting to be attacked either through the centre or via crosses.
Sane's individual battle with Matt Lowton should be important, although the 29-year-old right-back will likely be drawn across by City's possession. Consequently the tracking back of right winger Johan Berg Gudmundsson may prove crucial. Ultimately Sane, assisting for a Raheem Sterling tap-in, probably won't be stopped.
West Ham v Tottenham
Saturday, 15:00
Tottenham have looked a bit jaded throughout the campaign and are unlikely to return from the break refreshed; Dele Alli and Christian Eriksen are both injured, while Harry Kane played all 180 minutes for England in the Nations League. Mauricio Pochettino's reliance on the pace of Lucas Moura should only increase, handing an advantage to West Ham.
In a 0-0 draw with Chelsea and 3-1 win over Man Utd, West Ham showed a defensive resolve that will most likely stunt the creativity of Tottenham's midfield. Without their key creators and with a tired Kane dropping into midfield, it shouldn't be too hard for the Hammers to sit deep, absorb pressure, and hit their opponents on the break. There simply won't be enough space in behind for Lucas to stretch West Ham, leaving Spurs looking flat once again.
Andriy Yarmolenko, Marko Arnautovic, and Felipe Anderson are a quick, powerful trio on the counter-attack and could cause problems behind Spurs' full-backs; Pochettino pushes both of them very far forward to compensate for Spurs' current sluggishness in central areas. West Ham may not have enough quality to consistently cause damage, but over the course of a draining 90 minutes the hungrier home side should take points.
Arsenal v Leicester City
Monday, 20:00, Live on Sky Sports Premier League
A growing feature of Arsenal's attacking play under Unai Emery is quick counter-attack-style football that is in fact played out from the back; they look to draw the opposition forward with prosaic possession, before suddenly switching it on and bursting through their rivals as if instigating a breakaway. It was a hallmark of Emery's Sevilla, and Arsenal fans should be excited to see it starting to come into effect at the Emirates.
This will be problematic for a conservative Leicester City side that are prone to chasing down the ball at inopportune moments, trapped as they are between wanting to play progressive football and being held back by their manager's cautious instincts. Led by Jamie Vardy from the front, the Foxes will naively press Arsenal in the hope of forcing a mistake - only to get caught out themselves.
The most important battle is between Aaron Ramsey and Nampalys Mendy, the Leicester central midfielder currently being carried by Wilfried Ndidi. Mendy is struggling with the speed of transitions in English football, making him particularly vulnerable to Emery's tactics. Ramsey, supported by Lucas Torreira's quick thinking, can get behind Mendy and lead the hosts to a comfortable victory.