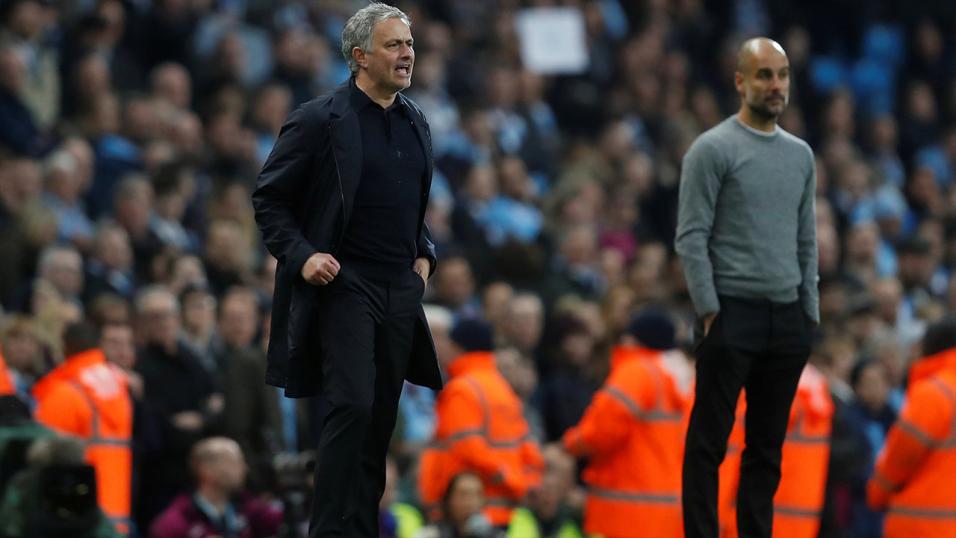 Guardiola has the upper hand for numerous tactical reasons.
Alex Keble looks ahead to the 12th round of Premier League matches, using tactical analysis to predict a big win for City in the Manchester derby...
"There are numerous reasons why the hosts are favourites to win, possibly by a big margin, in the Manchester derby on Sunday, but the most important one is that Man Utd simply invite pressure with their stand-off approach."
Crystal Palace v Tottenham
Saturday, 17:30
Live on BT Sport 1
Selhurst Park is usually a difficult ground for visiting teams, primarily because Roy Hodgson's Crystal Palace hold a well-organised 4-4-2 shape that compresses central areas. They sit back and absorb pressure, using central midfielders on the wings to make things even more rigid and constrictive. Intelligent pressing will limit space for Christian Eriksen or Mousa Dembele potentially nullifying Tottenham Hotspur.
Then again, Mauricio Pochettino's side are adept at patiently awaiting their opportunity to pounce, gradually pushing their full-backs higher until the opposition structure caves. Crosses from deep from Kieran Trippier and Ben Davies will feature heavily in a contest that, like the Chelsea game last weekend, will see Spurs hold 65% or more of the ball.
The only reason to doubt an unspectacular Spurs win is if Wilfried Zaha gets away on the counter. Spurs' high full-backs means space in the channels for forwards Zaha and Andros Townsend, and Max Meyer and James McArthur will be instructed to quickly distribute long balls in behind. Marcos Alonso and Cesar Azpilicueta were often left for dead a week ago, only for several Chelsea players to crowd out the Ivorian. Spurs press with less urgency, although Davinson Sanchez is an excellent covering centre-back; if he wins the foot race against Zaha, Spurs should do enough to earn a narrow win.
Liverpool v Fulham
Sunday, 12:00
Live on BT Sport 1
After a shock midweek defeat to Red Star, Jurgen Klopp will want to drop some of his worst performing players and give a chance to those unused in Belgrade. That should mean a start in midfield for Xherdan Shaqiri; against weaker opposition, Liverpool have recently started switching to a 4-2-3-1, meaning an extra space for an attacker in central areas.
This is a big worry for Fulham. Their attacking full-backs and bizarrely wide formation leave plenty of gaps in midfield and either side of the centre-backs - basically the entire width of the pitch 35 yards from goal. Every team is tearing through the middle with ease, including fellow strugglers Huddersfield. Aaron Mooy was the standout performer last weekend.
Shaqiri, who loves to drift into the channels, will take advantage of the big gaps either side of Kevin McDonald and the lack of support provided to Fulham's full-backs. If McDonald's injury rules him out, then Fulham are in even bigger trouble. There is an obvious mismatch in quality between these two sides, and if Shaqiri starts he could make his best impression yet at Anfield. In so much space, his long-range shots should be lethal.
Chelsea v Everton
Sunday, 14:15
Live on Sky Sports Premier League
To return to that Palace game, Zaha might have been largely snuffed out but the hosts' directness nevertheless exposed a flaw. Pedro, crucial in an attacking sense by drifting across into the half-spaces, was notably absent from defensive duties, which allowed Zaha, Townsend, and Aaron Wan-Bissaka to intermittently find space on that flank. The Spaniard will likely start on the right on Sunday against Everton with Eden Hazard back on the left.
Marco Silva will be keenly aware of Pedro's poor defensive work. Everton already tended to attack down the left, where Gylfi Sigurdsson and Richarlison both lead, but in recent weeks Lucas Digne's growing influence has made the Toffees notably lopsided. Digne attempted 13 crosses against Brighton, and he will have plenty of opportunities to reach a high figure at Stamford Bridge. A lack of support for Azpilicueta makes overloads likely.
However, Chelsea's high-tempo possession, characterised by frequent one-twos in central midfield, are likely to be effective against Everton's pressing. Silva won't sit deep, which means - as Man Utd found in the second half of their 2-1 win over the Toffees - one-touch football in the middle can outmanoeuvre the onrushing opponents and conjure space in front of the back four. Here, Eden Hazard can dominate.
Man City v Man Utd
Sunday, 16:30
Live on Sky Sports Premier League
There are numerous reasons why the hosts are favourites to win, possibly by a big margin, in the Manchester derby on Sunday, but the most important one is that Manchester United simply invite pressure with their stand-off approach. That is exactly the wrong way to tackle Pep Guardiola's team, and should ensure wave after wave of City attack until the visitors are broken down.
City's favourite attacking move is to make runs in between the full-back and centre-back, with patient possession football leading up until the perfect moment for a slide ball into the channel and a cut back. These under-lapping runs are made by full-backs and wingers interchangeably, and are most prominent when the opposition retreats into a shell. When backs to the wall, arcing runs are much harder to track because the defending side is flat footed.
City should hold all the possession, which increases the importance of the key battle between Ashley Young and Leroy Sane. In Antonio Valencia's absence Young has struggled on that side, regularly being beaten one-on-one by Ryan Fraser last weekend. Sane's pace and movement will surely be too much for Young - and the same can be said for Raheem Sterling versus Luke Shaw. It could be a very long day for Jose Mourinho.