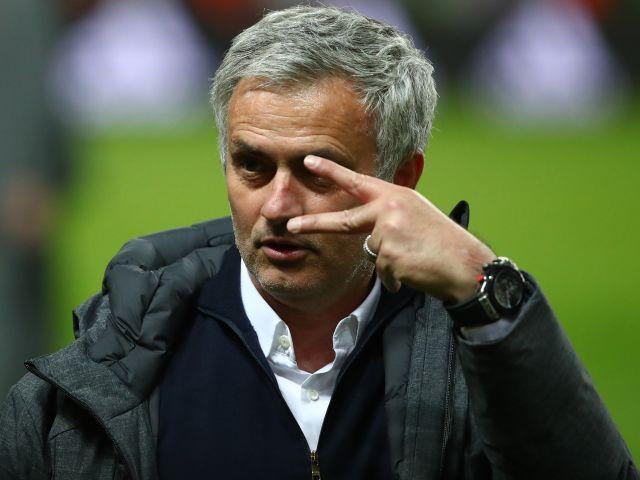 Jose is delighted to see that Jurgen went with paper
World Cup qualification has either been secured or lost and now we return to the real action. Stephen Tudor assesses which of the Premier League title challengers traditionally fares best after a fortnight's respite...
"If the Anfield faithful were hoping that a change of scenery might sharpen their defender's instincts for clean sheets recent history suggests otherwise."
Should your Premier League team be in fine fettle it's only natural to view an international break as a wholly unwelcomed inconvenience. The enforced hiatus disrupts the momentum that had been building up nicely while the real risk of injury befalling a key player on some far-off field makes for a nervy fortnight. This is no upside.
It follows then that the opposite stance can apply if your side has been struggling of late. With only eight points accrued from their last five league games and a big question mark hanging over their defence Liverpool supporters were presumably quite relieved to see a gap appear in the fixture list. It represents a chance to regroup and go again.
Maybe though it goes deeper than this? Perhaps recent form isn't the only factor to consider when looking ahead to this weekend when the 'top six' resume their battle for the Premier League title?
By analysing the results - both prior and after - the last 20 international breaks dating back to November 12, 2011 (three additional international commitments in this time period were discounted as league fixtures continued around them) it's possible to see certain patterns emerge, patterns that reveal a surprising truth: some clubs respond to an international break better than others.
Arsenal and City return firing on all cylinders

Three of the six clubs boast 13 wins from 20 following international duty but whereas Chelsea have tended to triumph by slim margins Arsenal and Manchester City have regularly announced their return with an abundance of goals. Their 51 goals apiece equate to one every 35 minutes for each side and is a prolificacy made all the more impressive considering they have on occasion rested their superstar strikers from the starting line-up after a week of arduous travel.
Watford and Stoke beware: these two just come back hungrier than ever.
Over 4.5 goals for Watford v Arsenal is 7/2 and well worth consideration.
Liverpool concede

If the Anfield faithful were hoping that a change of scenery might sharpen their defenders' instincts for clean sheets recent history suggests otherwise.
More so than any of their five rivals Liverpool habitually post worse results after the break than before and even more concerning for a team presently known for being generous at the back the interval tends to open the floodgates further.
For an extreme example of this we need only look back to the previous international break at the start of September. Prior to Klopp's men leaving to represent their countries the Reds put in a sumptuous display that owned Arsenal 4-0. Thirteen days later they were humbled 5-0 at Manchester City.
If this nine-goal swing is a peculiarity the 29 goals conceded in the 20 games directly after international action is a staggering amount given their lofty league placing throughout.
United don't lose

Or rather they do but just the once, to their arch rivals City at Old Trafford early last term. That afternoon aside the 13-time Premier League champions repeatedly reacclimatise themselves well to domestic fare even if they have settled into a habit of eking out draws with stalemates to Stoke, West Brom, Arsenal and Liverpool on the last four occasions. Peak Mourinho that.
If that last comment reads like a flippant jibe it's not meant that way at all: this Saturday the Portuguese scowler will once again take a disparate squad to Anfield - collectively travel-wearied with their minds still half-distracted by their nation's World Cup qualification outcomes - and ensure they don't lose. Titles are won on less.
Added to the fact that the last three 'M62 derbies' have ended honours even the 23/10 for the draw is a tempting proposition.
But Chelsea surprisingly do

The mini-league table for the 'big six' after international breaks puts City on top with 44 points, United and Arsenal close behind on 43, Chelsea fourth with 41, Spurs trailing with 38, and Liverpool a distant last on 29.
On the surface then there's not a great deal to be concerned about for Chelsea fans, especially when their opponents this weekend are Crystal Palace who haven't yet mustered a point or goal.
Yet it's the lack of draws that bumps up the Blues' tally and their five defeats after a fortnight's interim equals that of Liverpool's. Put more sharply, a quarter of the time that Chelsea resume their race they stumble.
The last time this occurred was April Fool's Day of last year. Their opponents, you guessed it, were Crystal Palace.
Spurs are usually revitalised

If Tottenham's overall record post-internationals isn't the greatest their ability to improve on their previous result is. On 11 occasions they have followed up a draw with a win or a loss with a draw, an achievement all the more noteworthy considering they have been burdened with more away fixtures than anyone else, 13 in total.
This time out there're at home and with their last outing ending in a comfortable 4-0 rout Bournemouth should be very concerned given the hosts' propensity to go one better when the league campaign kicks off again in earnest.