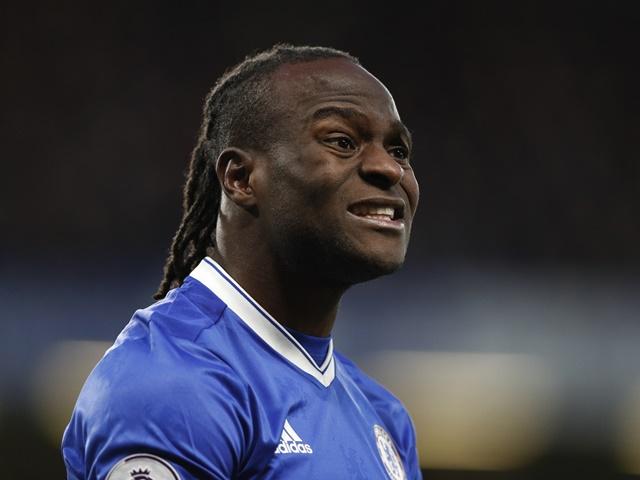 Victor Moses has thrived for Chelsea this season in a wing-back role
A 3-0 defeat by Arsenal prompted Chelsea to switch to a back three, meaning wing-backs were suddenly given a new lease of life in the Premier League. Ryan Baldi tells us the players who have been transformed in their new roles...

"Though Conte's title winners may have been the first to adopt a back three formation this term, they are certainly not the only side to reap the benefits of the en vogue tactical set-up."
A 3-0 defeat to Arsenal in September proved to be the catalyst for a tactical switch that has led Antonio Conte's Chelsea to the Premier League title this season. But the Italian's decision to set up his side in a 3-4-3 formation has had an impact felt far beyond Stamford Bridge.

Seeing the success that Chelsea have enjoyed with their new system, several Premier League managers have decided to follow suit, utilising a back three in either a 3-4-3 or 3-5-2 formation. Even José Mourinho and Arsène Wenger, who have never done so for any sustained period throughout their illustrious careers, have experimented with a back three of late.

Three at the back formations had seldom been used regularly in England in the last two decades, and their reintroduction has not only reversed the fortunes of several clubs, it has also unexpectedly reinvigorated the careers of a handful of players who have carved out a new niche for themselves.

The role of wing-back in 3-4-3 or 3-5-2 requires a specific skillset: the incumbent must be technically sound, adept in both the attacking and defensive phases of play, and possess the energy to trek up and down the touchline for the entirety of a game.

Unlike a traditional full-back, who is used to operating behind a winger, a wing-back is tasked with providing all of the width down their designated flank. And unlike a standard winger, they are burdened with far more defensive responsibility.
Moses the first to shine

Victor Moses, a Chelsea player for almost five years, had made only 23 Premier League appearances for the Blues before this season, having been loaned out to Liverpool, Stoke City and West Ham United.

As a winger, the Nigeria international lacked the star power and, in truth, the kind of dazzling skills that have lit up Stamford Bridge in recent years. The likes of Arjen Robben, Florent Malouda and Eden Hazard have set especially high standards in that respect, so Moses was never likely to nail down a regular starting berth as part of the front three.

But, as a hard-working, tactically astute and offensively capable wide man, Moses has been a revelation at right wing-back this term. Conte's decision to re-appropriate the former Crystal Palace and Wigan Athletic winger raised eyebrows at first, but, with hindsight, it now seems obvious to all that the 26-year-old has the tools to succeed in the role.

Moses has featured in 33 of Chelsea's 37 Premier League fixtures this season, aiding their title triumph with efficacy in attack - three goals and two assists - and diligence defensively.
Spurs' full-backs perhaps the best of the bunch

Though Conte's title winners may have been the first to adopt a back three formation this term, they are certainly not the only side to reap the benefits of the en vogue tactical set-up.

Mauricio Pochettino's Tottenham Hotspur, who have already secured their highest Premier League finish as runners-up to Chelsea, have utilised a form of 3-4-3 at times this season too.

Even when in their more customary 4-2-3-1 shape, Spurs' full-backs Kyle Walker and Danny Rose - or as of late Kieran Trippier and Ben Davies - are key in all phases of play. But when unleashed as wing-backs, the English pair are even more dynamic.

With the added cover in wide areas provided by the two outside centre-backs in a back three, the already attack-minded Walker and Rose are free to bomb forward constantly and simultaneously. While their starting position - deeper than a winger but higher than a full-back - makes them difficult to plan for and defend against.
Wing back role for the Ox has produced instant returns

Wenger was the latest of the Premier League bosses to embrace three at the back. Like Chelsea earlier in the season, a 3-0 loss - this time at the hands of Crystal Palace - convinced the French boss that a change was needed. Since switching to 3-4-3, Arsenal have won seven of their last eight fixtures.

Perhaps the most remarkable aspect of Arsenal's tactical change has been the rejuvenation of Alex Oxlade-Chamberlain. The 23-year-old England international, who moved to the Emirates from Southampton as a teenager, has long been regarded as one of the brightest talents in the country.

But Oxlade-Chamberlain's inability to settle into a defined role at Arsenal - having played on both flanks, centrally as a No.10 and deeper in a double pivot - seemed to have stunted his development.

Now, however, playing at right wing-back, the 25-cap Three Lions star appears to have found a role he is perfectly suited to. In Arsenal's usual 4-2-3-1 system, Wenger tends to prefer highly technical playmakers such as Mesut Özil and Alexis Sánchez to play as inverted wingers, something Oxlade-Chamberlain is not truly suited to.

As a wing-back, though, his pace, dribbling and crossing ability has added a new dimension to the Gunners' attack. Work is still needed on the defensive side of his game, as April's 2-0 North London derby defeat to Tottenham evidenced, but with four assists in his last seven outings, Oxlade-Chamberlain looks to have finally found his calling.

Arsenal will be desperate that he recovers from a minor hamstring problem in time for next week's FA Cup Final against the Blues.

The success Chelsea have enjoyed this season will ensure that the back three and wing-backs remain part of the Premier League landscape for some time to come. Good news for the wide men who have been reborn in their new roles.