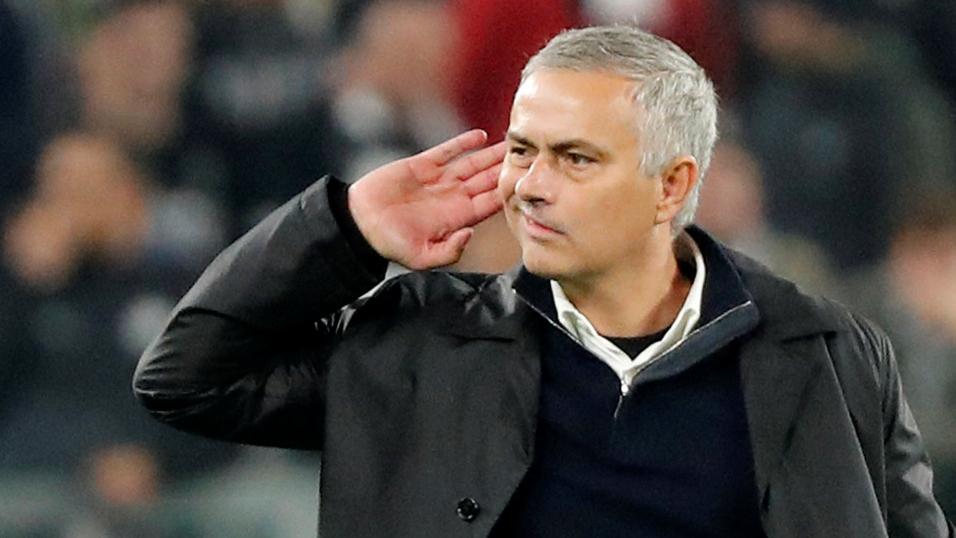 Will Jose Mourinho's United ruin this weekend's ACCA?
Punters can back Liverpool, Chelsea, Man City and Arsenal in a Premier League Home Banker ACCA this Sunday. Joe Dyer explores the bet...
"Backing short prices isn't for most punters but with such a solid case for all four an ACCA is the obvious and popular play, and you can wrap the four high-fliers into a single bet that will pay at [3.3]. Tempting?"
Four of the best with very favourable conditions
It's a Sunday that bookies' nightmares are made of.
A quartet from the Premier League's top five in action, all playing at home and all a handsome shade of odds-on.
The day starts with 1/10 Liverpool at home to Fulham in a fixture between the league's third-placed team and the current bottom-placed outfit.
We then go to Stamford Bridge, where 2/5 Chelsea are unbeaten this season, for a showdown with Everton.
The day ends with a pair of 16:30 kick-offs. Pep Guardiola's imperious Manchester City host United in a derby match which the Premier League title favourites are just 4/11 to win. Meanwhile down south, Wolves pay a visit to The Emirates where Arsenal have won seven from nine in all competitions this season, stopped only by City and Liverpool. The Gunners are just 4/7 to make it eight wins from 10.
Backing short prices isn't for most punters but with such a solid case for all four an ACCA is the obvious and popular play, and you can wrap the four high-fliers into a single bet that will pay at [3.3]. Tempting?
Betfair's Barry Orr said: "The four-timer is currently working out at a little over 2/1, so, from a risk point of view, you would expect the winning accumulator couldn't inflict too much pain should they all oblige but the volume of money we are witnessing for the four-team acca is unprecedented, so it would be a shocking Sunday with the reverberations felt industry wide should they all win."
A word of warning: as all punters know, putting four 'sure things' into one bet doesn't make a certain winner and the ACCA is odds-against for a reason. Will any of the quartet let you down and if so which one?
Liverpool in the weekend's biggest mismatch
They're the shortest price of the four and it's very hard to imagine Liverpool letting you down this weekend. Fulham lost at Huddersfield in midweek to stretch their current losing streak to six games. Liverpool's recent form hasn't matched their best but they have only been stopped by Chelsea and Manchester City in home games this season.
Expect Everton examination but don't doubt Sarri's Blues
Chelsea lost the season-opening Community Shield to Manchester City but are undefeated across the 16 games since. Everton's impressive six game form - beaten only by Manchester United and victorious in four of those fixtures - suggests they will give Maurizio Sarri's side a thorough examination but it's very hard to imagine Chelsea will not win.
Trends against City but who could oppose Pep's boys?
An inexplicable Champions League defeat to Lyon is the only time that City have failed to net a home win this season and they come into the derby having scored six in both of their last two fixtures at The Etihad. Can United stop them? Well, they did in last season's derby game to continue a wider trend of away victories in this fixture and arrive having pulled off a stunning victory at Juventus when written off in midweek. On balance though, league-leading City are by far the superior side and would you really want to back against them?
Arsenal have toughest task but still a solid proposition
So, finally to Arsenal. The Gunners' stunning 11-game winning streak was checked at Crystal Palace at the end of October and Unai Emery's side were predictably unable to get three points from their clash with Liverpool last time out, but still scored a late goal to take a point from the game. Visitors Wolves have lost their early season momentum after three straight losses but impressed against Spurs last weekend, not looking like a side on the slide and they have won two visits to the capital this season (at West Ham and Crystal Palace). Their crisp passing could create openings against an Arsenal backline that has let in 14 in 11 Premier League games, although actually finding the back of the net is Wolves' issue.
This is the trickiest fixture of the lot and Arsenal's odds are longer than the other three's for a reason but make no mistake they are solid favourites. And when the longest leg of a very popular ACCA is 4/7 it looks like the bookies' nightmares could come true on Sunday afternoon.