Premier League: AVB has serious questions to answer but he can still deliver top four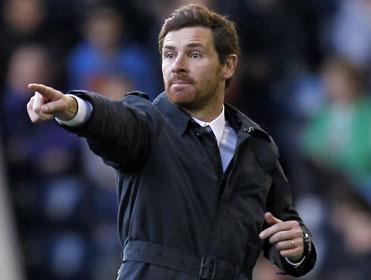 AVB has the qualities to get it right at Spurs says Andy Brassell
Tottenham's embarrassing defeat at Manchester City on Sunday has put serious pressure on Andre Villas-Boas but Andy Brassell says there are still enough reasons to be optimistic - if AVB can remember what made him successful at Porto...
Even taking Manchester City's incredible attacking potency at the City of Manchester Stadium, the beating suffered there on Sunday by Tottenham is without doubt the sort of display that gets managers fired. It was limp, listless and utterly lacking in courage and belief.
That's not to say that André Villas-Boas should be relieved of his duties. He has done plenty of good since arriving at White Hart Lane, and though there are clear faults to be addressed in his team, now is not the time to panic. Spurs are two points from the Champions League places - surely the season's objective - and only eight points from Arsenal at the summit, for those with decent eyesight and a healthy dose of optimism.
There may be precious few optimists among the regulars at the moment, especially after three winless and goalless Premier League games in succession. It is a comedown given the seemingly sensible way that the club rode out the exit of Gareth Bale, and used the cash to fund an influx of exciting talent.
It also seemed as if Tottenham had successfully negotiated the early-season torpor that is normally the price of Levy's transfer market brinkmanship. Granted, the performances weren't sparkling, but Spurs picked up four wins and a draw from their first six league games, conceding only two goals in the process. It compares very favourably to last season's two points from the first three matches as Luka Modric edged his way out of the exit door.
Given that half a new team of players is settling in at the north London club, a few slips along the way have to be expected, but that's not really the current problem. Bale's heroics last season papered over the fact that Tottenham's general play could be quite ponderous and slow. They simply don't create that many chances. The Welshman didn't just cover up a multitude of sins with wondrous goals, but he came to represent our image of Tottenham - young, exciting, dynamic. In fact, it was often just Bale who brought those qualities.
What makes this so puzzling is that it represents that absolute antithesis of the football that made Villas-Boas' name at Porto. At the Dragão, an energised side full of spirit and attacking brio played with almost recklessness; fallible at the back but simply too strong for most opposition as they moved the ball from back to front at dizzying speed.
When Spurs are at their best, they still hint at that the capability to do that, such as in last season's memorable win over City at White Hart Lane. They have the players to do it, with Mousa Dembélé important at driving forward through the centre and both Erik Lamela and Andros Townsend capable of flaming the opposition from wide areas.
Roberto Soldado can recover from a samey start too. It's often forgotten that no less than Radamel Falcao was an unhappy, irritable and seldom-scoring figure in the early months of AVB's season in charge at Porto - he scored just four Liga goals before November in that campaign, against modest opposition in Uniao Leiria and Beira-Mar. Soldado simply needs snappier service.
Villas-Boas still has the qualities to get this right, and get into his players' heads, having built on Bale's excellence last season. Yet his side's tentative demeanour suggests he was burned more than we may have realised by his failure at Chelsea. For Tottenham to flourish, he needs to recover his bravery.
The City embarrassment underlined a real sense of grievance, but maybe it can act as a catalyst for change. There is still little reason that Tottenham shouldn't make the top four with a few adjustments, so why not back them while there such a massive downer on their prospects?
Recommended Bet
Back Tottenham in Top 4 Finish market @ 4.67/2
***
Lewis Jones has a more pessimistic view on the issues at White Hart Lane

Win More In-Play with Betfair!
Hull City v Crystal Palace
If you had backed Palace In-Play in the 79th minute, when the score was 0-0, you would have been £120 better off with Betfair versus William Hill after the Eagles ended up picking up three points (£308 with Betfair / £188 with William Hill – calculated using a £25 stake)
For more on this and other price comparisons go to Betchecker
Read past articles