Premier League: Heavy atmosphere means slim pickings for Newcastle ahead of Hull's visit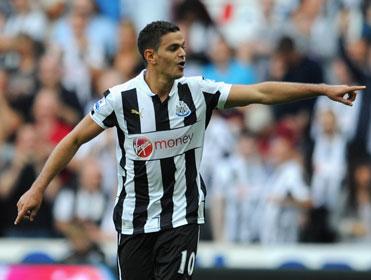 Hatem Ben Arfa has changed his stripes to those of The Tigers
Andy Brassell takes a look at the current state of affairs at Newcastle ahead of their weekend clash with Hull City, which of course will mean the return to St James' Park of Hatem Ben Arfa who may well sit on the bench despite knowing he can't play...
"Hull look an extremely generous bet to rack up a third successive St James's Park win in the Premier League at 4.03/1 (it would be their fourth win in a row at Newcastle in all competitions combined)."
When you have to leave home at 6am for a five-and-a-half hour drive south to see your team, it takes a little extra dedication to get out of bed even earlier to spray paint a bed sheet with a bold slogan, ready for the match.
As the 'Pardew Out' message was unfurled in the away end at Southampton at the end of Newcastle United's chastening 4-0 thumping - and really, it could have been worse - the strength of opinion against the club's current manager could not have been any clearer.
It is not the first time in recent weeks that supporters have taken to flying their feelings on an oversized stretch of cotton. At the last home game, against Crystal Palace, a large banner featuring ostracised winger Hatem Ben Arfa mocked up as Che Guevara, above the legend 'HOPE', was hung from high in the Milburn stand.
This creative tribute had made previous appearances outside supporters' pubs and even at a Newcastle reserve game in which Ben Arfa was playing, held at modest Whitley Park, where it was draped over an adjacent cricket sightscreen.
Hope is important - not just according to Scots rockers Idlewild, but as per every football supporter. It's what keeps us going through as it gets colder in the stands, as the playing squad looks impossibly weak, after the conceding of last-minute winners. The thought that this week is another chance, that just maybe it could get that little bit better, enables us to smile and go again in the face of unfavourable odds.
So it's clear why Ben Arfa represented that for Newcastle fans. It's no secret that he's far from perfect. His mind drifts, especially in defensive situations, and he has not always been the most consistent player one can recall.
He does, however, have that extra magic and imagination which is quite out of the ordinary, as evidenced in those stellar moments that he can deliver. His unbelievable solo goal against Bolton - remind yourselves by watching the clip - in 2012 was one.

This writer was in the stands and the customary Geordie roar that greets a home goal was underpinned by something else that day, a breathless awe that said you had witnessed something truly special.
So beyond the rubbish results, with bottom spot in the nascent Premier League table following 14 defeats in the last 20 matches of last season (with Newcastle having failed to score in 15 of those 24 games in total), there is the charge that Pardew has killed hope.
His inability to manage the mercurial Ben Arfa is just a symbol of something else; a failure to fire Geordie dreams, in collusion with an owner, Mike Ashley, who seems to have little in mind but survival and banking television money.
That lack of imagination is showing again in Pardew's struggle to get new players including Remy Cabella (another with a touch of the spectacular about him) to adapt. Local dissatisfaction at such enduringly poor fare is sure to be shown as Hull City visit on Saturday - Ben Arfa's new home, of course, after arriving on loan just before deadline.
Naturally he is ineligible to play under the terms of the transfer, though The Guardian's Louise Taylor has suggested Steve Bruce is considering having him sit on the visitors' bench. That, surely, would be too cruel even for a former Sunderland manager - not to mention extremely provocative in an already volatile context.
As Betfair's own Dan Thomas and Mike Norman pointed out earlier this week, Hull look an extremely generous bet to rack up a third successive St James's Park win in the Premier League at 4.03/1 (it would be their fourth win in a row at Newcastle in all competitions combined).
On this occasion, the situation is at least as important as the form.
Read past articles