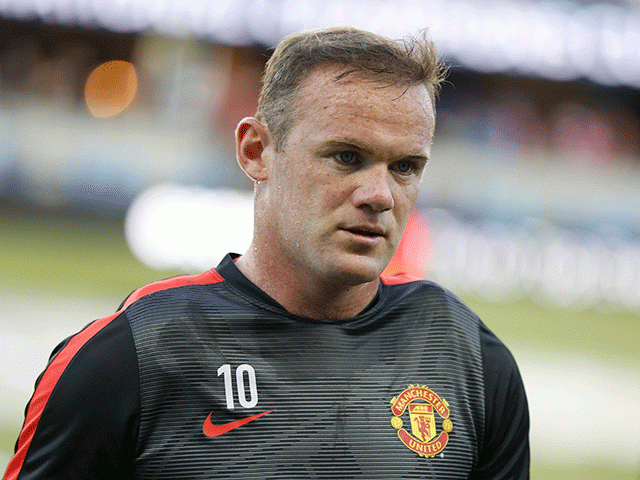 Rooney scored 252 goals in 13 years with United
Wayne Rooney leaves Manchester United as their all time top scorer but is his status as a Manchester United legend secure? Max Liu thinks it should be and picks five of Rooney's greatest moments in Red, as he bids farewell to the end of an era...

"Rooney is human just the like rest of us, capable of mistakes, prone to immaturity and susceptible to bad advice. Unlike the rest of us, he's also the greatest English footballer of his generation."
During his 13 years at Manchester United, Wayne Rooney won five Premier League titles, the Champions League, the FA Cup, three League Cups and, most recently, the Europa League. He was PFA Player of the Year in 2010 and twice Young Player of the Year. He goes down in history as the club's all-time record goal-scorer, with 253 in 559 appearances, and is their longest serving signing since Bryan Robson.

And yet there's persistent sense of potential unfulfilled with Rooney. Perhaps that's in part due to the astonishing start he made to his Old Trafford career. There's also the fact that he was arguably a victim of his own versatility, moved out wide or asked to play deeper to accommodate less adaptable goalscoring talents such as Cristiano Ronaldo, Robin van Persie and Zlatan Ibrahimovic. His rapport with United fans perhaps never recovered from the moment in 2010 when Rooney announced his desire to leave - potentially for Manchester City - and the breakdown of his relationship with Sir Alex Ferguson in 2013 also damaged his standing at the club.

But Rooney is human just the like rest of us, capable of mistakes, prone to immaturity and susceptible to bad advice. Unlike the rest of us, he's also the greatest English footballer of his generation and made more appearances for United, and won more trophies, than Eric Cantona, Cristiano Ronaldo, David Beckham or Denis Law. But would Rooney get in your all time United 11 alongside the aforementioned legends?

Rooney was, like Roy Keane, the ultimate team player for United. He was also capable of individual genius so, in case anybody needs reminding of his greatness, here are five of Rooney best Manchester United moments.
Debut hat-trick - 28 September 2004

United signed 18-year-old Rooney from Everton for £26 million in August 2004. At the time, he was recovering from the foot injury he sustained playing for England at that summer's European Championship. So his debut was delayed until late September - a Champions League Group match against Fenerbache. Was he up to it or would he freeze under the pressure of his price tag? He scored a stunning hat-trick and Old Trafford had a new hero. Rooney won't be playing Champions League football next season but United will and they're [15.5] to win it.
Thunderous volley v Newcastle - 24 April 2005

Another highlight from Rooney's first season at Old Trafford. It's difficult to believe now but Newcastle, along with Arsenal, had been one of United's competitors for Rooney's signature the previous summer. Eight months later, he unleashed this thunderous volley to show them what they'd missed out on.
Stunning bicycle-kick v Manchester City - February 12 2011

If anything redeems Rooney from trying to leave for City in 2010, it's this volley a few months later. The Manchester derby was tied at 1-1 in the second-half when the ball dropped to Rooney He has called it his most important goal and it was probably the greatest the derby has ever witnessed.
Hat-trick v Arsenal - 28 August 2011

Only the second most famous hat-trick in Rooney's repertoire but a stunning performance nonetheless, as United demolished Arsenal 8-2 at Old Trafford. They wouldn't win the league that season, and City would eclipse them on a thrilling final day, but Rooney was back the following season, this time playing behind Van Persie, as United brought the title back to Old Trafford in Sir Alex Ferguson's final season. They haven't won it since and are [4.5] to do so in their first season of the post-Rooney era.
Record-breaking goal v Stoke City - January 21, 2017

Rooney needed one goal to reach 250 and eclipse Bobby Charlton as Manchester United's all time top goalscorer. With United 1-0 down at the Britannia Stadium, Jose Mourinho sent Rooney on and, in the 94th minute, Rooney curled in a wonderful free-kick. It was a magnificent way to set a new record and a reminder that, at 31, Rooney still has much to offer.
United's loss is Everton's gain and, although Rooney has already talked about his desire to win something with them, it would be a successful season if he could help them achieve a top six finish. They're [3.3] to do so.