Premier League Betting Pointers: Are Everton the bet for a top four finish this season?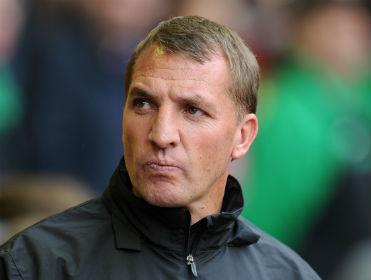 Brendan Rodgers is a man under pressure
In our regular look at what lessons punters can take from the weekend's action, Luke Moore finds Everton at a pretty good price for Champions League qualification and fears for Brendan Rodgers...
"In light of all this it might be worth casting your eye slightly further afield and looking at Roberto Martinez's Everton. They're currently priced at an absolutely massive 8.415/2, yet are just two points off fourth currently and are in great form."

1. The race for fourth place is as open as it's ever been, but Everton are value
Chelsea and to a certain extent Man City aside, it's very difficult to choose between the sides that could make up the top four positions this season. If we assume that Jose Mourinho's men are streets ahead and City have too much quality to finish lower than second (Southampton will surely fall away at least a little bit), in light of recent results it becomes difficult to predict who can grab the season by the scruff of the neck and make it their own.
If we look at the market, it suggests that Arsenal (1.75/7) and Manchester United (1.538/15) are the shoe-ins to make up the other positions, but on recent form would you back them at those prices? Both are injury-stricken, both have huge problems on the field finding the right balance (or in Arsenal's case, confidence against the top sides, more on which later).
In light of all this, it might be worth casting your eye slightly further afield and looking at Roberto Martinez's Everton. They're currently priced at an absolutely massive 8.415/2, yet are just two points off fourth currently and are in great form. At worst, that's a good back-to-lay, especially if they have a decent Christmas period which they have every chance of doing given the Europa League has a sizable festive break.

2. Liverpool are in real trouble and Brendan Rodgers could pay with his job
It's starting to look like more than a hangover from last season's excesses for Brendan Rodgers and his ailing Liverpool team, now. The performances are poor, the side is unbalanced and the manager clearly doesn't know his strongest XI.
It's clear to outsiders looking in that the Reds aren't improving, they're getting worse, and the trip to Ludogorets in the Champions League midweek now looks like arguably the most important of Rodgers' season. Put simply, anything other than a win could cost him his job. A defeat means they're unlikely to qualify for the next stage of the competition and with the league campaign looking like a dead duck, it's hard to see where the Northern Irishman goes from there. He is now third-favourite to be the next Premier League manager to leave.
Like it or not, Liverpool are now a mid-table side, and in a season of great transition for many other teams in the league, it'll have to go down as a missed opportunity.

3. Whatever happened to Fortress Britannia?
There was a time when it almost became a cliché that the Britannia Stadium was a tough place to visit. Many teams struggled there, and last season home form was the bedrock of Stoke's top ten finish. 
This season it appears somewhat different. Defeats have come at home to Aston Villa, Leicester and now Burnley and Mark Hughes' team find themselves with a totally average record, roughly equivalent to Crystal Palace and inferior to QPR.
The Potters are away from home in their next two Premier League games, but play Arsenal at the Britannia on December 6 and are likely to be shorter than they should be due to the generally accepted wisdom that they're a strong home team. Don't be fooled.

4. Crystal Palace can avoid the drop
It was a great performance at Selhurst Park on Sunday from Neil Warnock's Crystal Palace - they sensed the occasion, had the crowd behind them and knew a confidence-free, struggling Liverpool were there for the taking. 
The Eagles have no problems scoring goals - they've only failed to find the back of the net twice in their last eight games - and that is a key component of securing safety in the country's top division. What's vitally important though is that they lift themselves in that way for every game and not just the showpiece occasions against the glamorous clubs.
In many ways, Warnock will be more pleased with the home win over Leicester than he will the Liverpool result; victories over fellow bottom-feeding teams are clearly much more important in the context of the entire season, and with games coming up against Swansea, but more importantly Aston Villa next, time is of the essence.
If we take the market prices for relegation this season, Palace will stay up. They're fourth favourites at 2.962/1, and Leicester, QPR and Burnley sit below them in the betting.

5. Arsenal's old habits are dying hard
Around this time last year, Arsenal travelled to a struggling Manchester United in brilliant form. Top of the league and confident of getting a much-needed win at Old Trafford at an opportunistic time (David Moyes' tenure wouldn't even last out the season), they froze, didn't take their chances and ended up on the wrong end of a 1-0 scoreline.
At the Emirates on Satuday it was familiar stuff from Arsene Wenger's men. Despite dominating the first half an hour, they couldn't make it count and it was as if an invisible barrier existed psychologically between them and a victory over Louis van Gaal's team.
The 'Wenger Out' freight train is gathering momentum and it's sort of easy to see why in light of this performance. Arsenal's record against other top sides is utterly woeful, and ultimately that has been the difference between league success and failure.
Discover the latest articles
Read past articles