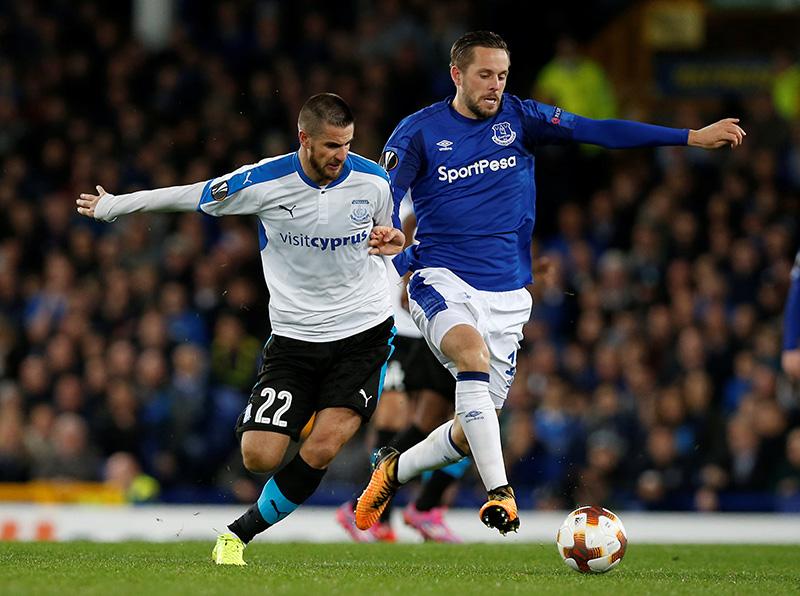 Gylfi Sigurdsson has struggled to make his mark so far
Following Everton's defeat to Burnley, Martin Laurence looks closer at where it's gone wrong for Everton this season and why Ronald Koeman is 8/15 favourite to be the next manager to go...
"The former Swansea man has been lauded for his creativity in recent seasons, but in truth a low proportion of the chances he makes are from open play."
This was the season that Everton were supposed to begin to bridge the gap to the top six. As it stands, after just seven games that gap is already at five points and shows no sign of decreasing.
The Toffees' defeat at home to Burnley on Sunday was their fourth in five Premier League games and followed a hugely disappointing 2-2 draw with Apollon Limassol in the Europa League. After a summer of significant spending in the window gone by, the pressure is really on Ronald Koeman to turn things around.
Failure to replace Lukaku could prove costly

The issue, however, is that the Dutchman has a confused squad following what already appears a bizarre transfer strategy. It's been stated time and again that they have failed to adequately replace Romelu Lukaku, but that was always likely to be the case given his quality.
Instead it's been the lack of a clear plan to adapt without the Belgian that has been most damaging to the club's early season form, and for that the blame must lie with the manager.
The result at the weekend has left Koeman odds on to be the next manager to leave his post at 8/15 with the Betfair Sportsbook, and it's hard to argue with that position.
A lack of pace in the side is another factor that has been highlighted as a real weakness, not only in the literal sense but also in their passing. It's an issue that has forced the manager to field players he usually wouldn't, namely Oumar Niasse but also Dominic Calvert-Lewin, who is an impressive prospect but not one that the club would expect to be so reliant upon after what had been billed as a productive summer.
The likes of Sandro Ramirez and Davy Klaassen have been benched already, without really having a chance to settle, while Wayne Rooney also lost his place in the XI at the weekend.
Costly pursuit of Sigurdsson yet to pay off

The club's record signing Gylfi Sigurdsson has avoided the cut thus far but has also struggled to make his mark on a side that arguably didn't need a player of his ilk.
It is in fact Everton's desperate pursuit of the Icelandic international that already appears to be backfiring. That's not to say that the 28-year-old won't come good, but that the focus on getting his signature over the line was to such an extent that there were major oversights elsewhere.
Indeed, while rivals Liverpool were heavily criticised for putting all their eggs in one basket with Virgil van Dijk, at least they were attempting to address an obvious problem. The Toffees, meanwhile, spent months trying to agree a deal for Sigurdsson having already signed the aforementioned Klaassen and Rooney in the meantime, both of whom play in a similar position if not style.
Instead, Everton were crying out for a quality striker, one capable of leading the line with strong hold up play and movement. Beyond that, upgrades were required on the flanks in the continued absence of Yannick Bolasie, whose return can't come soon enough.
The DR Congo international is just the sort of player that the side is crying out for right now. He's fast, strong and unpredictable, which is everything that Koeman's men have not been thus far.
An average of 11.3 shots per game is some way down on last season's figure (13.2), while 2.4 efforts on target per game is not only less than half what they managed in 2016/17 but the third fewest in the league. Meanwhile, while successful dribbles is certainly no indicator of success - Palace top the Premier League after all, with 13.3 - Everton's average of 4.4 per game, down from 10.6, is the lowest in England's top-flight and sums up their complete lack of spark.
If it's something Koeman felt that Sigurdsson would provide then he was perhaps a little naive. The former Swansea man has been lauded for his creativity in recent seasons, but in truth a low proportion of the chances he makes are from open play.
A tally of 13 assists last season was bettered only by De Bruyne and Eriksen, but only five of said assists came from open play - a figure that 20 players were able to beat by comparison. Meanwhile, a total of just 25 chances created from open play was level with the likes of Gareth Barry and Idrissa Gueye, in 72nd.
The fact, then, that Sigurdsson is such a specialist when it comes to set pieces makes the club's inability to recruit a target man to score from such situations yet another huge error.
That there was no more frequent assist to scorer combination than Sigurdsson to Llorente in the Premier League last season (six) was further evidence that to get the best from the Iceland international you need to have a strong aerial threat in the box.
While it should be said that Everton have had a tricky start to the season in terms of fixtures, there's nothing at present that points to an upturn in fortunes. Apollon and Burnley were both opponents they would have expected to beat after all.
Failure to do so at Brighton after the international break could spell the end for Koeman, for whom this job was meant to be a stepping stone to bigger and better things. Instead, his reputation is taking a battering.