Premier League: Five ways that Newcastle can build on their unifying United victory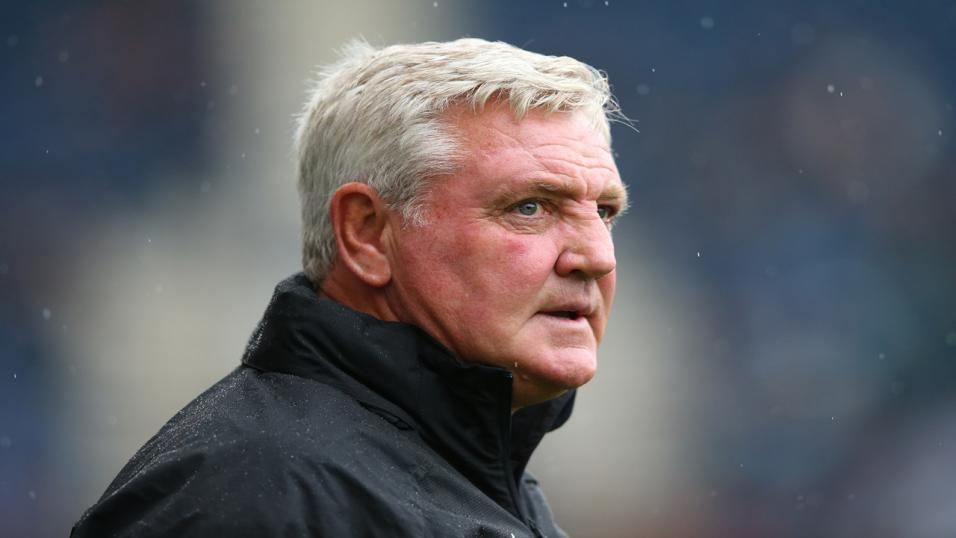 Steve Bruce spies storm clouds in the distance
All hope is absolutely not lost on Tyneside and especially after an energizing defeat of Manchester United. Stephen Tudor puts together a five-point plan to carry that momentum forward.
"There are still an awful lot of wrongs to right at St James' Park and they still seem destined to endure a relegation battle - indeed, they are the third shortest team in Betfair's relegation betting at [2.38]."
We cannot yet quantify how much of a fillip Sunday's barn-storming victory was for Newcastle United. That will only become apparent after the international break.
All we do know for sure is their 1-0 win over Manchester United was just the shot in the arm the Magpies needed after a tough few weeks. More so, a winning goal by a local debutant has not only raised the feel-good factor to the power of ten across Tyneside but helped bring about a temporary truce between a fan-base and an unpopular manager. After all, it was the manager who picked him.
Then there was the manner of the win itself which was the best possible reaction to Newcastle's 5-0 mauling at Leicester seven days earlier. It reveals there is still plenty of fight in this squad. Belief, too.
Yet for all this positivity let's not get carried away and assume a single triumph over a similarly struggling side is a panacea. There are still an awful lot of wrongs to right at St James' Park and they still seem destined to endure a relegation battle - indeed, they are the third shortest team in Betfair's relegation betting at [2.38]. Steve Bruce's team presently have eight points from eight games and of the 15 most recent clubs to go down a third of them had that number or higher at this stage of the season.
In reality what this weekend amounted to was a building block being put in place, no more, no less, but if the following five actions are undertaken it will almost certainly be added to by another and another until safety is reached. That would be a fillip indeed.
Change the manager
Harsh? Absolutely it is. It's as harsh as it is unlikely to happen.
Steve Bruce wasn't brought in by owner Mike Ashley to break Newcastle into the top six. He was appointed as a seasoned survivalist and this despite having only a 28.1% win percentage in the top-flight prior to taking charge in the North-East.
A morale-boosting three points ahead of the international break therefore only strengthens his position for the time being, yet the evidence is clear and long-standing that clubs who act swiftly and bring in a new man at the helm at an early juncture often enjoy a dramatic turn-around in fortunes. Those who wait often pay the price.
In 2017/18 five clubs sacked their under-performing coaches prior to December. Combined those clubs made up a staggering 27 league places thereafter.
That same season Carlos Carvalhal arrived at Swansea post-Christmas and secured 15 points from his opening ten games. The Swans still went down. A year earlier Marco Silva took over at Hull City in January and breathed new life into a team used to losing. Fourteen points from their opening ten games was a huge tonic yet the Tigers still dropped into the Championship. Why? Because the malaise had already set in. It was too late.
Let's not forget that it was only last month when the talk of the toon was that Bruce had lost the dressing room. Let's not forget the horror-shows at Norwich and Leicester.
Whoever is in the hot-seat Newcastle are 8/13 to stay up this season.
Buy in January
If the likelihood of Bruce getting the chop is slight that can be multiplied many times over that the infamously frugal Ashley will open his wallet in the next window.
Last summer aside Newcastle can 'boast' a net spend of £95m since Ashley took the reins and that equates to just under £8m expenditure per year, a pitiful amount for a club so big. What is worse so often the short-changing came at the expense of Rafa Benitez, a renowned master at team-building.
Thankfully a revision seems to have taken place of late with £40m being spent on Joelinton back in July while the recruitment of the entertaining Allan Saint-Maximin followed soon after.
Even so, this is still a squad in dire need of refurbishment and the sooner that is addressed the better.
Play Almiron in his best position
What would help considerably too is if their best attacking player was played in his most effective role.
On first glance some logic can be found in deploying Manuel Almiron on the right wing for he is that rarest of creative talents willing to graft for his craft. But with Newcastle having the lowest possession stats in the league that requires them to rely on counters to get any joy and when a lightning break occurs typically their most impactful practitioner of the art is nowhere to be seen.
Bruce recently admitted to being unsure where to house the Paraguayan saying he is 'not a natural number 10'. He is, Steve. He really is.
Go Rafa at the back
Last season under Benitez only six teams kept more clean sheets than Newcastle while only six teams conceded fewer goals overall. It's not rocket science to conclude that their well-drilled, miserly defence was the sizable reason why they pulled themselves from danger and stayed clear.
This time out they have already shipped in threes and fives while the reviews from their reverse at Norwich were hardly glowing. The back-line was 'petrified'. They were 'torn apart'.
Perhaps playing three at the back is the answer, a formation Bruce has turned to three times to date. Granted against Liverpool they were eventually handsomely beaten but there is no shame in that against a side averaging 2.5 goals per game. Elsewhere it was a fine and stoic performance.
Against United on Sunday and at Tottenham it contributed to shut-outs.
The Magpies are a generous 9/1 to continue their winning ways at Chelsea later this month.
Learn from previous recoveries
Twelve months ago Newcastle had a paltry two points, a consequence of playing five of the top six so early on and what sparked a revival then was Salomon Rondon rediscovering his shooting boots.
Two against Bournemouth kick-started a successful campaign that saw the Venezuelan reach double figures and this directly links to Joelinton and the responsibility that falls upon him.
In his hold-up play and general output the former Hoffenheim hit-man has impressed but goals is what he was signed for and goals is what Newcastle are is urgent need of should they hope to ultimately escape the clutches of relegation.