Premier League Betting: Can Everton secure a top four finish this season?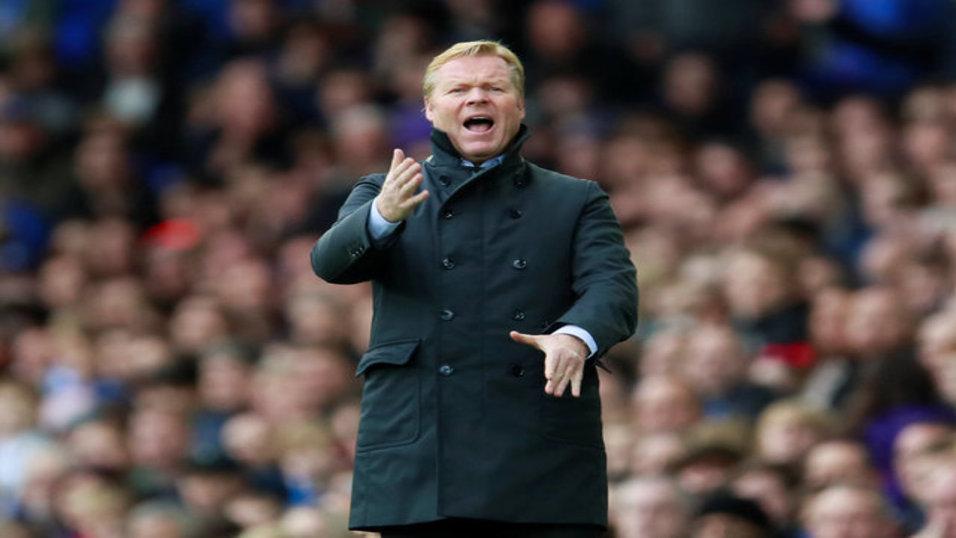 Ronald Koeman has overseen a good start to the season at Everton
Unbeaten in their opening five fixtures Everton look a very different proposition under Ronald Koeman. Stephen Tudor wonders how far the transformation can take them...
"This past week has seen two of Everton's most seasoned professionals – Phil Jagielka and Gareth Barry – candidly admit that the new strict approach and exacting standards was long overdue and is reaping rewards."
There are several reasons why Roberto Martinez's three year stint at Goodison Park will ultimately be regarded as a failure but perhaps it is redundant now to retrace the steps. With a new owner and the financial clout he brings and a coach in Ronald Koeman who is well on his way to revitalising their fortunes on the pitch, this is a club heading forward at full tilt. A team very much on the up. Why then look back?
Because the contrast between the Everton of then and now is pertinent and especially so when it's acknowledged that we're really only talking about a summer's worth of friendlies and five league games.
With that in mind the turnaround has been nothing short of remarkable.
Koeman of course deserves the bulk of the credit, a coach who shares the same affable demeanour as his predecessor but with a forthright edge to call it like it is. Last season was frustrating enough for Evertonians and they didn't deserve their manager repeatedly insulting their intelligence and claiming all was well. The potential of the squad was 'huge'. They were 'close'. They were always close even when a slew of post-Christmas defeats left them languishing in midtable.
Should Everton stumble from their present lofty league standing and impressive form you feel the 53-year-old Dutchman would publicly air his grievances and demand an immediate reaction from his men. No excuses, no denials of under-achievement, and certainly no comforting arm around a shoulder. We have already seen this uncompromising insistence for improvement in full effect with Koeman's handling of his talented, but too often ineffectual, midfielder Ross Barkley. Hauling off the England international at half-time against Sunderland and strongly criticising his performance is an example of tough love unimaginable under Martinez. This partly explains why the gifted 22-year-old coasted throughout much of last season whereas against Middlesbrough at the weekend, with a fire lit under his ego, he was brilliant.

This past week has seen two of Everton's most seasoned professionals - Phil Jagielka and Gareth Barry - candidly admit that the new strict approach and exacting standards was long overdue and is reaping rewards. Jagielka revealed there is now fear among the players for their starting places while Barry delved further and professed that last season even the fundamentals such as time-keeping and dress codes slipped. Those days of three-quarter measures are gone. At Everton's training facility at Finch Farm recently Kevin Mirallas was instructed to carry a six kilogram weight on his back to illustrate how difficult it was to sprint to full speed. It represented the weight he had lost in the first few weeks of Koeman's regime.
All of this however merely amounts to motivation, and if that was sufficient to transform a club then infamous task-masters such as Harry Storer - Brian Clough's mentor who once stated: "I have a team of bastards and I am the biggest bastard of them all" - would have European Cup medals in their possession. It is the changes implemented on the pitch that have really seen the Toffees take flight.
It began with identifying the key areas that proved to be Everton's undoing last term and significantly upgrading them - namely targeting a trustworthy goalkeeper, solidifying an exposed back-line, and injecting pace into the attacking third. Recruiting Maarten Stekelenburg from Fulham was a shrewd piece of business to replace the aging Tim Howard, while there is no questioning Yannick Bolasie's ability to torment the most stubborn of full-backs down the flanks. It is in defence though where Koeman prioritised the most drastic restructuring: the purchase of Ashley Williams has already added strength and an organisational skillset that was previously lacking, while his partnership with Jagielka bodes extremely well.
Even more encouragingly ahead of them there is now reliable protection in the zealous form of Idrissa Gueye who at £7.1m will surely prove to be one of the steals of the year. Revealing there is a nuance to Koeman's man-management - a touch of silk to accompany the steel - he described his new one-man army as 'perfect' this week and going on his performances so far Gueye has come damn close to justifying that claim. Just reading the Senegalese's tackling statistics is enough to tire this writer out.
The question then is how far can this startling transformation take Everton this season? Certainly the robust manner in which they attained points in their opening three games followed by a more expansive vanquishing of Sunderland and Middlesbrough suggests the foundations have been laid, and there is a variety to their play that was missing under Martinez. With Lukaku now firing again too they have finally become the dangerous proposition their quality has long threatened to be.
Yet a top four finish still seems a feat that is beyond them. Or is it? The naysayers will point to their opening five fixtures and deem them all winnable. It's a fair point but those very same naysayers probably derided the notion of Leicester winning the title right up until April of last year.
That same fixture list also bolsters the belief that Everton can secure Champions League football at Goodison Park as much as it damns it. Manchester City away aside, the next five games appear favourable on current form and - as we witnessed with mouths agape last season - early momentum can lead to miracles.
Everton are a tempting 11/2 to top a struggling Manchester United and inconsistent Chelsea next May. If you know your history that's enough to make your heart skip a beat.

Read past articles