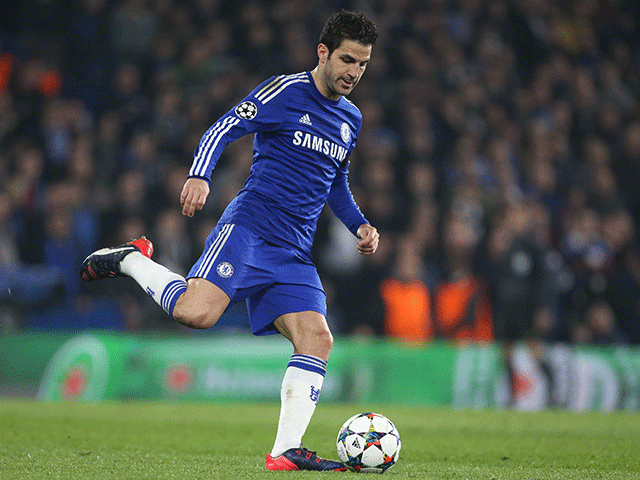 Cesc Fabregas believes Chelsea are the same as last season but ther results suggest otherwise
Mike Norman takes a fascinating look at how the 'big six' clubs have performed at the start of the current season compared to how they did in the exact same fixtures last term, and it appears that reigning champions Chelsea are the big losers...

"The Blues have already lost to Burnley and Man City at Stamford Bridge, while they managed just a goalless draw at home to Arsenal - that's eight points worse off against those three clubs alone than they were last term."
Following Saturday's 1-0 home defeat to Manchester City, Cesc Fabregas has urged the Chelsea faithful not to panic, insisting that it's still early in the season and that his team were actually worse off this time 12 months ago before the Blues ran away with the title.

The Spanish international has a point, but only a very small one. And even that's being kind.

Fabregas was of course talking about the eight points Chelsea trailed Manchester City after the first six games of last season, but the Blues would go on to win their seventh game of the campaign while City would lose theirs, so if we are doing an exact timeline comparison, Fabregas and his teammates were just five points adrift going into the second international break, one point better off than they are now.

But perhaps comparing a team to where they are after seven games of this season to where they were after the first seven games of last season doesn't give a true indication as to whether they are an improved outfit or not given that the teams each club faced were completely different.

Instead, a direct comparison of the same fixtures might be a better indicator, the first seven league games of this campaign compared to the exact same games as last term, fixture for fixture, looking at the 'big six' clubs (where a team faced a newly promoted club, the comparison used was against the club they replaced in the Premier League - Newcastle for Hull, Brighton for Middlesbrough, Huddersfield for Sunderland).

So let's start with how the table would have looked last season if considering just the results against the seven teams each of the big six have faced in the first two months of this campaign.

And it's no surprise to see the champions Chelsea leading the way after Antonio Conte's men defeated Burnley (h), Everton (h), Leicester (a), Arsenal (h), Stoke (a), and Man City (h) last term.

But it's a completely different story this campaign, contradicting Fabregas' claim that, "this is without doubt the same Chelsea of last season". The Blues have already lost to Burnley and Man City at Stamford Bridge, while they managed just a goalless draw at home to Arsenal - that's eight points worse off against those three clubs alone than they were last term.

Ironically, the only club Chelsea lost to from that seven-game sequence in 2016/17 was Tottenham, a team they defeated at Wembley this campaign. But overall - as the table a bit further down shows - Conte's men have started their title defence by accumulating five fewer points, losing more games, scoring fewer goals, and conceding more than they did in the corresponding seven fixtures in their title-winning season.

Chelsea are available to back at [11.5] in the Premier League Winner market.
So which clubs are better off

The obvious answer is the two Manchester Clubs. But it's also worth pointing out that Liverpool have also performed better against their opening seven opponents than they did last term, while Tottenham and Arsenal have performed much the same - quite literally in the Gunners' case - underlining that Chelsea's start to their title defence isn't as nearly as satisfactory as some may have us believe.

As we can see from the above, Man City and Man Utd have improved by five and six points respectively on their results against the same seven opponents last term, both have scored many more goals, while at the other end they've improved defensivey. It's no wonder that already they are the only two clubs in the Winner market trading in single figures.

But it's United at [4.4] that fascinates me more than City at [1.71].

Pep Guardiola's men have been here before; they've had fantastic starts to each of the last two campaigns before failing to see their title assault through, and while there's no obvious reason to think they will do it again, and that this improved team is undoubtedly the one to beat, an odds-on price at this stage of the season makes little appeal.

United also appear to have significantly improved. They were actually unbeaten last term against the same seven clubs they've faced this season, however draws have turned into wins and goals are free-flowing.

Against three of the clubs they drew with in 2016/17 they've already recorded three victories by an aggregate scoreline of 9-0, and they've turned a plus seven goal difference into a plus 19 goal difference against the same seven clubs. That's impressive, and suggests United will be a force to be reckoned with throughout.
Reds look a good bet to crack the Top 4 once more

It's very interesting that Liverpool - while doing exactly what everyone expects them to do - are actually two points better off than they were in the same seven fixtures last term.

Everyone expects Jurgen Klopp's men to score more goals this term, and they are based on this comparison, and as expected they're conceding plenty of goals too. And while the Reds remain incredibly inconsistent they're losing fewer games this time around and surely it's just a matter of time before they start turning their dominance and goal attempts into even more goals.

Klopp's men finished fourth last season, and given they're currently better off this term and have huge potential to be even better, a price of around [2.5] in the Top 4 Finish market makes plenty of appeal.

Spurs can be backed at [1.66] in that particular market, and while their start to the season is exactly the same - points wise - as it was against the same seven clubs last term, it's worth mentioning that they have significantly improved away from home.

Four wins out of four this campaign, which is seven points more on the road than in the same games last season, is very encouraging, so if you believe they can start winning regularly in the league at Wembley, then don't rule out another strong title challenge - for which they can be backed at [18.5] - from last season's runners-up.