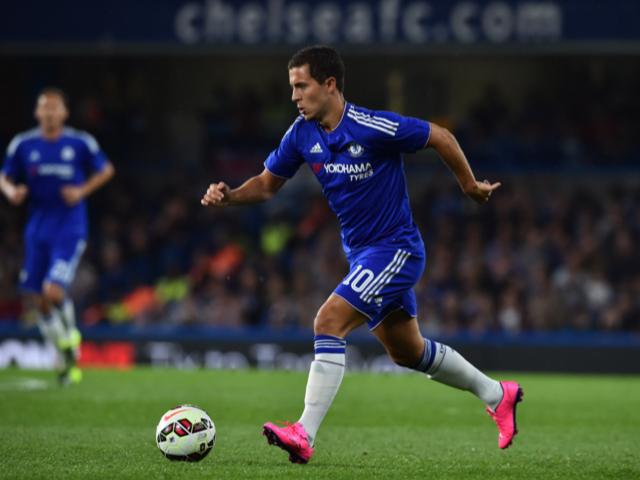 Eden Hazard's form this season has had even the man himself salivating
The Premier League's in the can for 2016-17, so what's left? Awards, of course, and here are Andy 'Top Brass' Brassell's favourites of the campaign...
"While N'Golo Kanté was a key addition, Hazard profoundly affects the mood of his team, and the signs during Euro 2016 that Conte had got him onside early on was a major factor in Chelsea's success."
So, the Premier League title - and relegation - might have been sewn up a little earlier than many neutrals would have liked, but the individual and collective awards of the season went all the way to the end. Ladies and gentlemen, I give you the 2016-17 Top Brass awards.
Player of the season
As poor as Chelsea were last season, they were renewed this time around, and no one embodied that more than Eden Hazard. While N'Golo Kanté was a key addition, the Belgian profoundly affects the mood of this team, and the signs during Euro 2016 that Conte had got him onside early on was a major factor in Chelsea's success. He was back to his best, and the Premier League was all the better for it.
Manager of the season
So Chelsea were clearly deserved champions, and there's no doubting Antonio Conte's role. However, Mauricio Pochettino pulled Tottenham around from a tricky autumn and didn't allow a spluttering Champions League campaign to put the skids under his team. He also coaxed Harry Kane and Dele Alli from a bad end to last season and poor Euro 2016 into best-ever campaigns this time around, and has built a formidable Premier League force. If Conte can retain the title - the Blues are second favourites behind Man City -
and go well in the Champions League next season, of course, this will be a different discussion.
Goal of the season (that really meant something)
We'll refer ourselves again to award number one for this one. Jordan Henderson's big dipper winner at Stamford Bridge was more tantalising, Dimitri Payet's solo effort against Middlesbrough was more mazy and Andy Carroll's bicycle kick against Crystal Palace more thunderous, but there's only one. Hazard's goal to seal the deal against Arsenal in February gave us more than just thrills and technical excellence, though. It knocked the stuffing out of a rival and got the Blues back on the winning trail after dropping points at Anfield.
Surprise hit of the season
Marcos Alonso seemed like an unusual choice for Chelsea, and even those of us who were already fans of his winced a bit at his £20 million-plus price tag. He's proved to be worth it, making a big contribution to the success of Conte's three at the back plan and pitching in with some vital helping hands in attack. He also underlines what makes the Italian head coach great; Conte, rather than the popular image of being wedded to a particular system, is simply a pragmatist who knows exactly how to get the best of the players at his disposal (see also Victor Moses).
Match of the season
Pep Guardiola did come out with a few strange things during his first season in England, but it actually wasn't that hard to get on board with his claim that Manchester City's 1-1 draw with Liverpool in March was "one of the happiest days of my life as a manager". It was thrilling - not perfect, especially when we recall the excellent Adam Lallana missing a late sitter - but indicative of both what these two teams offer the league, and how much they need to improve to genuinely challenge for the title. This season's Premier League in a nutshell, then.
Most welcome next season's kit preview
One of this column's pet hates is next season's kit being advertised in the final game of this season. Liverpool, however, melted this heart with their new offering, a satisfyingly deep shade of red. Now all they need to do is safely negotiate August's playoff to make sure it takes its rightful place in the Champions League group stages.